Meet the Cocoon: a Satisfyingly Soothing Muslin Throw Blanket
Looking for a new way to curl up in calm? We've got you covered! Our first-ever throw blanket, the Muslin Cocoon, is designed to soothe the senses naturally with soft, breathable organic cotton muslin.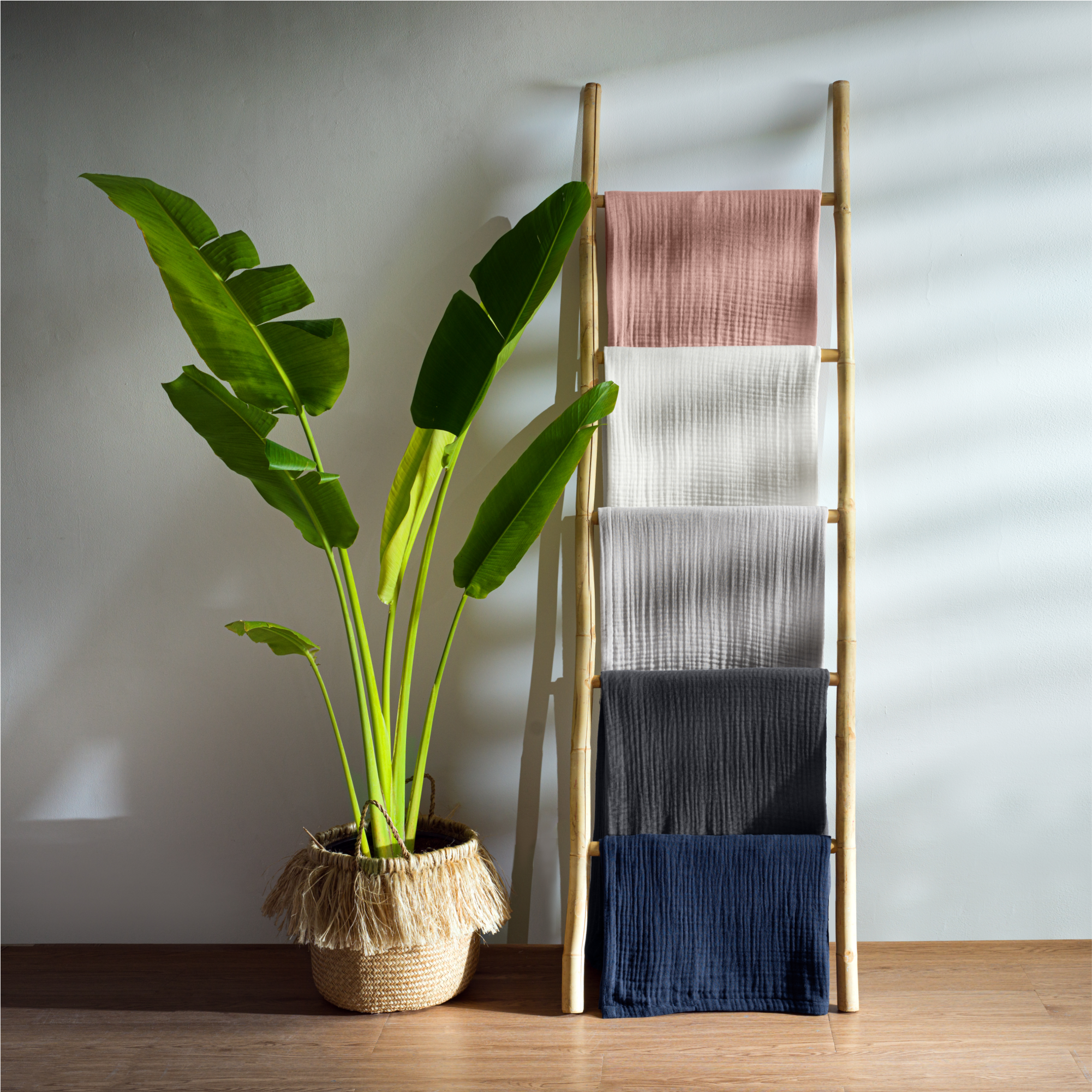 Bearassentials
Muslin fabric is naturally breathable and so snuggly, it's commonly used for swaddling babies!
We've used the sensory-friendly properties of muslin to perfect a soothing swaddle blanket for adults.
You can use your Muslin Cocoon as a stand-alone throw blanket or layer it with your favorite Napper weighted blanket. 
Did you know?
"Otonamaki" refers to the Japanese practice of "adult swaddling", which many people find helps them feel calm and comforted.
Our new Muslin Cocoon is a buttery soft, sensory-soothing throw blanket designed to help you swaddle up all year long. Each Cocoon is handcrafted in India out of 4 layers of GOTS-certified 100% organic cotton. The result is a breathable, gently textured blanket that's perfect for layering and lounging.
A Swaddle That Soothes You
Did you know that muslin blankets are commonly used for swaddling babies? Muslin is the swaddle fabric of choice because it's incredibly soft, breathable, and gentle on the skin — perfect for small sleepers!
Muslin blankets are just right for wrapping up because of their pliable shape and cooling texture. They let air flow through the night, so even when you're fully swaddled, you don't overheat or get sweaty.
We were inspired by these sensory-friendly properties to create our Muslin Cocoon: a blanket designed for anyone to swaddle with, whether they're big or small.
The Muslin Cocoon's gently textured weave is carefully crafted to contour to your body and provide a soothing layer of comfort, whether you prefer to use it as a stand-alone throw blanket or layer it with your favorite Napper.
Can You Use the Cocoon as a Sensory Tool?
Our muslin throw blanket is designed to work well as a sensory tool, helping to promote regulation and calm sensory overload. A sensory tool can be any object that occupies one or more of your senses in a comforting way, helping you to feel relaxed and grounded.
Plant-Powered Sensory Relief
Here at Bearaby, sustainability is central to everything we do, so we've used only the snuggliest plant-based materials around to create a throw blanket that helps you and the planet rest easy.
Every Muslin Cocoon is made of cooling, GOTS-certified 100% organic cotton muslin, ready to swaddle you in calm all year long.
We choose to use certified organic cotton because it's good for you, the planet, and everyone who helps to make our products. Organic cotton uses up to 90% less water than conventional farming methods and is free from harmful chemicals, pesticides, synthetics, or artificial softeners.
Muslin Cocoon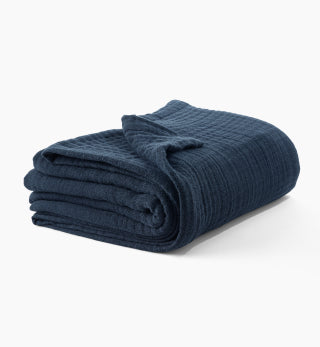 Soft on the senses
Four body-contouring layers
100% organic cotton muslin
Cocoon up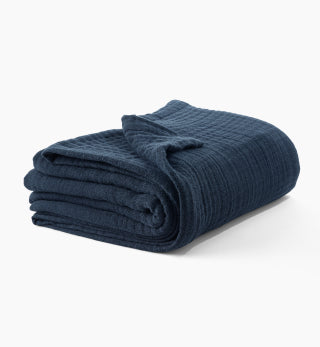 Cocoonable, couchworthy perfection
Unveil the secrets to restful sleep and join the Napperhood for a chance to win our perfect weighted blanket, the Cotton Napper. Get expert tips and insights delivered to your inbox.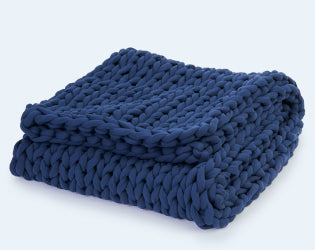 A Match Made Of Muslin
Available in five core colorways (Asteroid Grey, Moonstone Grey, Midnight Blue, Evening Rose, and Cloud White), our muslin throw blanket is designed to match perfectly with our Cotton Napper to complete your calming cocoon.
Each of our chunky-knit Napper weighted blankets is designed to deliver gentle, evenly-distributed weight while letting air flow through the night, so layering with another blanket is the perfect way to customize your level of warmth.
Since the Muslin Cocoon keeps you snug without overheating, it's a good option if you sleep hot but want an extra level of softness. Layering your Cocoon underneath your Napper can also help to keep it in place for a comfy night's sleep.
Conclusion
Our Muslin Cocoon can be used as a throw blanket, a sensory tool, and even a swaddle blanket for adults!
Whether you prefer to curl up on the couch, in your bed, or under a weighted blanket, the Cocoon is designed to help you rest better and feel relaxed at any time of year.
We hope it helps you swaddle up in calm for many naps to come!