Raising Awareness About Mental Health With NAMI: Part 1, It's OK To Talk
In honor of Mental Health Month, we're joining our friends at NAMI–The National Alliance on Mental Illness–to bring you some tools, expert guidance, and strategies to help you recognize the signs that your mental health may be suffering, and learn how you can cope with it at home.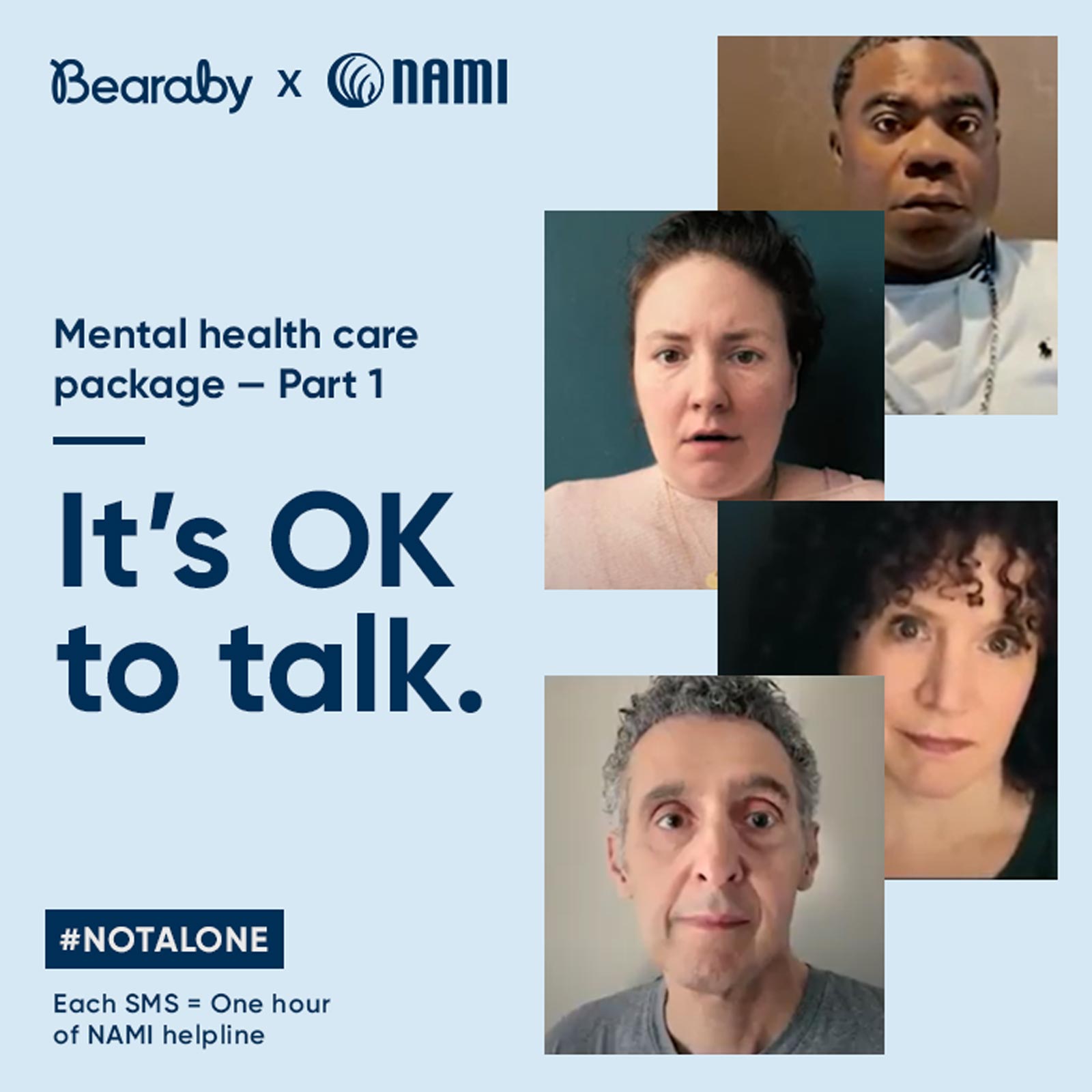 Bearassentials
People living with mental illness face additional challenges dealing with COVID-19, as do their caregivers and loved ones.
If you or someone you know is in need of help, please call 1-800-950-NAMI or visit NAMI.org.
NAMI has many helpful resources you can access from the comfort of your living room, including access to online communities where you can talk with peers and experts.
Did you know?
At least 8.4 million Americans provide care to an adult with an emotional or mental illness.
Nearly 50 million adults in the US manage a mental illness every day, and fewer than half who experience mental illness get the help they need. In a country where 1 in 5 people are affected by a mental health condition, it's time for all of us to step up and change the conversation.
This month, in partnership with NAMI–the National Alliance on Mental Illness–we're working to not only raise awareness about mental health, but also let people know that they're not alone and it's OK to not feel OK during these challenging times.
COVID-19 can have a big effect on your mental health, and it's OK to talk about it. During this crisis, many people are looking for connection, inspiration, and ways to maintain their mental and emotional health.
WarnerMedia teamed up NAMI to create this inspiring PSA, and we are so lucky to get to share it with you all today. Using many familiar faces, it focuses on how the pandemic can take a toll on more than just your physical well-being.
When we de-stigmatize conversation around mental health, we all become stronger and more aware.
How To Stay Connected During This Time
We were inspired by the way that NAMI talks about social distancing during this pandemic. Instead of a term that can perhaps make people feel more isolated, they like to say instead of social distancing we're doing "physical distancing, with social connection".
COVID-19 is changing how we usually interact with the people we care about, but there are still many ways we can build a feeling of connectedness, even if we can't see people in person or visit places we usually would.
Here are some tips to stay socially connected:
Make sure you have the phone numbers and emails of close friends and family.
Stay connected via phone, email, social media and video calls Offer to help others if you can.
Ask for help when you need it.
Share how you're feeling with people you trust.
Regularly call, text or email with family and friends who may have more limited social contact—elderly people, those with disabilities, those who live alone, those who are quarantined or at high risk because of chronic health conditions.
If talking about COVID-19 is affecting your mental health, set boundaries with people about how much and when talk you about COVID-19. Balance this with other topics you'd usually discuss.
If you are living with other people, communicate expectations about how to live well together while staying home Do virtual activities together.
Plan virtual dinners and coffee breaks
Do at-home crafts and activities over a video call
Watch a virtual concert together
Read the same book or watch the same movie/TV show and talk about it
Play online multiplayer video games
Join an online exercise class
Talk, And Stay Connected: Helpful Resources To Explore.
Being quarantined or isolated is difficult and while you may not have in-person access to support groups, mental health providers and other support systems, NAMI offers a lot of online resources that can help.
Find an online support community
NAMI hosts online communities discussion groups where people exchange support and find connection and encouragement. All you have to do is create a free NAMI account to join one! You can also contact your local NAMI affiliate to see what online and other resources are in your area.
7 Cups: 7cups.com
Free online chat for emotional support and counseling. Also offers fee-for-service online therapy with a licensed mental health professional. Service/website also offered in Spanish.
Emotions Anonymous: emotionsanonymous.org
Nonprofessional group focusing on emotional well-being in in-person and online weekly meetings
Support Group Central: supportgroupscentral.com
Virtual support groups on various mental health conditions. Free or low-cost. Website also offered in Spanish.
The Tribe Wellness Community: support.therapytribe.com
Free, online peer support groups. Include focused groups: Addiction, Anxiety, Depression, HIV/AIDS, LGBT, Marriage/family, OCD and Teens.
SupportGroups.com: supportgroups.com/online
Listings of online support groups
For Like Minds: forlikeminds.com
Online mental health support network for people are living with or supporting someone with experiencing mental health conditions, substance use disorders or stressful life events
18percent: 18percent.org
Free, peer-to-peer online support community for people experiencing a range of mental health issues
Psych Central: psychcentral.com
Offers online mental health resources, quizzes, news, "Ask the Therapist" and online support communities
Find Support Over The Phone
Being in contact with people who can relate to your experiences can be helpful. It can help you learn information, find resources that suit you and feel supported by people who understand.
1. Find a warmline
A warmline is a confidential, non-crisis emotional support telephone hotline staffed by volunteers. To find a warmline that serves your area, visit the NAMI HelpLine Warmline Directory on the NAMI Resource Library.
2. Call the NAMI helpline
Call (800) 950-NAMI (6264) Monday through Friday between 10:00 am and 6:00 pm ET for mental health resources or email info@nami.org.
Be sure to check out the rest of NAMI's COVID-19 Resource and Information Guide, created specifically to help the NAMI community and the greater public during this difficult period.