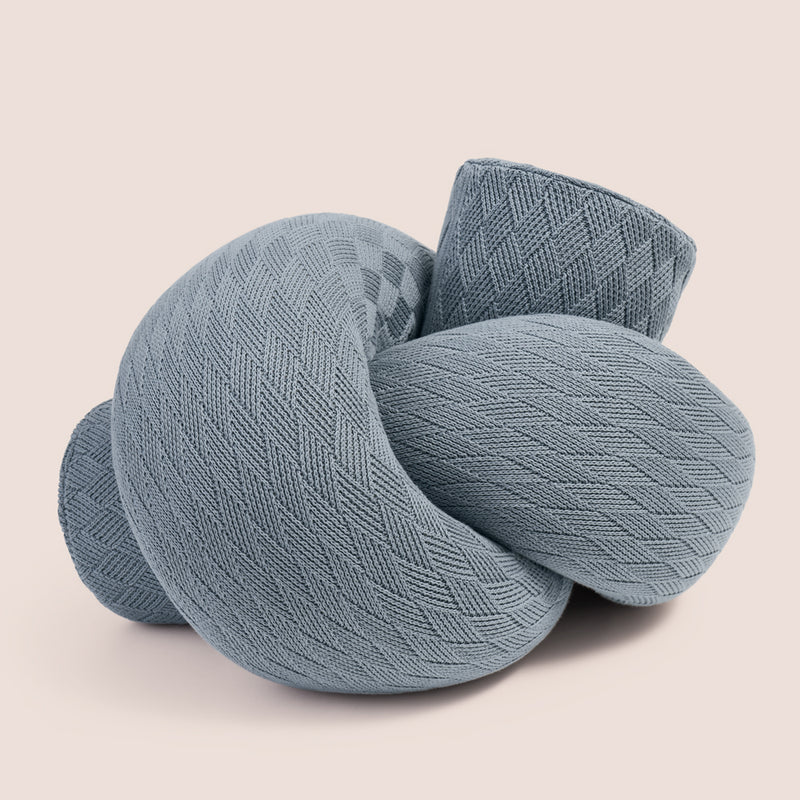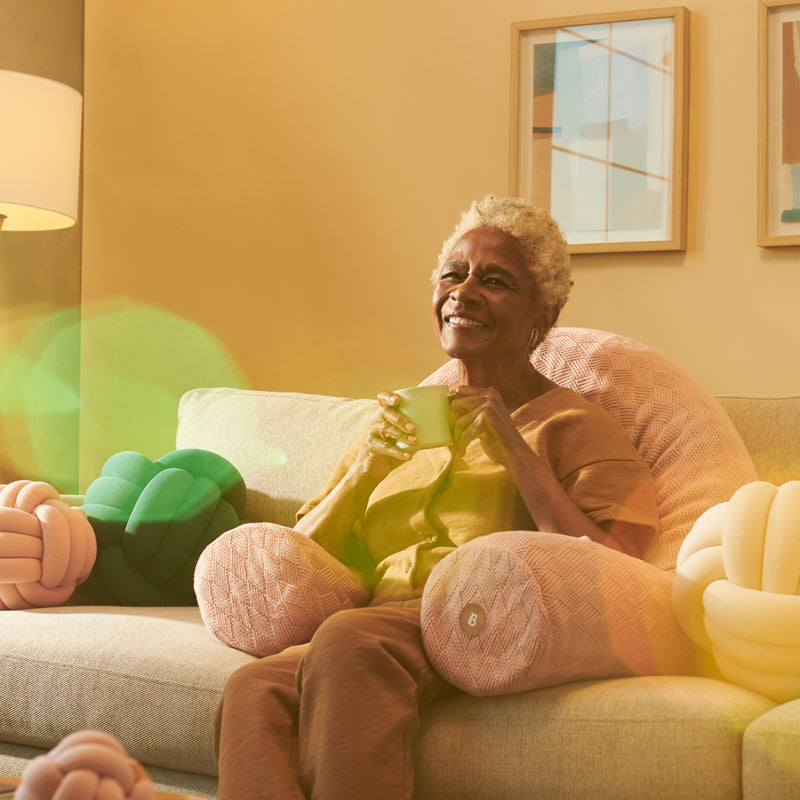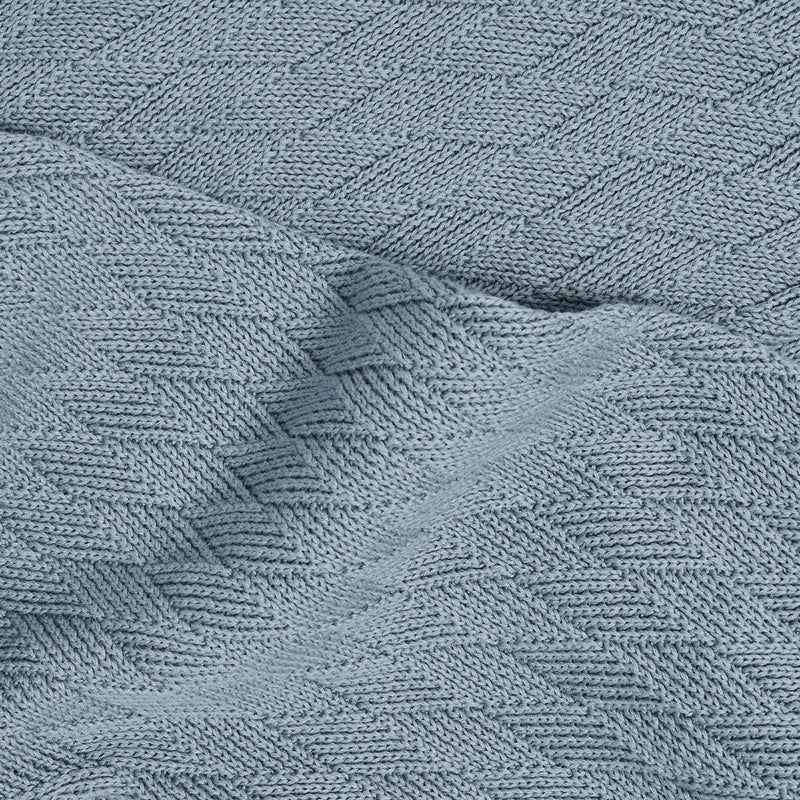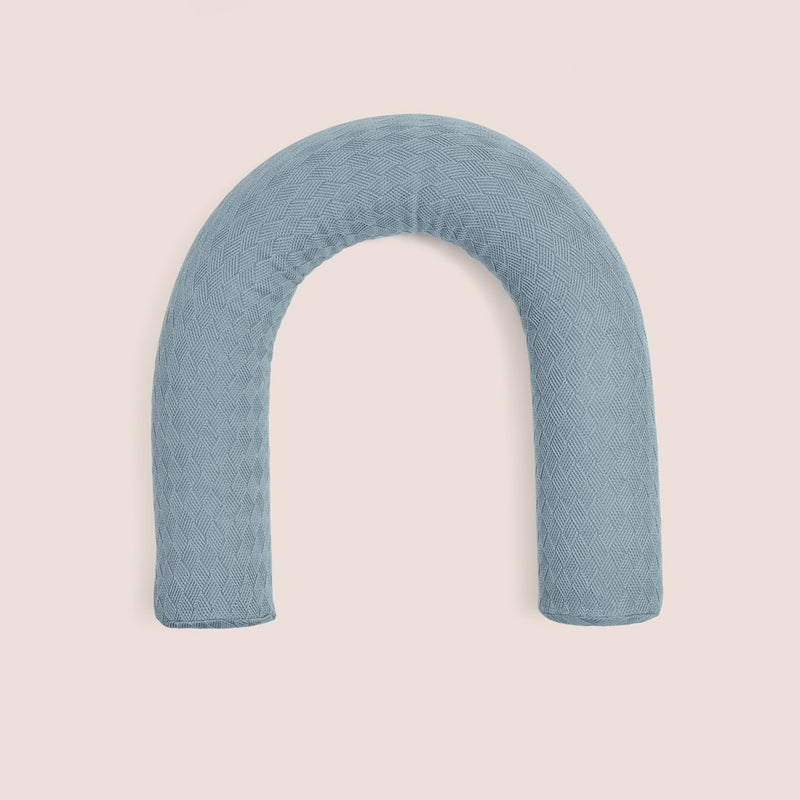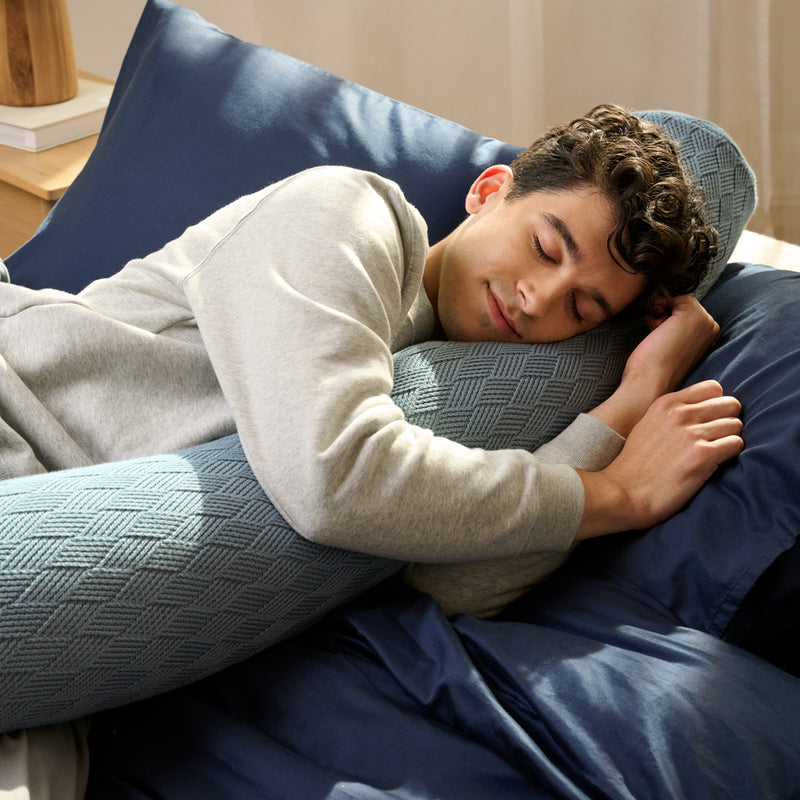 Home / Collection /
Cuddler Cover
A chic, comfy body pillow cover to soothe your senses and suit your style.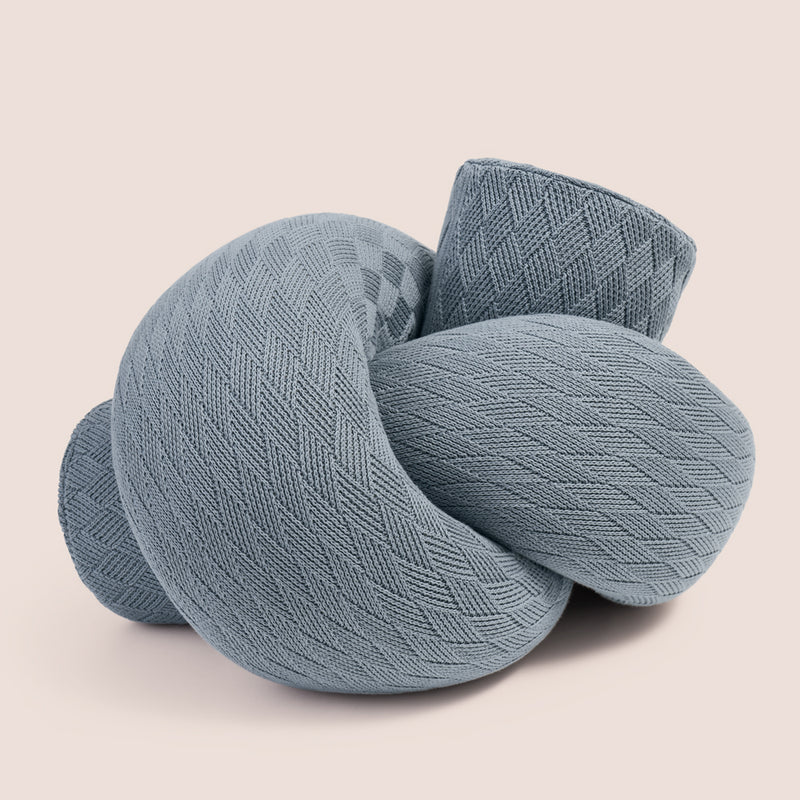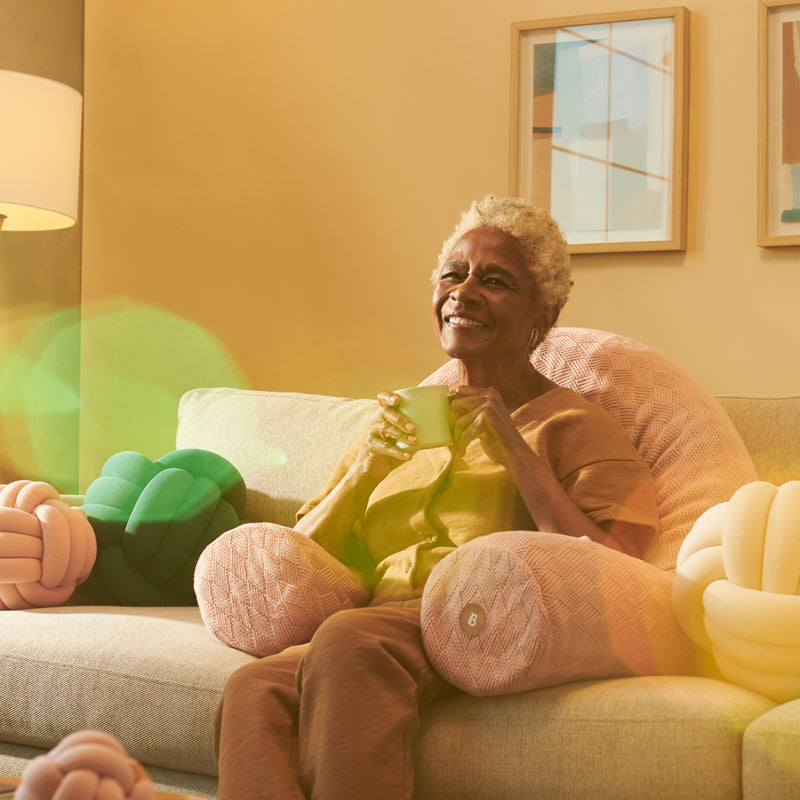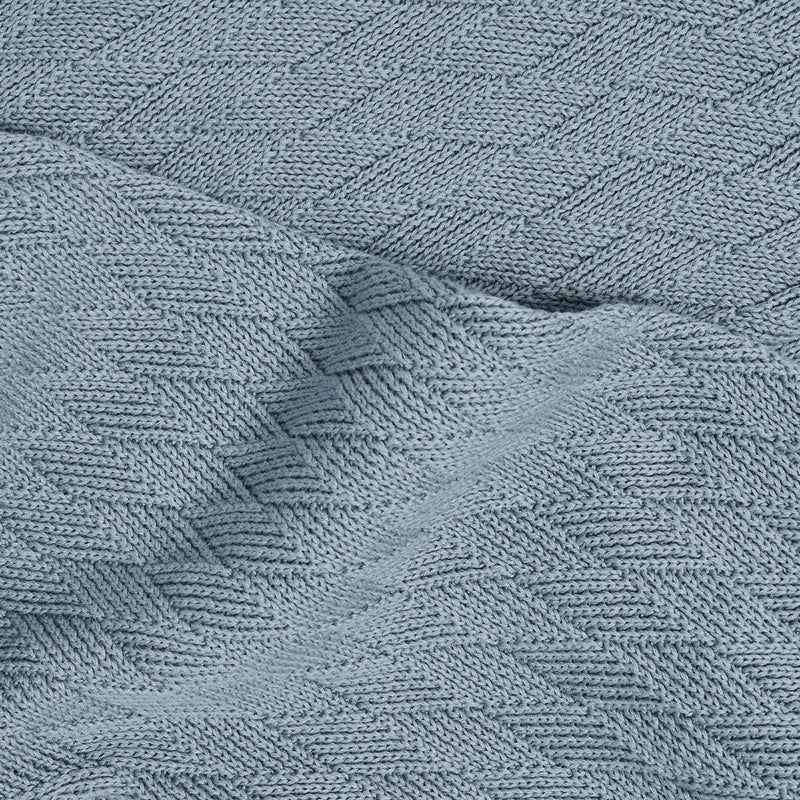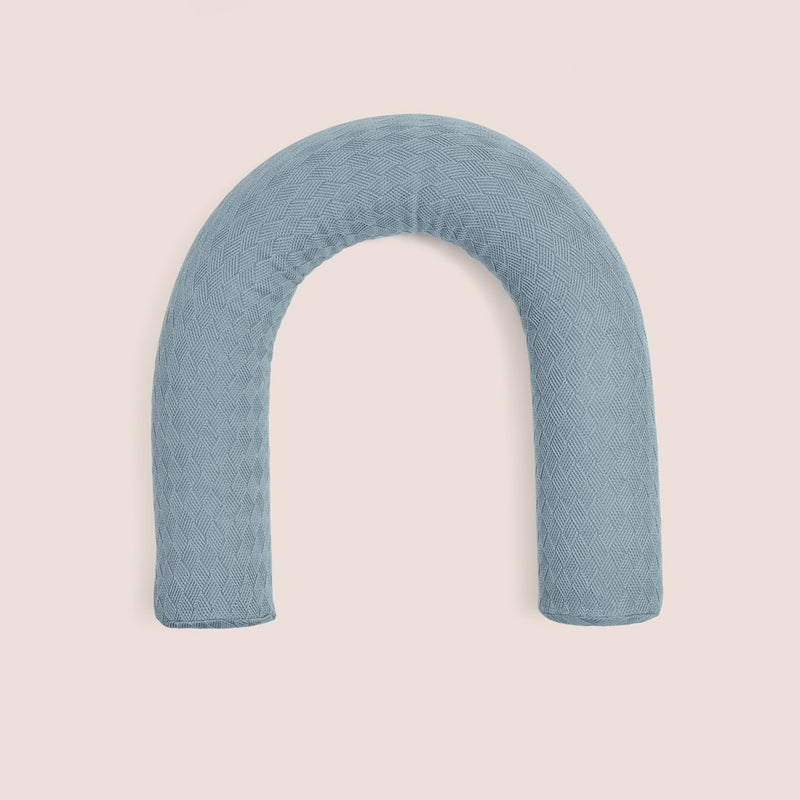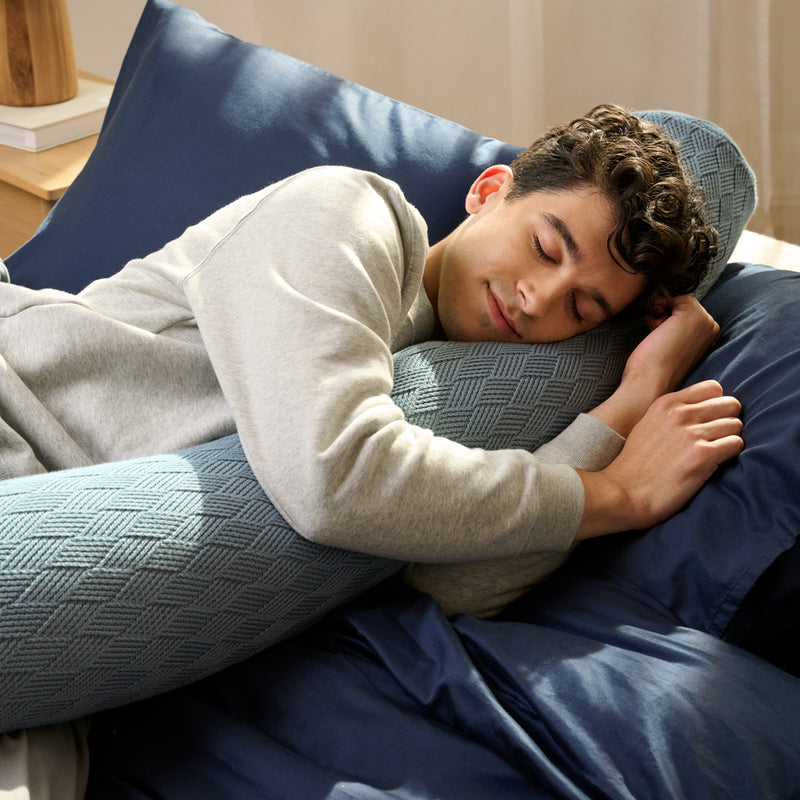 Product Information
Our soft, soothing and durable body pillow cases are the perfect fit for the Cuddler. They're available in 100% organic cotton and Belgian flax linen styles to help you rest in coordinated comfort!
The Cuddler is a satisfyingly squashy and soothing body pillow that you can use in lots of different ways to alleviate pressure and tension from head to toe. These additional covers add a sensory feel and splash of color in a shade that suits you, so you can create a sense of calm in your preferred decor style.
Materials
Our classic Cuddler Covers are made from 100% organic, long-staple cotton that has been pre-washed for buttery softness – just like your favorite t-shirt. Our soothing linen Cuddler Covers are made 100% organic Belgian flax linen. Each body pillow case is washable and features a concealed zip closure for easy removal.

Our cotton is GOTS and Fairtrade International certified, which means that everyone involved in making it is treated respectfully and paid fairly. Organic cotton is a healthier choice for your home and environment because it uses up to 90% less water than conventional farming methods. Our Cuddling covers are grown with no GMOs or artificial irrigation.

OEKO-TEX® STANDARD 100 ensures this product is safe for your family, the people who manufactured it and the environment.
Care Instructions
Wash your Cuddler Cover cold with mild detergent and tumble dry low. Do not bleach.
Specs
Designed to fit your Cuddler body pillow perfectly.
Dimensions: 75" x 8"
Nice Texture
The organic material of the cover is knitted and has a lovely raised texture. Very relaxing to hold!
Lindsey D.
Easy To Clean
The covers are machine washable! I don't have to worry about my kids spilling on it.
Peter R.
Really Versatile
Love the way the pink cover looks in my living room. It seems like it could fit in any room of the house!
Joanna A.
PLANET-FRIENDLY PRACTICES
We've got sustainability covered
Our plant-powered products put people and the planet first. Our covers are made from 100% organic GOTS-certified cotton, which is better for you, and for the environment.
REVIEWS
What our customers say
Reviewing

Cuddler Cover

Midnight Blue / 75"

Well made!

Great cover, sturdy and pretty blue color too! Love the knitted soft cozy look to the cover.

B

Bearaby

11/1/23

Hi Amanda! 👋 I'm so glad that you love your Cuddler Cover! Our covers are designed to soothe your senses and suit your style, so it is nice to hear that they are doing just that. 🤗💙

Reviewing

Cuddler Cover

Linen Magnolia / 75"

Love it!

I like this cover (the linen one) for summer. The other is nicer for cooler weather. I'm glad I got this!

B

Bearaby

11/16/23

Hi Kay! 👋I'm thrilled to hear that you're loving your Cuddler cover! 😊 It's great to know you found the perfect fit for the season. Hope your Cuddler is offering you great support! 🤗💙

Reviewing

Cuddler Cover

Moonstone Grey / 75"

Soft

Fits perfectly and very soft

B

Bearaby

11/16/23

Hi Lisa!👋 It's nice to hear that your Cuddler cover is a perfect fit and oh-so-soft! 😊 Thank you for sharing your positive experience. 🤗💙

Reviewing

Cuddler Cover

Cloud White / 75"

Great!

The Cuddler Cover fits great, and it is soft. My Cuddler looks a lot nicer laying on my bed with the cover on it.

B

Bearaby

11/16/23

Hi Amy!👋 We're glad that the Cuddler Cover fits perfectly and adds a soft touch to your Cuddler. It's wonderful to know it enhances the aesthetic of your bed – a stylish and cozy combination! 😊✨

Happy Napper! :)

I got the cover in Asteroid Grey to match my Napper! They look soo cute together, plus the pillow helps my neck get less sore when I sleep on my side. Just what I was looking for!

B

Bearaby

11/16/23

Hi Leila!👋 So glad to hear you chose the Asteroid Grey cover to match your Napper – what a stylish choice!🤗 It's heartwarming to know the Cuddler and Napper make such a cute pair. And we're delighted to hear that the body pillow provides the comfort you needed for side sleeping. Thanks for sharing your joyful experience, and here's to many more nights of cozy and comfortable sleep with your perfect setup!😊💙
Reviews Loaded
Reviews Added
LEARN MORE
Frequently Asked Questions
Do you need a pillowcase for a body pillow?
Our 100% organic cotton body pillow cases will help to keep your Cuddler clean, supportive, and stylish for as long as possible. And as an added bonus, our Cuddler Covers help you to match your body pillow to your decor style! Our covers are washable and have a concealed zip for easy removal, so it's not too much hassle to clean off spills and stains, or give your cover a refresh. While the satisfyingly squashy Melofoam™ filling of the Cuddler is durable, it could still get torn or damaged through general use just like any spongy material, so it's best to protect it with a cover.
What is the Bearaby body pillow cover made from?
Our Cuddler is about as natural as it gets. It's filled with satisfyingly soothing Melofoam™, which is a responsive foam made from sap tapped directly from rubber trees in Sri Lanka. The sap is collected in coconuts and gently steamed to form a bouncy, breathable foam. It's a completely zero waste process that's so natural, making our Cuddler is fully biodegradable and compostable. Melofoam™ is GOLS-certified, which means it's completely organic, socially responsible, and traceable through every step of the supply chain.

The outer shell of our Cuddler is made from our supersoft GOTS-certified organic cotton. We are committed to using only 100% organic cotton from India as it makes a better life for the people who grow it, and a better product for the people who use it. Organic cotton also uses 90% less water than conventional farming methods, so it's kinder to the planet, too.
How do I clean my Cuddler cover?
We don't recommend machine washing the inner Melofoam™ of your Cuddler, but you can wash the Cuddler cover cold with mild detergent and tumble dry low. Do not bleach.
How often should I wash my body pillow cover?
There are no rules about how often you should wash your Cuddler cover, but feel free to pop it in the wash to clean off any spills or stains, or whenever you feel like it could use a refresh. Keeping your body pillow cover clean will help to protect the pillow inside. Always follow the washing instructions on the label to keep your cover in ship shape!
What colors are the Bearaby body pillow covers available in?
Every Cuddler comes with a white organic cotton cover which is removable and washable. Additional Cuddler covers are available in the 5 colors of our signature Cotton Napper: Moonstone Grey, Asteroid Grey, Cloud White, Evening Rose and Midnight Blue. Get ready to mix and match.