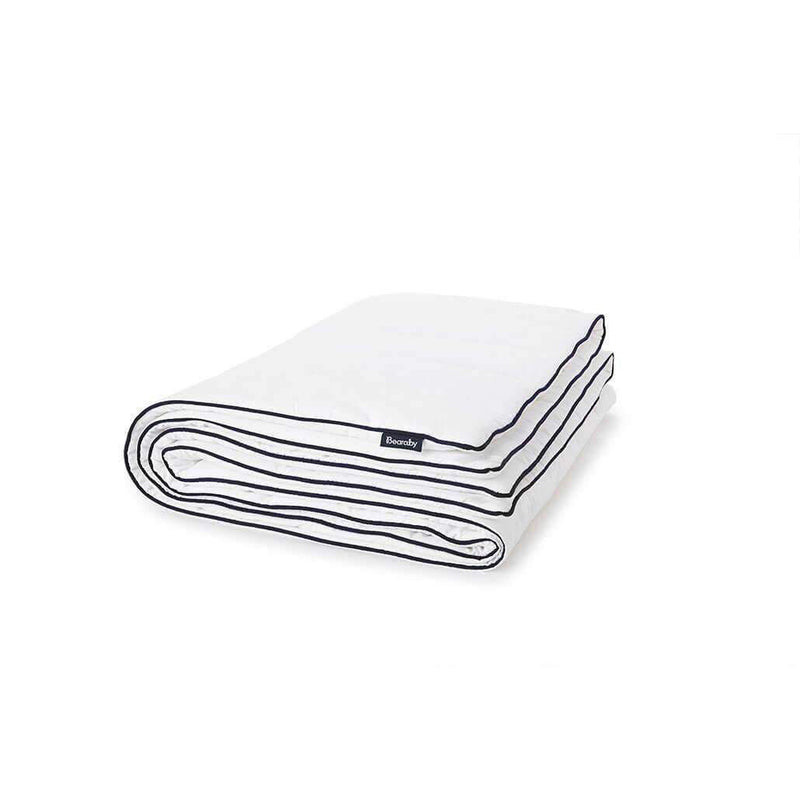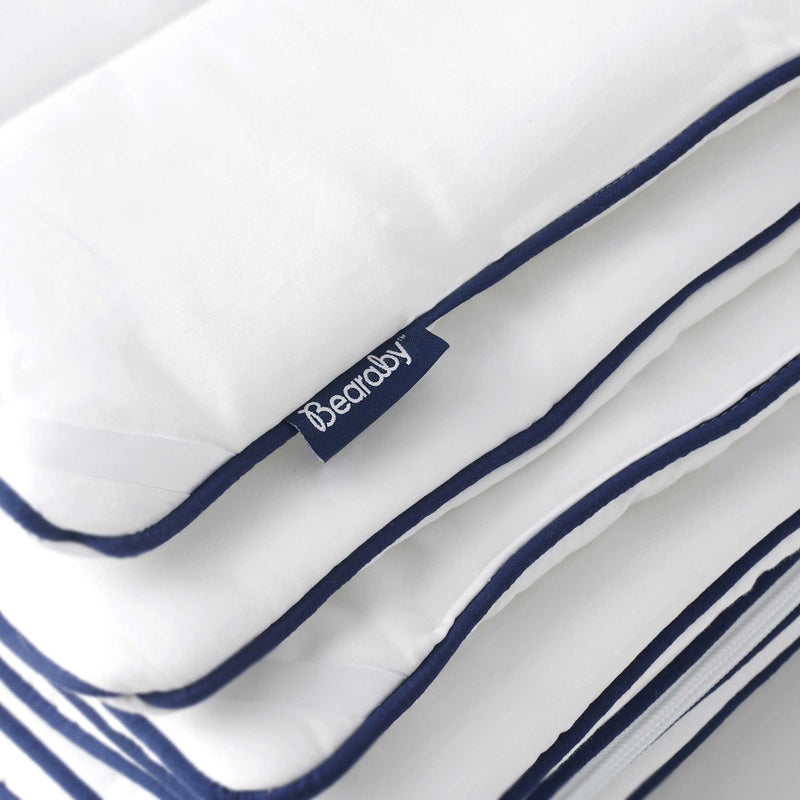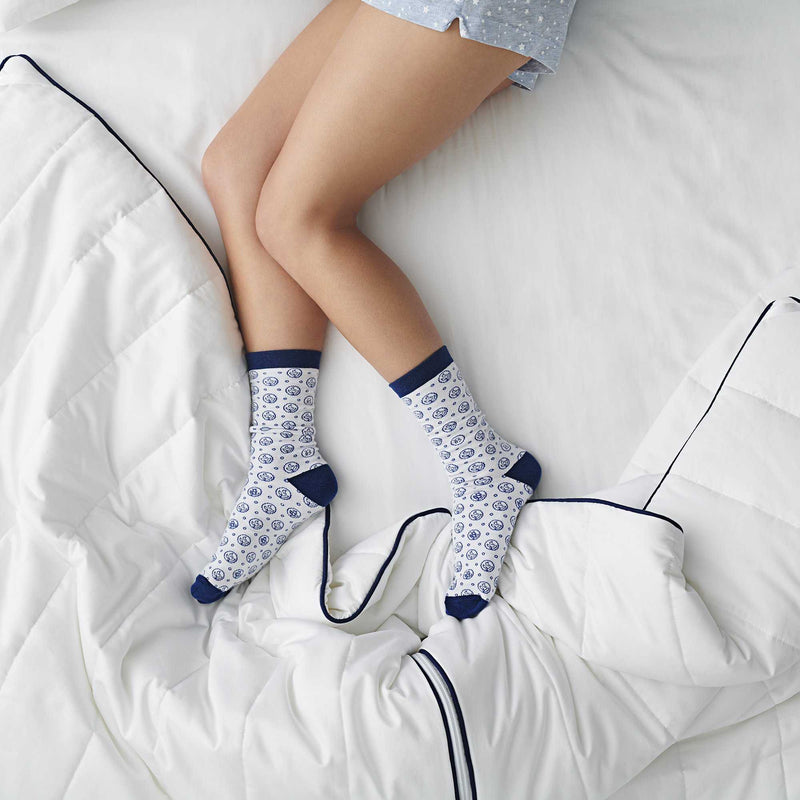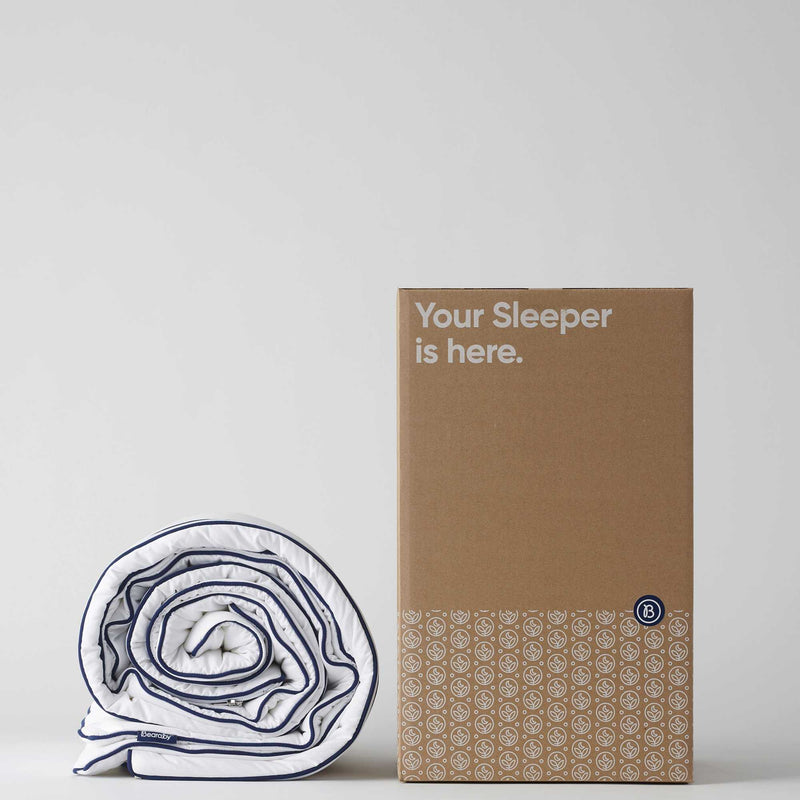 Home / Collection /
Weighted Comforter
A weighted comforter, featuring soft, breathable eucalyptus filler and a cool TENCEL cover.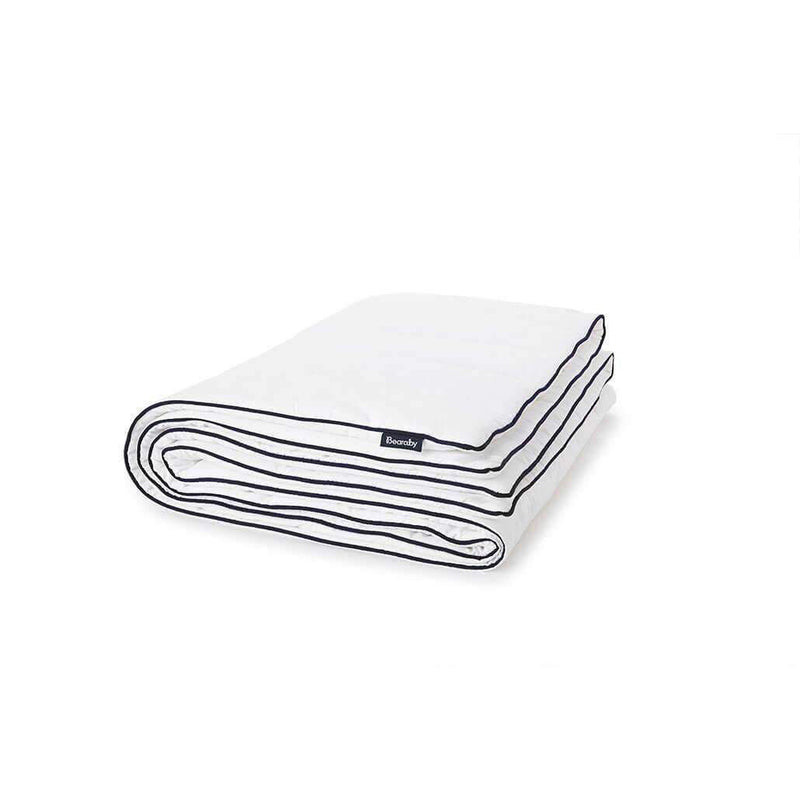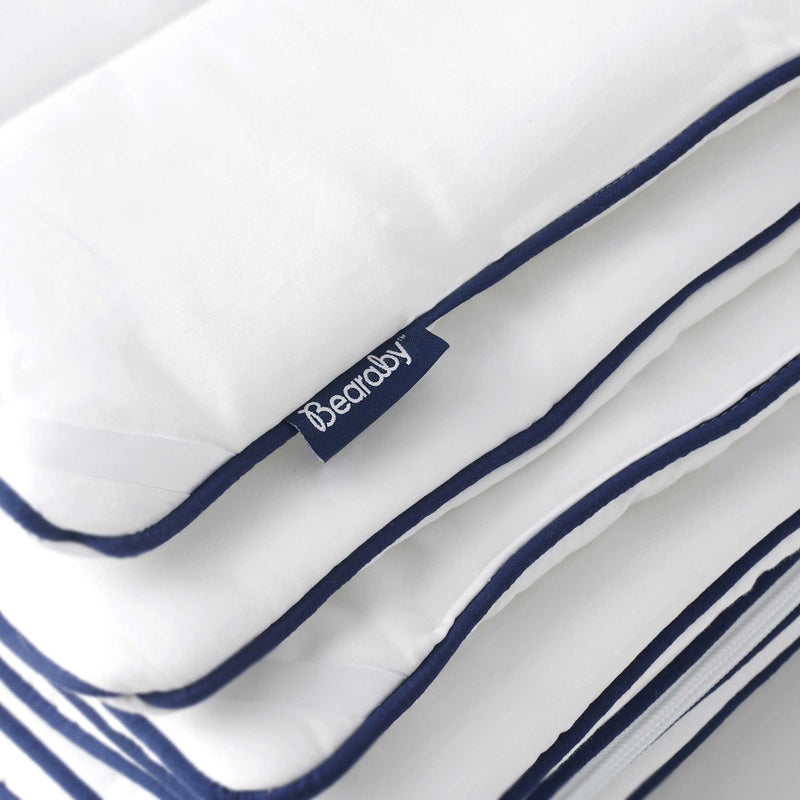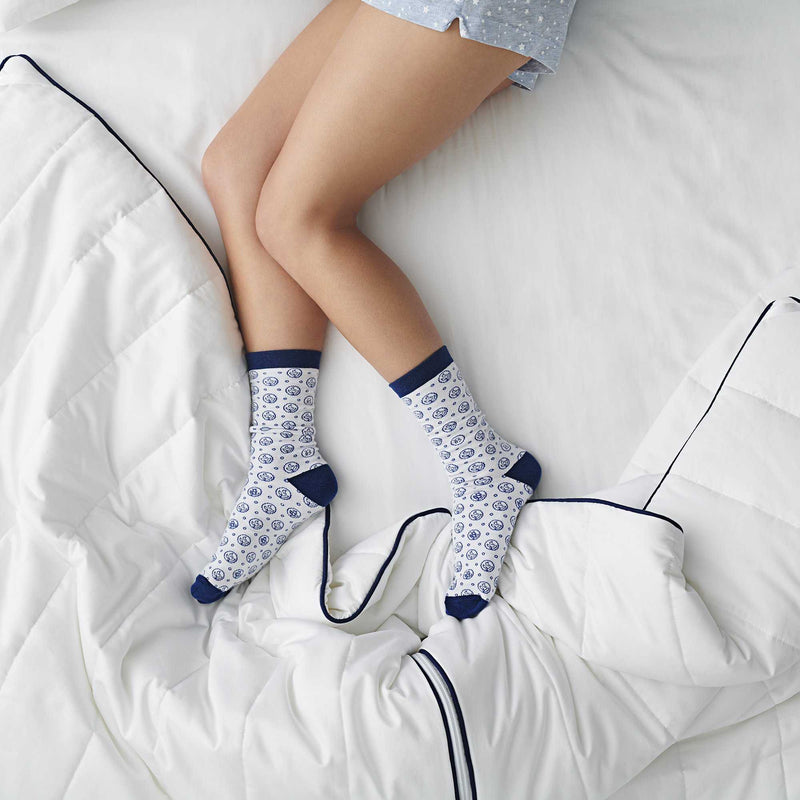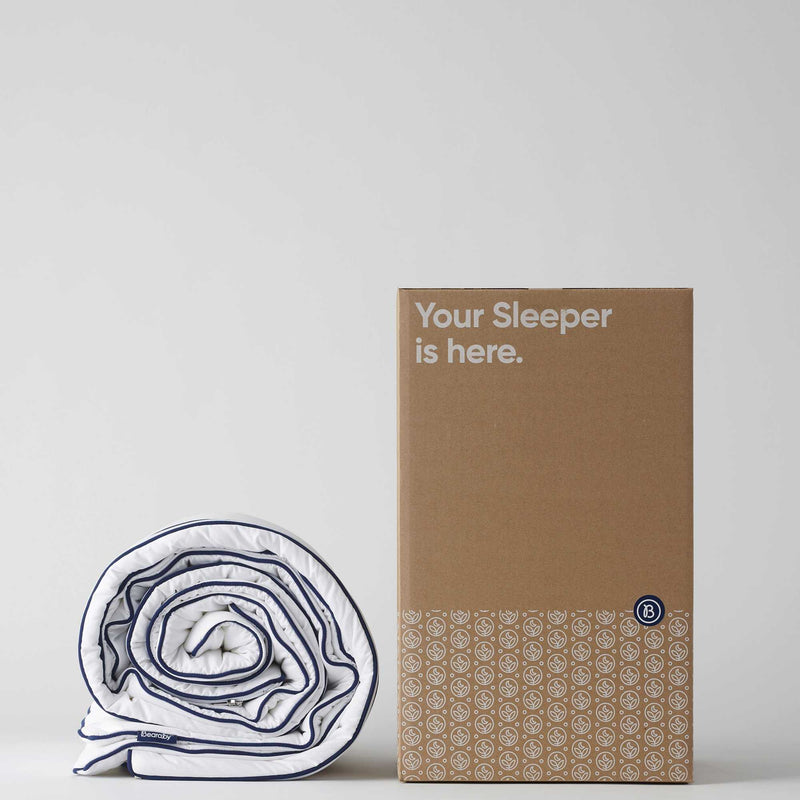 OUT OF STOCK
Product Information
Medical research has proven that sleeping under weight brings about a naturally deep and revitalizing rest.
The evenly distributed weight of the weighted comforter stimulates the release of serotonin (the happy hormone), increases melatonin (the sleep hormone), and reduces cortisol (the stress hormone).
Soft, natural fabrics and breathable eucalyptus filler, coupled with our patented airflow channels and unique glass sand makes the best weighted comforter on the block.
Before there was Bearaby, there was Somnos: a sleep-centered, sustainable weighted comforter line made with high-quality organic materials. Since many Bearabuddies have asked us to make a weighted comforter, we're bringing back the last of the original Somnos designs to help even more people find restorative rest.
Please note that this product is under final sale, which means that it is not eligible for returns, refunds, or exchanges.
Materials
Outer lining
50% organic cotton (50%), 50% TENCEL Lyocell (plant-based fabric made from Eucalyptus pulp).
Inner Filler
The core of the weighted comforter contains a mix of soft, cloud-like eucalyptus fiber and recycled Polyester fiber that makes the weighted comforter soft and cozy. It's naturally weighted with Bearaby's innovative glass sand which gives a silent and evenly distributed weight.
Note: Our King Size Weighted Comforter has a zipper down the middle so it can be easily shared or moved around.
Care Instructions
The weighted comforter should be washed separately in warm water (up to 86°F) on a delicate or gentle cycle.
Tumble dry low.
The king-sized weighted comforter should be unzipped and washed individually, for ease.
Specs
Your weighted comforter should be roughly 10% of your body weight (i.e 150 lb body weight = 15 lb weighted comforter).
If you're between weights, we recommend you go with the higher weight category.
Weighted comforter sizes:
Weighted Comforter Twin Size:
54" × 78"
Weighted Comforter Queen Size:
74" × 78"
Weighted Comforter King Size:
94" × 78"
It's important to note that our weighted comforter is made to fit your body and not your bed. This ensures effective distribution of the weight. Because of this, our weighted comforters are a bit smaller than regular comforters. If you're sharing the comforter with a partner, we recommend the King, regardless of your bed size.
Size Guide
See how it looks on your bed:
HOW IT WORKS
Cool and calm for the body and mind
When an evenly dispersed weight is placed on the body, natural hormones are released that calm you down, help you feel relaxed and let you drift into dreamland.
Joyful feelings
Increased serotonin makes
you feel happy and content
Natural deep sleep
Increased melatonin lulls you
into blissful slumber
Peace of mind
Reduced cortisol lowers
stress and anxiety
REVIEWS
What our customers say
Wendi T.

12/23/20

Reviewing

Weighted Comforter

Worth every penny!

I'm totally obsessed! Full disclosure: I'm a petite 40yro woman with anxiety and depression. I am also a very hot sleeper and get overheated very easily.

I bought a tree napper and it is the best purchased I've made in a long time! Not only does it not overheat me but it also helps more than I thought it could when the anxiety takes over. The way it's constructed, the weaving strands are wonderful for fidgety hands. I could run my fingers through it all day long! And it's so soft!

I have traveled with and without it and found out quickly, I do not sleep through the night without it. My husband loves it and wants one of his own.

Are they expensive? Yes. Are they worth it? YES!

Knut P.

11/25/20

Reviewing

Weighted Comforter

Absolutely worth it

I do sleep better with the weighted blanket. I had not considered buying one before and was skeptical of its benefits but the feeling of being "tucked in" with the weight of the blanket is truly amazing! I highly recommend it - even with the high price tag.

Thomas Z.

11/10/20

Reviewing

Weighted Comforter

No socks

The blanket is great haven't slept better but I was mad I didn't get the socks that are in the add on the website.

Kara N.

11/9/20

Reviewing

Weighted Comforter

Worth it! I've slept with

Worth it! I've slept with a twin size weighted blanket for over a year but it was too small for my queen bed. Upgrading to this weighted duvet has been life changing!

Best sleep I've gotten all qurantine.

Catherine L.

11/9/20

Reviewing

Weighted Comforter

best sleep ever! this blanket

best sleep ever! this blanket is now part of my life.
Reviews Loaded
Reviews Added