Weighted Blankets and Meditation: Our Partnership with Sage + Sound
We're teaming up with Sage + Sound to bring guided meditation classes to the heart of New York City! Read on to learn how weighted blankets can be used for meditation, and how we hope to continue sharing mindful moments near and far.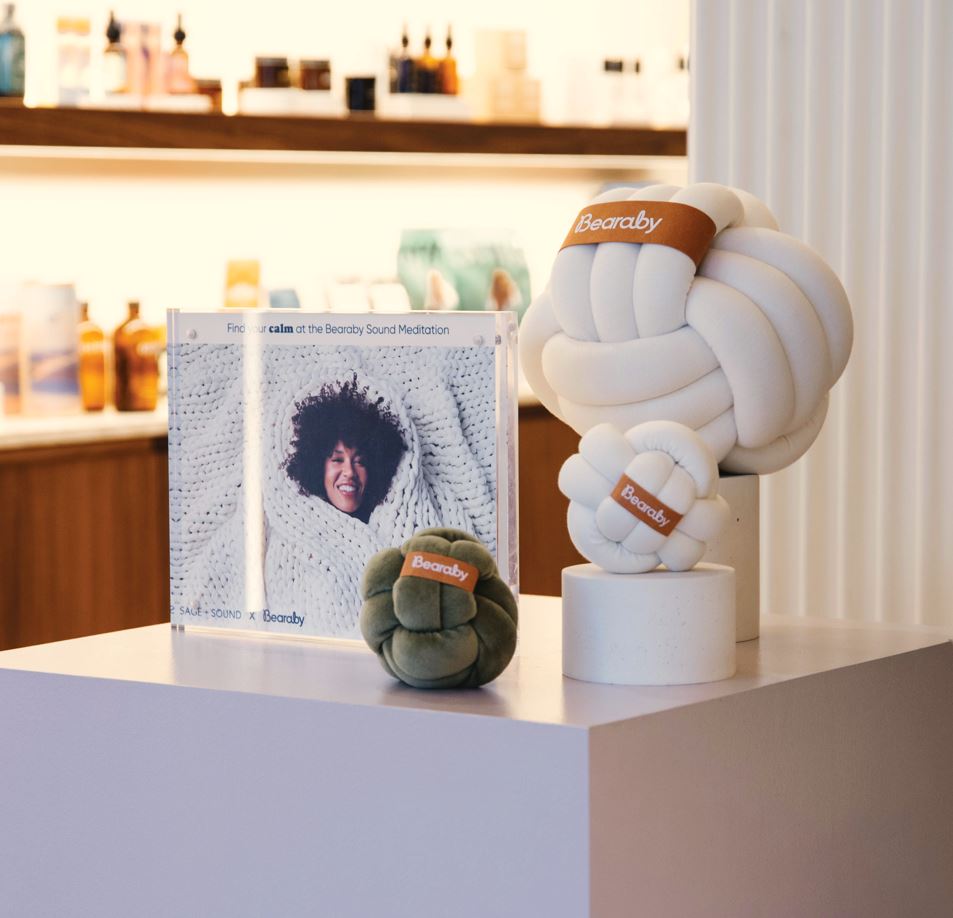 Bearassentials
Meditation can help calm anxiety, stress, and sensory overload
Weighted blankets are a great way to feel grounded and relax your breathing while you meditate
Sound adds another sensory element to meditation, helping you to gently focus your attention 
Did you know?
Some people consider yoga and tai chi to be forms of meditation, while others describe them as movement practices that include meditation.
Designed to create a melodious sojourn away from the bustle of daily routine, the Bearaby x Sage + Sound meditation series gives participants a chance to experience a sound meditation under the calming weight of a Bearaby Napper.
Weighted blankets are designed to help people feel calm and sleep better. But traditional weighted blankets are made with heavy fillers like glass and plastic beads, which deliver uneven weight and can be toxic for the environment.
Our Cotton Napper, which is hand-knit from GOLS-certified organic cotton, provides a filler-free alternative to traditional weighted blankets. The blanket gets its weight from layers of heavy fabric, allowing it to deliver evenly-weighted, gentle pressure that's good for you and the planet, too.
Beyond feeling good and looking stylish on a bed or couch, weighted blankets promote deep, restful sleep, and can be a useful tool for meditation and mindfulness.
Weighted Blanket Health Benefits
Imagine the total relaxation you feel after a deep tissue massage, or that boost of serotonin after hugging a loved one. These feelings happen thanks to the power of deep touch pressure (DTP), which is just what weighted blankets are designed to deliver.
Through activating the body's pressure points, DTP can help you feel happy, sleepy, and less stressed. In fact, weighted blankets are scientifically proven to lower cortisol levels (the stress hormone) and increase melatonin levels (the sleepy hormone).
Many people find that the calming feeling of sleeping under a weighted blanket helps with a range of general sleep issues. Weighted blankets can help you fall asleep faster, and they can also help you stay asleep through the night, allowing you to access the deep sleep you need to feel rested.
Beyond sleep, weighted blankets are a tried-and-true tool for reducing stress and anxiety. Research has even shown that weighted blankets can increase serotonin levels, acting as a natural mood stabilizer. The warm, comforting feeling of resting under weight sends a signal to your brain that you are safe and secure. This is part of why weighted blankets often help people with conditions like fibromyalgia, RLS, and PTSD find relief from symptoms.
Our hand-knitted weighted blankets are made of high quality, sustainable materials, so you can enjoy a better night's sleep while making a healthy choice for you and your home. Every Napper is OEKO-TEX® STANDARD 100 certified, and they come in different material options including organic cotton, eucalyptus-based TENCEL, and upcycled eco-velvet.
How Can a Weighted Blanket Help You Meditate?
Meditation is often recommended as a calming technique for folks experiencing anxiety, stress, or sensory overload, but sometimes our bodies need a little extra help reaching a state of quiet connectedness.
During a meditation session, you can rest a weighted blanket on your lap, or even fully lay down under the weight of the blanket. This allows you to feel grounded and in touch with your body. The calming weight of the blanket can also help you more easily access a state of relaxed breathing and gentle focus.
Everyone has different preferences when it comes to meditation. Some people prefer to meditate in total silence, without additional sensory input. Others prefer to listen to a guided meditation, or practice meditation through movement.
Introducing a weighted blanket to your meditation practice is much like adding soothing sounds or therapeutic scents. These elements add to the sensory experience of meditation, helping you connect to all five senses and stay present in the moment.
Remember, there's no "right" or "wrong" way to meditate, so you'll want to consider what helps you feel comfortable and at peace before deciding whether to add a weighted blanket to your practice.
Bearaby x Sage + Sound
The Bearaby Sound Experience class was created to help introduce more people to the sensory benefits sound and weight can bring to your meditation practice.
During the experience, you'll be surrounded by an orchestration of singing bowls, chimes, and gongs, while Bearaby's calming weighted blankets envelop you in a warm embrace. The soundscapes and sensory elements of the experience are carefully curated around the therapeutic benefits of weighted blankets to melt stress away.
This is a chance to elevate your senses while grounding your soul, releasing tension through sound and sensation.
For those new to weighted blankets, this is the perfect opportunity to try one for the first time. For those who already love the sensation of sleeping under weight, this class can take your weighted blanket use to the next level, helping you discover new paths to mindfulness through your Napper.
Through partnerships with wellness establishments like Sage + Sound, we hope to continue spreading mindful calm near and far, in 2023 and beyond! Stay tuned to learn more about the holistic wellness workshops we have in store.
Upcoming Bearaby Sound Meditation Experiences
Places are limited, book your spot today!
Thursday, May 18th, 6-7 PM
Thursday, June 22nd, 6-7 PM