Raising Awareness About Mental Health With NAMI: Part 2, Ask the Expert
Tune in and text out! For part 2 of our Mental Health Care Package we're joined by the head of the NAMI HelpLine, Dawn Brown! She'll be taking over our texts for one whole hour to answer your mental health questions. Learn more about the HelpLine and the kinds of answers you can expect during this one of a kind Mental Health Text Takeover. #NotAlone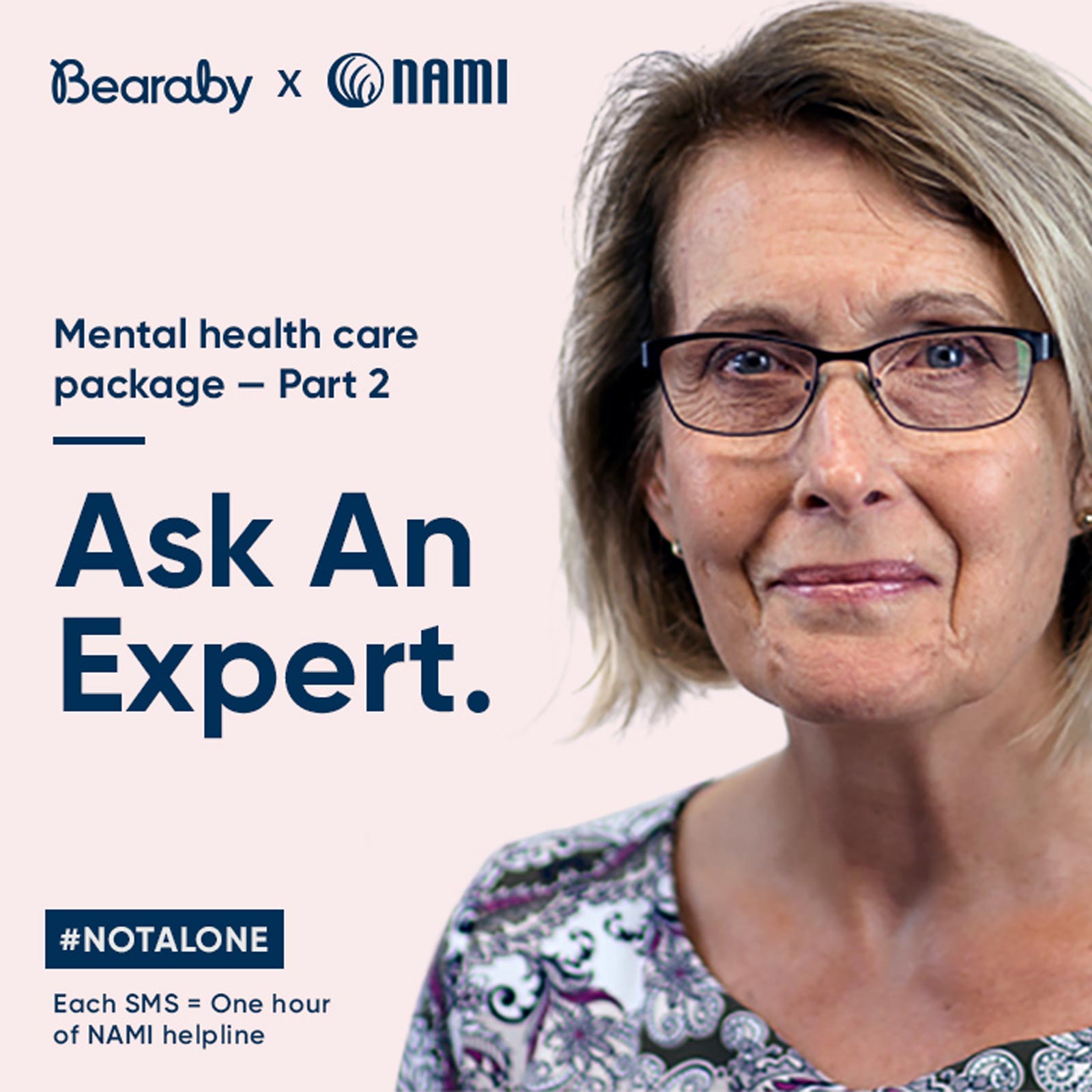 Bearassentials
Now, more than ever, it's important to remember that there is no health without mental health.
The NAMI HelpLine is a free, nationwide peer-support service. Anyone can call in and speak with an experienced mental health expert.
If you or someone you know is in need of help, please call 1-800-950-NAMI or visit NAMI.org.
Did you know?
1 in 5 Americans are affected by mental illness in a given year.
We are so lucky to have Dawn Brown, Director of the NAMI helpline, hosting a live text takeover in honor of Mental Health Month. Yes, that's right, you can text Dawn from 1:30 - 2:30 PM EST Thursday, March 7th, and ask her everything you ever wanted to know about mental health. Type away, and of course know that all your texts are kept confidential. Plus, each text from you matches a donation from us (1 hour of call time) to the NAMI HelpLine. We call that a win-win!
Wait, What Is NAMI?
NAMI is the National Alliance on Mental Illness, the nation's largest grassroots mental health organization dedicated to building better lives for the millions of Americans affected by mental illness.
NAMI advocates for access to services, treatment, support and research, and is steadfast in its commitment to raising awareness and building a community of hope for all of those in need. NAMI offers support and education programs for families and individuals living with mental health conditions.
How does the NAMI Mental Health HelpLine work?
The NAMI HelpLine is a free, nationwide peer-support service providing information, resource referrals and support to people living with mental health conditions, their family members and caregivers, mental health providers, and of course you, the public. HelpLine staff and volunteers are experienced, well-trained and able to provide the guidance you need.
They understand, many from their own experiences, listen and offer support.
They are informed on NAMI Programs, NAMI Support Groups and locate your local NAMI Affiliate.
They are trained to help identify the best resource options for your individual concern.
They are knowledgeable and a source of accurate information about relevant topics.
They care.
To contact the NAMI HelpLine, please call 800-950-NAMI (6264), Monday through Friday from 10 a.m. to 6 p.m., ET, or send an email to info@nami.org.
What is a text takeover?
You're probably familiar with Instagram and other social media 'takeovers', but what exactly is a text takeover? Well, it's simple, just imagine you're texting with one of your friends, the only difference is that Dawn is on the other side, texting you back.
This is a private exchange, so your texts won't be posted up for the whole world to see! Only Dawn will be able to answer your text message, so you can ask all the questions you ever wanted to ask, completely anonymous in a safe space.
It seems that we're all experiencing what some are calling 'Zoom fatigue', and are feeling a bit overwhelmed by numerous video calls and social media challenges. That's why we dreamed up this idea.
Texting is easy, and you definitely don't need to show your face or make sure your background looks tidy! No video, just the comfort of your phone and a friend on the other line to chat with, who just happens to be an expert on mental health. What's not to like?
What if I don't get a response?
An hour will probably go by pretty quickly! And since Dawn is only one person with one set of texting hands, she'll take as many questions as possible during her texting hour, and then we'll have to close the line. BUT she'll be rounding up all the unanswered questions that come through, and making sure you get an answer soon.
So stay tuned to hear back from her, or alternatively pick up the phone to chat directly with her and her team on the NAMI helpline.
How do others feel?
We want you to know that you're not alone and that we are here for you. There are also other people out there who may share some of the feelings and concerns you're experiencing.
Stay tuned for a new blog post tomorrow, where we'll highlight the most frequent questions that Dawn received, as well as guidance on further resources to find help. Don't worry, we'll just be organizing them by theme - your exact text won't appear anywhere public.