Bearaby's Weighted Blanket Holiday Gift Guide
Our home decor products are all about snuggling up, resting comfortably and feeling joy – and make for an ideal holiday gift. Because, after all, 'tis the season to be cozy.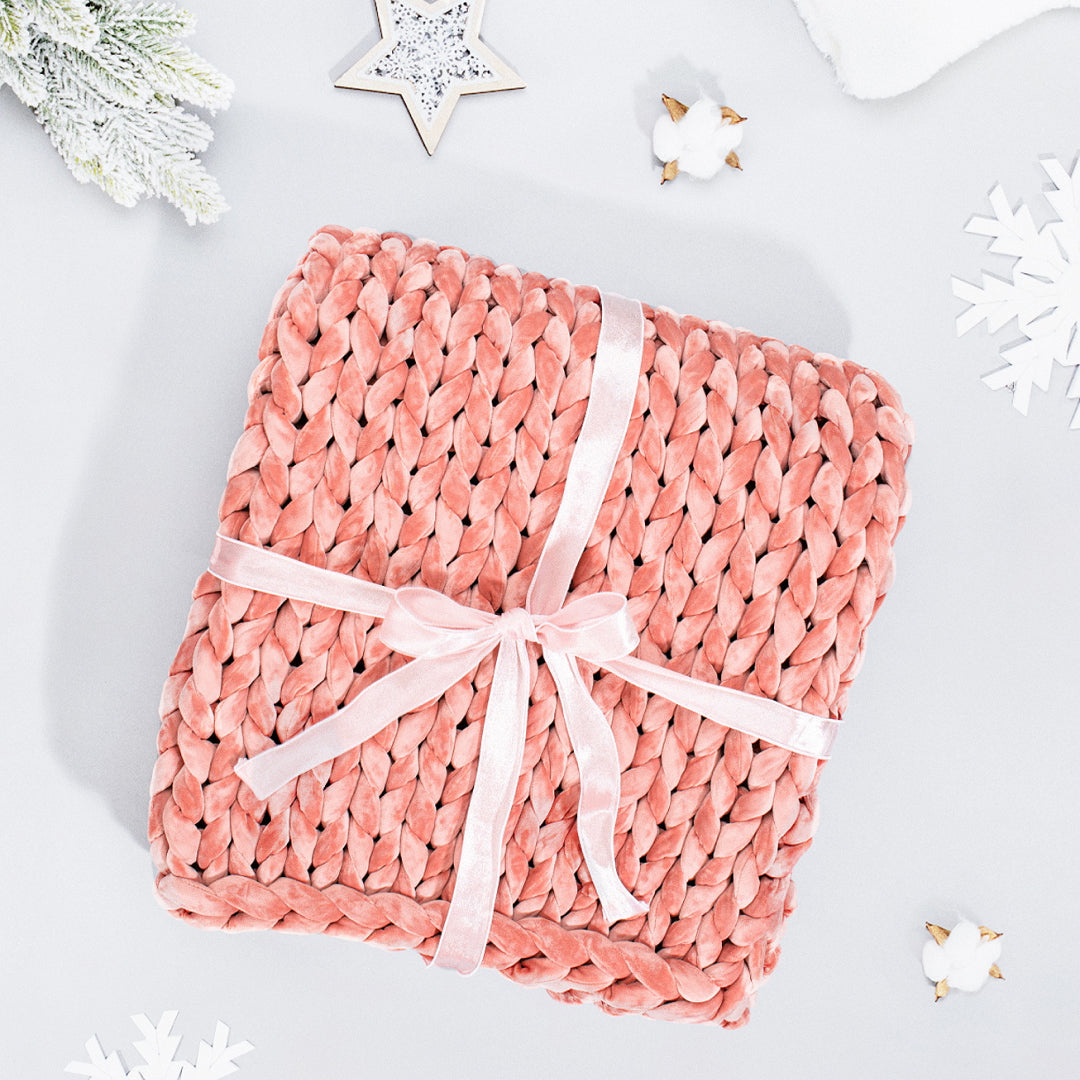 Bearassentials
Send a gift that feels as good as getting a hug. Gift a huggable eco-velvet weighted blanket with one of our handwritten notes to let your loved ones know just how special they are – with a little luxurious touch.
Give a gift that's calming and exceptionally cozy with our buttery-soft, organic Cotton Napper.
Not sure which kind of Napper is best for your buddy? Go for a gift card to show you've put thought into it, but you're also giving the gift of choice.
Did you know?
The first record of gift wrapping dates back to Ancient China, around 100 BC.
There's simply no sugarcoating it – it's been a tough year. But as winter weather rolls in, we take heart that we've made it through the challenges of the past few months, and the season that's all about spreading joy is here.
To help you find the perfect present, we've put together a weighted blanket gift guide. Here you'll find out more about how gifting a sustainable gift that helps takes care of your loved one's sleep can show them just how much they mean to you.
Send A Hug (With A Handwritten Note)
Wrap your special someone up in exceptional coziness that's just like a warm hug. Our sublimely soft velvet weighted blanket is available in five gemstone-inspired hues and hand-knit from GRS-certified Eco-velvet fabric.
Eco-velvet is a luxuriously cozy material made of recycled marine plastic. This earth-loving method removes plastic from our oceans, that's then spun and brushed into a feel-good fabric, in every sense of the word.
Want to add a personal touch to this lustrous gift? Simply type your message at check-out, and one of our Bearabuddies will handwrite a card on your behalf.
Give Rest. Give Joy.
Gift a blanket that naturally brings calmer nights, and you're bound to experience more joyful days. Our buttery-soft knitted weighted blankets are made from organic cotton – and delightfully cozy.
The calming effect of snuggling under our Cotton Napper cues many science-backed health benefits of weighted blankets, including more restorative rest, easing insomnia, and lowering cortisol (that tricky stress-hormone) levels. Making it the perfect gift to cocoon your loved ones with joyful calm.
Cozy Comes In All Sizes
The Nappling, our weighted blanket for kids, harnesses all the weighted blanket benefits of an adult-size Napper, tailored to little ones' needs. Hypoallergenic, STANDARD 100 by OEKO-TEX® certified, and super-soft, your only concern will be which color to choose!
Cuddler
Full-Body Comfort
When it comes to cozy gifts, we've got more than blankets to support your sleep routine. Our Cuddler is a great body pillow for side sleepers and works brilliantly as a pregnancy pillow, delivering full-body hugs on demand.
Huggets
Knotty and Nice
Our Hugget knot pillows are made of satisfyingly squashy, super sustainable GOLS-certified Melofoam™. With small, medium, and large sizes to choose from, they make stylish stocking stuffers and treeside treasures.
Pupper Pod
Treat Your Four-Legged Friends
Our best friends deserve the best presents! The Pupper Pod is a calming dog bed made from durable, breathable, eco-friendly Melofoam™. Dogs need their own beds, and our Pupper Pod is designed specifically for them, with body-cradling comfort and natural materials for restorative rest.
It also makes a great gift for a cat … just don't tell the dog!
Skip The Guesswork – Go For A Gift Card
A huggable blanket is an ideal gift to show your special someone just how special they are. But, if you're feeling unsure what is the best weighted blanket for gifting, rest assured, we've got you covered with our digital gift card option.
Bearaby's digital gift card is a great way to show you've put thought into a gift, but you're still giving the gift of choice.
When you purchase our digital gift card, you can choose to enter your loved one's e-mail address at checkout. We'll then send a gift card code straight to their inbox along with a message to let them know they're about to experience the huggable bliss of a Bearaby weighted blanket. You can also enter your own e-mail address if you'd like to send along the gift card code at a later date.
With a digital gift card code, your special someone can add any of our hand-knit Nappers – luxuriously cozy Velvet, buttery-soft Cotton, silky-smooth Tree, or a kid-friendly Nappling – to their cart. Read the (k)nitty-gritty on how our gift card works here.
Last-Minute Shipping Solutions
If your good intentions to start holiday shopping early don't pan out (we get it, the procrastination-struggle is real), rest assured that we've got your back.
Select Nappers and Huggets are available in person at Nordstrom locations across the country, and our Cotton Nappers are available in person at Purple stores.
So, if you find yourself doing the eleventh-hour dash, enter your ZIP code at our retail locator to find a Bearaby blanket near you.