Are Weighted Blankets Worth Investing In?
As weighted blankets are becoming an up-and-coming trend loved by people who use them for everything from anxiety to insomnia, you may be wondering if this is one of the trends that's worth hopping on board for.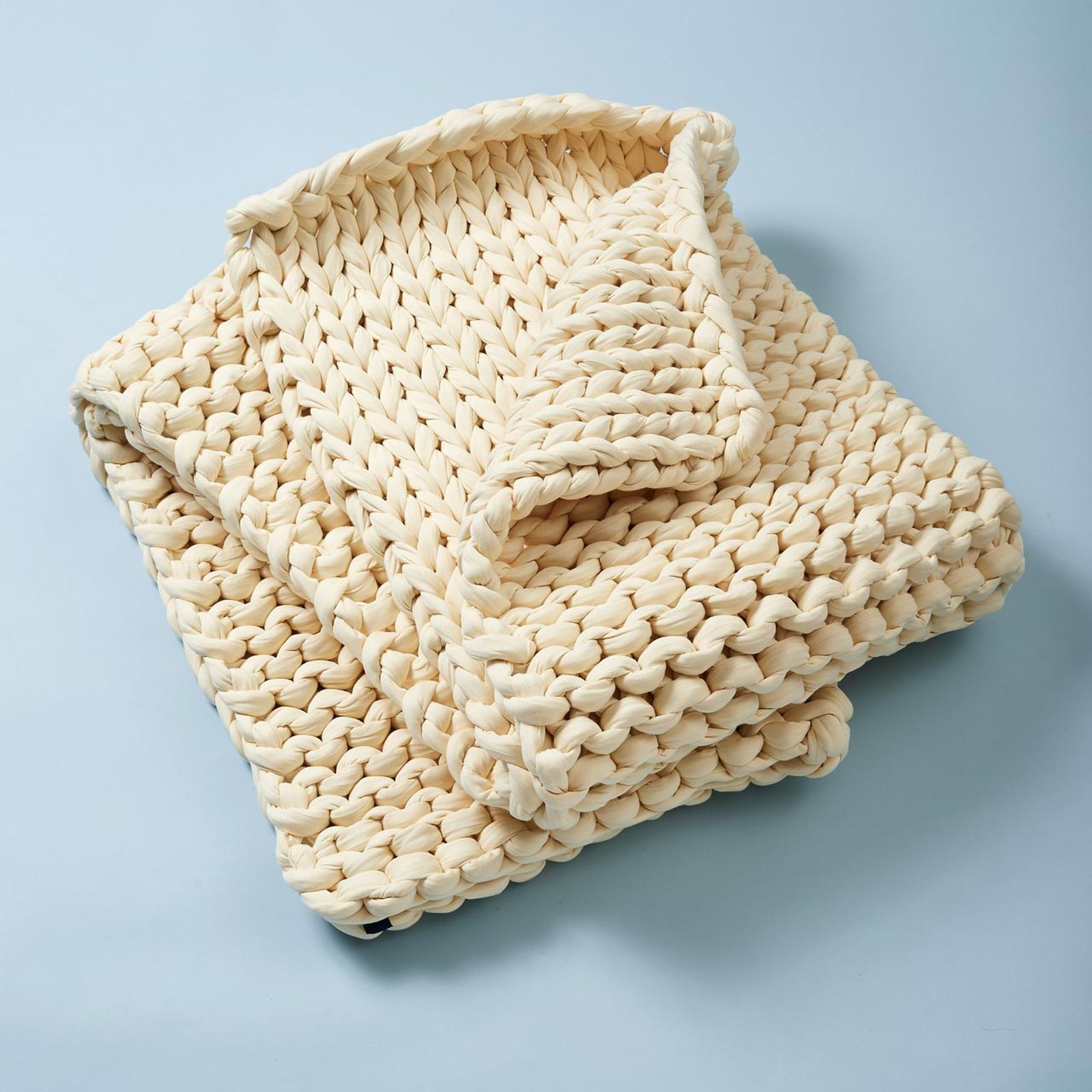 Bearassentials
As weighted blankets become more and more popular, we hope you'll consider more than just the price tag of a blanket.
Bearaby uses environmentally friendly and sustainable materials, no plastic in our production or packaging, and the highest of standards for quality.
Lovingly handmade, our Nappers are the perfect chunky-knit style for your bedroom that can also provide you with stress relief and better sleep.
Did you know?
The millennial generation is a driving force behind supporting sustainable brands. One study found that 79% of millennial employees are loyal to companies that have a socially responsible aspect.
As weighted blankets are becoming an up-and-coming trend loved by people who use them for everything from anxiety to insomnia, you may be wondering if this is one of the trends that's worth hopping on board for. The short answer is: Yes!
Even if you don't have a health concern you're hoping to alleviate, a Bearaby blanket can provide you with a beautifully functional and eco-friendly piece to add to your home. Not to mention, one of the main health benefits of using a weighted blanket is lowering cortisol levels (AKA our stress hormone), and we could all use a little bit less stress in our lives. Soon enough, you'll be one of the ones raving about how much you love your weighted blanket!
However, there are some things to consider when shopping around; just any old blanket won't do. We're here to convince you that Bearaby's lovingly handmade weighted blankets are the ones you want - you won't find this combination of vibrant hues, Instagrammable chunky knit weaves, and sustainably focused materials anywhere else.
Handmade With Love
Each and every one of our weighted blankets is handmade with love, from start to finish. While hand knitting is a long process, especially when you consider the layers upon layers of fabric that creates the extra weight, we know that using humans for the job is better than machines. While machines have given us a whole plethora of exciting and useful things over the years, they sure can't hand-knit like a real person does, which is with love.
High-Quality Materials
We wouldn't want you lying underneath anything other than the best of the best. For us, that includes organic cotton or eucalyptus-based tree fabric as the basis for our Classic Nappers and Tree Nappers, respectively. When it comes to artificial fillers, we've got none! While the other guys may fill their weighted blankets with plastic or poly pellets, Bearaby uses an innovative process of simply layering the fabric over and over again until we get the weight we need. You can feel good knowing that after you're done using your Napper for years and are lovingly retiring it, there won't be any plastic pellets sitting in landfills for centuries.
One of our favorite parts about our blankets is their perfect combination of being breathable yet soft and cozy at the same time. The magic comes from the tree fabric, also known as TencelTM Lyocell. Mainly manufactured from beechwood and eucalyptus trees that have been harvested in an environmentally responsible way, the Tencel fibers are silky smooth, moisture-wicking, and durably strong. In short, it's the perfect fabric for our beloved Tree Nappers!
We're not forgetting about our Classic Nappers, either, which are made from layers of organic cotton. Our Classic Napper also carries a MADE IN GREEN by OEKO-TEX certification – this means the product doesn't contain any harmful substances, artificial chemicals, or pesticides and is produced in environmentally-friendly facilities.
Mother Earth Comes First
Similar to how we only use sustainable materials for the creation of our weighted blankets, we also stand for the environment in every other step of the production process. From the production line to the packaging process to when it lands on your doorstep, our primary focus is leaving as small of a footprint as possible.
We've never used plastic, and we never will. We're not trying to preach to you, but we do think it's crucial that our society, as a whole, reduces their environmental impact, and reducing plastic use is a great place to start. When you purchase a Bearaby blanket, you can feel confident in knowing that you aren't putting any additional harm onto our beloved Mother Earth.
Lastly, using a closed-loop manufacturing system means that the materials used in the production process can be recollected or reused. Our favorite eco-friendly material, Tencel, is made using a closed-loop system that uses ten times less water than conventional fabrics! Because Tencel fabric is made from trees and is biodegradable, when it's done being used, it can be decomposed back into the earth to start the process all over again.
Our Values
As mentioned, we only use the best materials, and we would never imagine cutting corners when it comes to the production of our blankets. Although at times we may sell out of a certain blanket, it's just because we aren't willing to sacrifice any of our values. To cement in our commitment to social and environmental responsibility, we're on our way to becoming a B Corporation (also known as B-Corp), which is a group of companies and organizations that are held to the highest standards of helping the earth and all of the people who live on it. We hope you'll B(e) along for the ride while we get there!
Invest In You
You can't put a price on improving your health. Whether you suffer from stress, poor sleep, too much anxiety, or just want a great way to relax, the Bearaby weighted blankets are right for you. With the go-go-go nature of our modern society, all of us could use some extra time to unwind and get our stress hormones under control. Let's make 2020 the year of bringing napping back - and with no judgment!
Not only does Bearaby provide health benefits, but we love to love the environment and our number one focus is bringing you a sustainable product that you can feel good about buying and owning. Our Nappers are the first weighted blanket that not only provides the functional health benefits, but is also one you'll be proud to display on your sofa or bed - no ugly hospital-style blankets here. Invest in yourself - you deserve it.