Bearaby And Quilt Are Teaming Up To Make Mindfulness More Mainstream
To honor Mental Health Awareness Month, Bearaby and QUILT's partnership looks to empower new self-care routines and foster new connections, inside and out.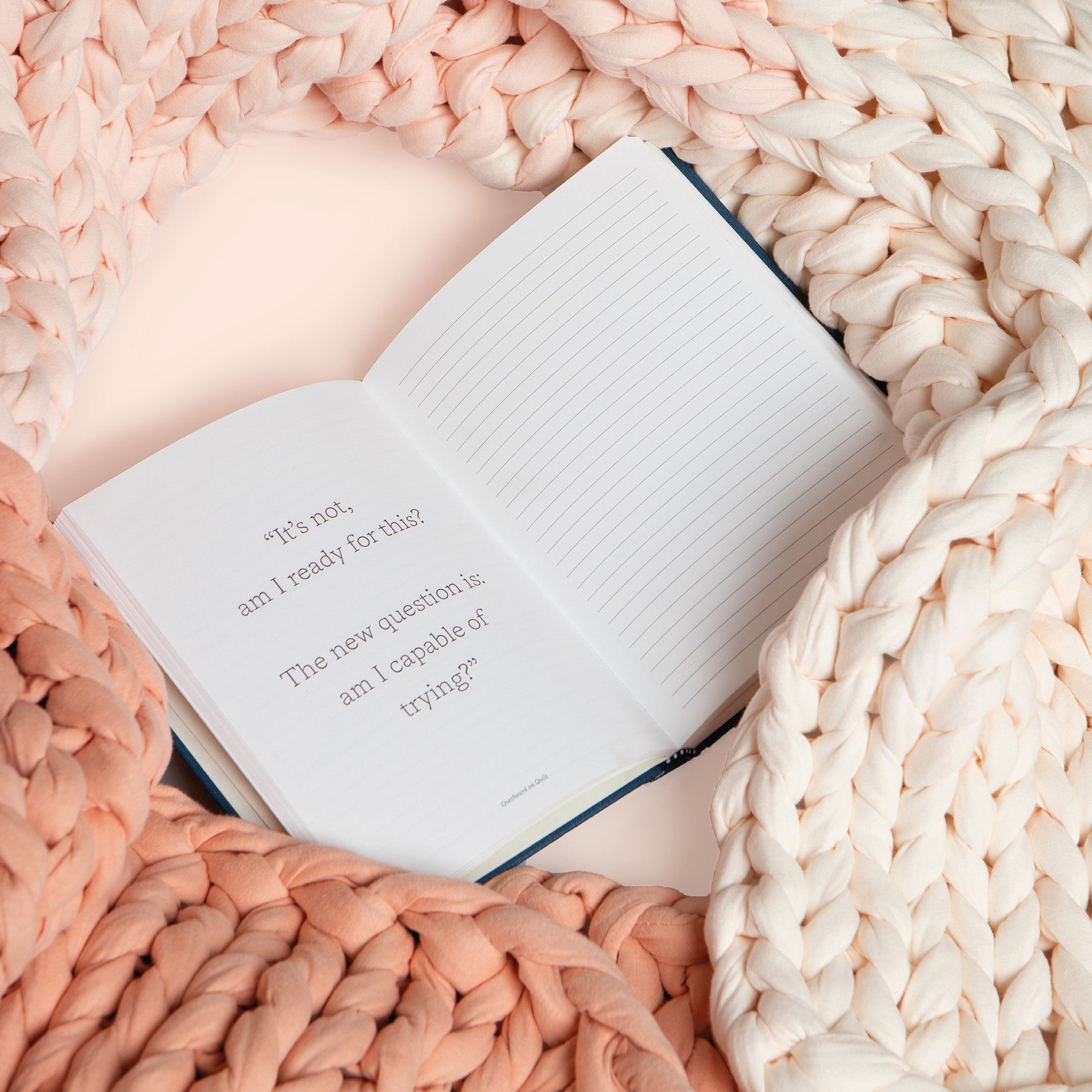 Bearassentials
Bearaby and Quilt have partnered to create a new Bloom Napper and reflection journal
Our new coral ombre Cotton Napper will help you feel grounded and secure while your thoughts flow
Quilt, the social wellness app, is a safe space for conversations around wellness and mental health
Did you know?
Scientific studies have shown that journaling for just 15-20 minutes once or twice per week can help to alleviate symptoms of stress and anxiety.
If the last couple of years have taught us anything, it's that feeling connected to ourselves and each other is important for our wellbeing. In support of Mental Health Awareness Month, we teamed up with Quilt to create our Bloom Napper – a serene, coral ombre limited edition weighted blanket that includes a Quilt reflection journal (while supplies last!).
Finding comfort in connection
Our new, limited edition coral ombre Bloom Napper is made from our signature organic cotton. It's naturally weighted with layers of material, and will wrap you in soft, chunky knit loops that feel like a comforting hug. Our limited edition weighted blanket includes a Quilt reflection journal so you can let your thoughts flow onto the page while enjoying the relaxing benefits of resting under weight.
Creating judgment-free spaces
Quilt is a social wellness app that looks to facilitate supportive conversations around mental health and self-care, and in 2021, 6.5 million minutes were spent Quilting. Their ad-free, non-judgmental digital space pairs perfectly with our filler-free blankets, and both Bearaby and Quilt look to create environments where you feel safe and secure enough to be yourself.
Female founders who put community first
Our founder Kathrin Hamm, and Quilt founder Ashley Sumner, both created businesses with community in mind. Quilt has begun to shift the cultural conversation around wellness, while our Nappers have helped to take the guilt out of naps, to encourage people to prioritize natural rest as a crucial part of everyday life.
Helping every mind to bloom
Our partnership with Quilt was born from a shared vision of creating spaces in which people feel safe and supported to be themselves. Proceeds from our partnership support the Mental Health Coalition, a non-profit who look to destigmatize mental health and empower access to vital resources.