Meet the Warmables: Weighted Warmth, Instant Calm
We've combined the calming, comforting effects of concentrated weight with the soothing tension relief of thermotherapy in our new Terraclay™ warmables collection. From a weighted eye mask to a warmable lap pad, neck wrap, and water bottle, these new additions to the Napperhood are ready to melt away stress from your daily routine.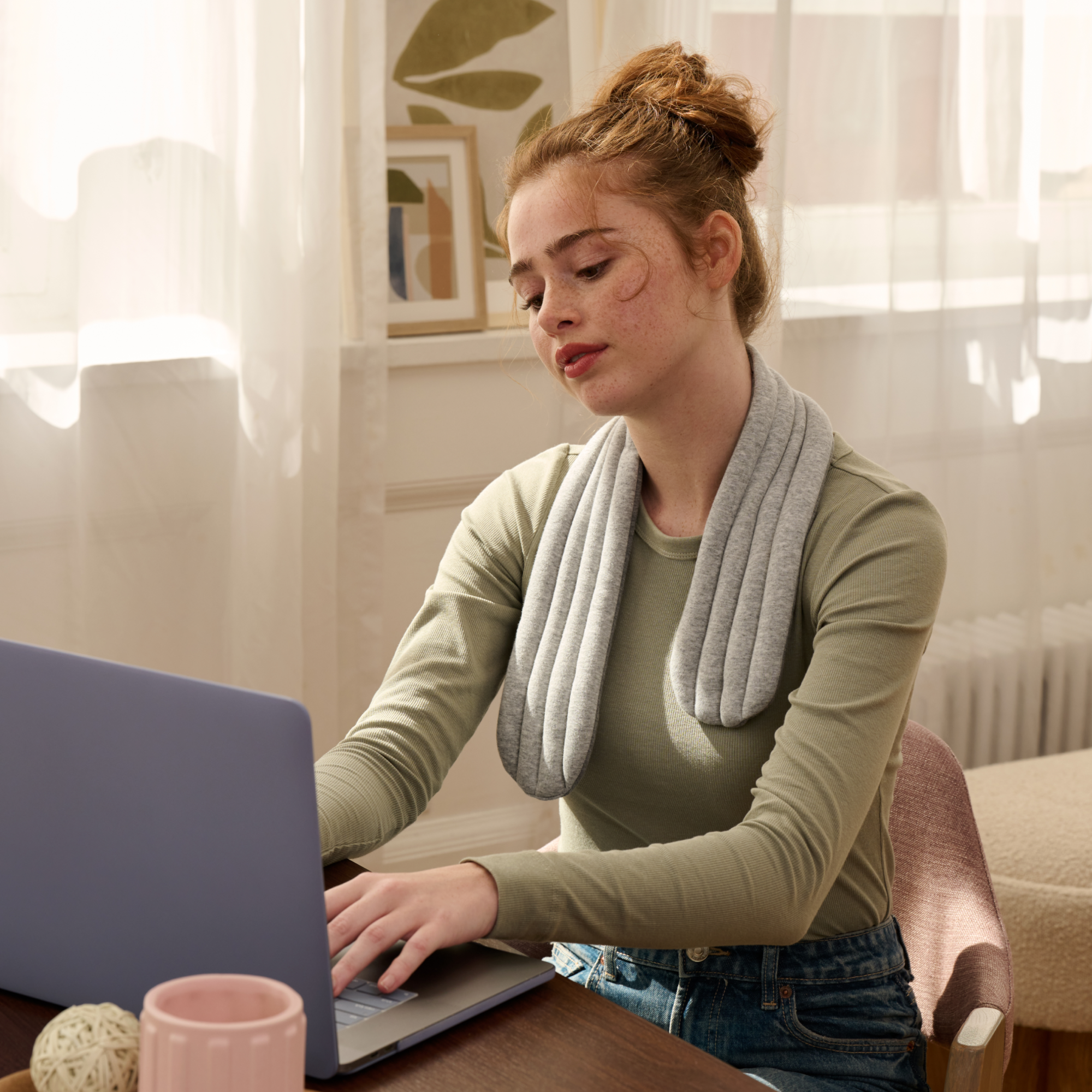 Bearassentials
The warmables collection includes the Calmer, Snuggler, Lounger, and Dreamer.
Each warmable gets its comforting weight from tension-melting Terraclay™.
Terraclay™'s naturally heat-retaining properties make our warmables a safe, sustainable alternative to conventional heat pads and ice packs. 
Did you know?
Thermotherapy can relieve pain and tension by promoting circulation to strained muscles.
From sore muscles after an intense workout to "tech neck" after staring at a computer screen, there are many moments throughout our daily routines where our pressure points take on extra tension and pain, making it difficult to relax and recharge.
That's why we've designed our new warmables collection to help melt away tension where you need it most — whether you're fighting off cramps, seeking sleep solutions, or just looking for a little extra coziness on a chilly day.
Our warmable neck wrap, bottle, and lap pad can be heated in the microwave for soothing warmth, or chilled in the freezer for cooling calm. You can also use them without the heat like a compact weighted blanket and enjoy the calming benefits of concentrated Deep Touch Pressure (DTP).
Our weighted eye mask, the Dreamer, is designed to offer temple-to-temple tension relief, cradling your eyes in silky soft, light-blocking Cloudweave. The Dreamer can be a useful tool for soothing headaches and relaxing TMJ tension, and you can also chill your eye mask in the freezer to add an extra layer of refreshing comfort.
Which Warmable Is Right For Me?
With four clayfully comforting options to choose from, the trick to deciding which warmable to try comes down to where — and when — you're planning to use it. Depending on your own individual needs, you might find different warmables helpful for different moments in your routine.
Our Dreamer eye mask is often used for help falling (and staying) asleep, while our Calmer neck wrap is a good choice for preventing neck strain while working.
Our Lounger lap pad might do the trick for calming your nervous system after an overwhelming day, while our Snuggler warmable bottle might be the best choice for easing period cramps or lower back pain.
Here's a quick guide to how each warmable can help you rest easy.
The Calmer: Heated Neck Wrap
A little extra warmth can go a long way towards a more restful day!
The Calmer is a gently weighted and warmable neck wrap that cradles the neck, back, and shoulders for calming comfort. It's ergonomically designed to mold seamlessly to your neck, and comes with an interlocking clasp that keeps it securely in place while you work, walk, or sleep.
If you find that you carry a lot of tension in your shoulders, or that your neck feels sore at the end of the day, the Calmer might be a good fit for you, since its weight can help soothe your muscles and keep your shoulders relaxed.
The Calmer is also a helpful choice if you tend to wake up with a stiff neck feeling that you "slept funny". Because of its interlocking clasp, it makes a good neck wrap for side sleepers and stays in place through the night to keep your neck and shoulders relaxed.
The Snuggler: Heated Bottle
Best for: Cramps; tension in the stomach and lower back; cozy sleep environment.
The Snuggler is a gently weighted warmable bottle that snuggles the body to ease pain and help you sleep better. It's safer and easier to use than a hot water bottle, and designed to contour your body for warm, relaxing snuggles.
If you're looking for relief from period cramps or lower back pain, the Snuggler is a good choice, since it's gentler on your skin than a rubber hot water bottle and easy to heat in the microwave.
You can also rest with the Snuggler on your stomach or at your feet to create a warmer, more comfortable sleep environment.
The Lounger: Heated Lap Pad
Best for: Tension in the legs, chest, and upper back; compact weighted blanket; sleeping with a heating pad.
The Lounger is a gently weighted and heated lap pad that calms the nervous system and helps you fall asleep. Like a compact weighted blanket, its quilted compartments create even weight distribution across your lap.
Since it gets its soothing warmth from naturally heat-retaining Terraclay™, the Lounger is safe to sleep with, unlike electric heating pads. After you fall asleep, the heat will gradually cool down, and the lap pad's concentrated weight will continue to keep you secure and comfortable.
You can also use the Lounger on your chest for concentrated DTP and anxiety relief, or lie on your stomach with the Lounger draped over your back to soothe strained muscles.
The Dreamer: Weighted Eye Mask
Best for: Headaches and migraines; TMJ tension; visual fatigue; sleeping while traveling.
The Dreamer is a gently weighted sleep mask that cradles your eyes and blocks out light to help you drift off into dreamland. Made of Terraclay™ encased in silky soft Cloudweave, the Dreamer fully covers your eyes, temples, and ears to reduce sensory overload and help you relax.
The Dreamer stays in place through the night thanks to its secure, flexible strap, making it a comfortable weighted eye mask for side sleepers and back sleepers alike.
You can also use the Dreamer for reducing visual fatigue after a long day, or recovering from headaches or migraines. We don't recommend heating the Dreamer, but you can chill it in the freezer for an added layer of cooling comfort.
Calm As Clay
Unlike conventional heating pads and cooling packs, our warmables deliver thermotherapy through naturally heat-retaining Terraclay™.
Terraclay™ is a safer, more sustainable alternative to glass or plastic beads typically used inside weighted products. When warmed in the microwave, it retains heat to provide sustained warmth that's soothing for you and the planet, too. It can also be chilled in the freezer for cooling comfort that's gentle on your skin.
Conclusion
Like everything we make, our warmables collection is designed to help you rest better naturally. Each warmable is carefully crafted to help a particular part of your body relax and unwind, combining the benefits of DTP with the soothing effects of thermotherapy.
You can use your warmable on its own to create tension-melting moments throughout the day, or set yourself up for a better night's sleep by pairing a warmable with your Napper weighted blanket or Cuddler body pillow.
However you prefer to snuggle up, we hope your warmable brings you just the right balance of cozy calm and cooling comfort where you need it most!