Grief, Loss, And The Power Of Weighted Blankets
Love is a powerful emotion and when we lose someone close, it's like we've lost part of ourselves, too. The process of coping with grief can be long and arduous, but it's necessary for finding peace with life.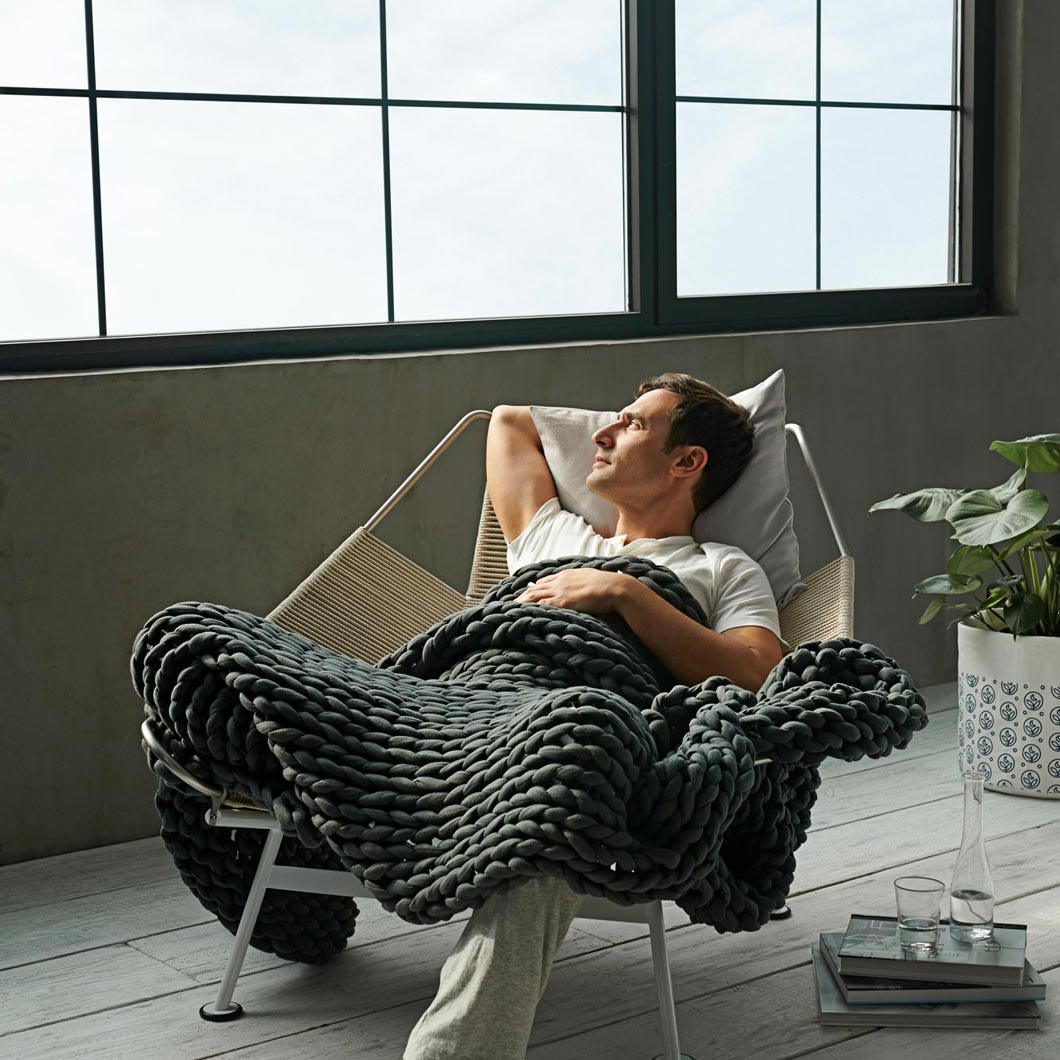 Bearassentials
Losing a loved one is never easy, but weighted blankets can help.
There are several stages of grief, each one with its own challenges and opportunities to grow.
Weighted blankets are a simple, yet powerful, way to heal and cope with loss. They relieve stress, anxiety, depression, and support us through our most difficult nights.
Did you know?
Honoring your loss can be a meaningful way to cope with grief. Plant a tree, make a scrapbook, write a poem, or do anything that reminds you of your loved one.
Let's face it, being human is hard! We deal with worries, anxieties, fears, anger, stress, and uncertainty. At Bearaby, we don't just make weighted blankets – we create a compassionate, comforting solution to the never-ending stress of being human.
One of the hardest things we face is coping with the loss of a dear friend, partner, or family member. Love is a powerful emotion and when we lose someone close, it's like we've lost part of ourselves, too. The process of coping with grief can be long and arduous, but it's necessary for finding peace with life.
Considering the emotional and psychological benefits of using a weighted blanket, it's no surprise that they can be an integral tool for working through the loss of a loved one. Here, we'll examine the process of grief, the emotional and psychological benefits of using a weighted blanket, and how a Bearaby weighted blanket led one woman to life-changing comfort and peace.
Navigate Grief With Weighted Blankets
Coping with loss is no easy task, but a weighted blanket can take some of the heaviness off your shoulders. Each step of the way, our blankets are there to help you overcome the specific emotional and psychological challenges of the grieving process.
For most people, coping with grief is a multi-stage journey. Let's examine how we navigate through each stage and how using a weighted blanket can address our unique needs along the way.
1. Denial And Isolation: Reduce Sleepless Nights And Anxiety
Whether the loss was unexpected or due to a long-term illness, coming to terms with the fact that our loved one is gone can feel unbearable. In this stage, many people lose sleep trying to wrap their heads around what seems like impossible news. This can also be an extremely isolating time. Even if others feel the loss of your loved one, it's common to feel alone.
During this stage, a weighted blanket can provide a biological cue to relax. The feeling of a weighted blanket "hug" signals to the brain that it's time to quiet our thoughts and slide into sleep. This hug can also provide soothing comfort to those who feel alone or distressed.
2. Anger: Settle Overwhelming Emotion
When reality hits, anger is typically the next step in the grieving process. This anger comes from the deep pain we feel from the loss, but it can be transferred on to other people or things. While it's normal and even sometimes helpful to work through your anger during this time, it's also important to be patient and find a calming way to cope as well.
When anger gets the best of you, take a break. Slip under your weighted blanket and spend a few minutes with a deep breathing exercise or watch a relaxing video to help you center yourself. The weight of the blanket can help you release your anger and rebalance. We need to feel and process all of our emotions (including anger), but we don't want to give anger all the control. A quick reset can help you see past the anger and deeper into the real emotion that lies beneath it.
3. Bargaining: Quiet Restless Thoughts
The bargaining stage of grief can look different for different people, but it often involves a lot of restless thinking. "What ifs," "why couldn'ts" and "I should haves" tend to take up a lot of brain space during this time and lead to anxiety, confusion, and frustration.
Go for a walk, practice a focused hobby, or simply brain-dump when these thoughts take over. Manage restless thoughts at night by grabbing a journal and grounding yourself under your weighted blanket for a therapeutic writing session. Let the restless thoughts flow out onto the page, then put it away. Allow yourself to wonder more tomorrow, because now it's time to rest. Your weighted blanket will calm your mind so you can slip into a peaceful sleep.
4. Depression: Support Moving Through Sadness And Isolation
By this stage, the loss of our loved one has fully sunk in. We're constantly aware of their absence and the shift our life has taken since he or she passed. Depression can occur as a result of the intense stress and struggles since our loss, as well as the deep sadness we feel in missing this person.
Sometimes, the only thing that can lift our spirits in this stage is a hug. Sleeping with a weighted blanket gives the body the sense of being hugged and comforted all night long. The Deep Touch Pressure therapy of a weighted blanket releases the same feel-good, happy hormones that are released when you are hugged by a loved one. In your waking hours, try to meet with friends or family members you trust. Grief is a difficult journey, but you don't have to go it alone.
Cotton Napper
2249 Reviews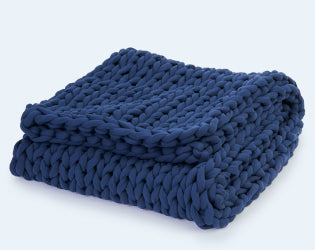 Dreamy, buttery softness
Calms body & mind for deeper sleep
Hand-knitted huggable comfort
It's Napper Time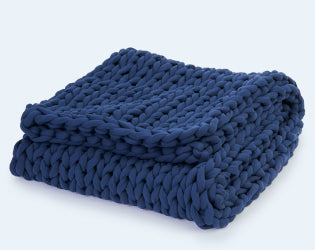 Cocoonable, couchworthy perfection
Unveil the secrets to restful sleep and join the Napperhood for a chance to win our perfect weighted blanket, the Cotton Napper. Get expert tips and insights delivered to your inbox.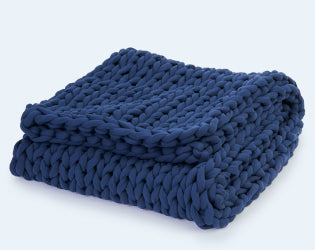 5. Acceptance: Find Stability
Acceptance is the final stage of grief, but that doesn't mean your grief will subside completely once you get here. Coping with the loss of a loved one never goes away, it just becomes easier.
During this stage, you might find that your weighted blanket helps you feel a sense of stability. A nightly self-care routine, dedicated bedtime, and the comfort of your weighted blanket can create a healing ritual and restorative sleep that sets you up for better emotional balance and mental stability for the future.
The Story That Touched Our Hearts
When we set out to make weighted blankets, we aimed to help people around the world find comfort and peace of mind through better sleep. We strive to create the best weighted blanket on the market offering a sustainable way to relax. We dreamt about helping people overcome their anxiety, find relief from their stressful lives, and sleep like babies. What we didn't expect was to help people work through their grief and sadness.
Recently, we received a letter from a woman who wanted to let us know about the huge impact our cooling weighted blanket had made for her family. Her mother had been suffering from the loss of her husband of over fifty years. Like many who are grieving, she was having trouble sleeping and had anxiety about being alone in her home for the first time in her life.
To help her cope, she gave her mother a Bearaby weighted blanket. This changed everything. Finally, she could relax at night without the anxiety of being alone. She started sleeping deeply through the night, which helped her manage her emotions better during the day. She even felt comforted by the weight of the blanket, as it reminded her of being hugged by her husband while she slept.
We were incredibly humbled to hear this story and it is one that will stay in our hearts forever. While we were well-aware of the power our blankets have on the mind and body, we hadn't realized the incredible effect they could have on coping with grief. We are so grateful to be able to help others in their search for peace and hope.