Simple Steps To Wash Your Weighted Blanket And Leave It Feeling As Good As New!
How do you wash a weighted blanket? Here are a few helpful do's and don'ts for washing your Napper to keep it in great shape.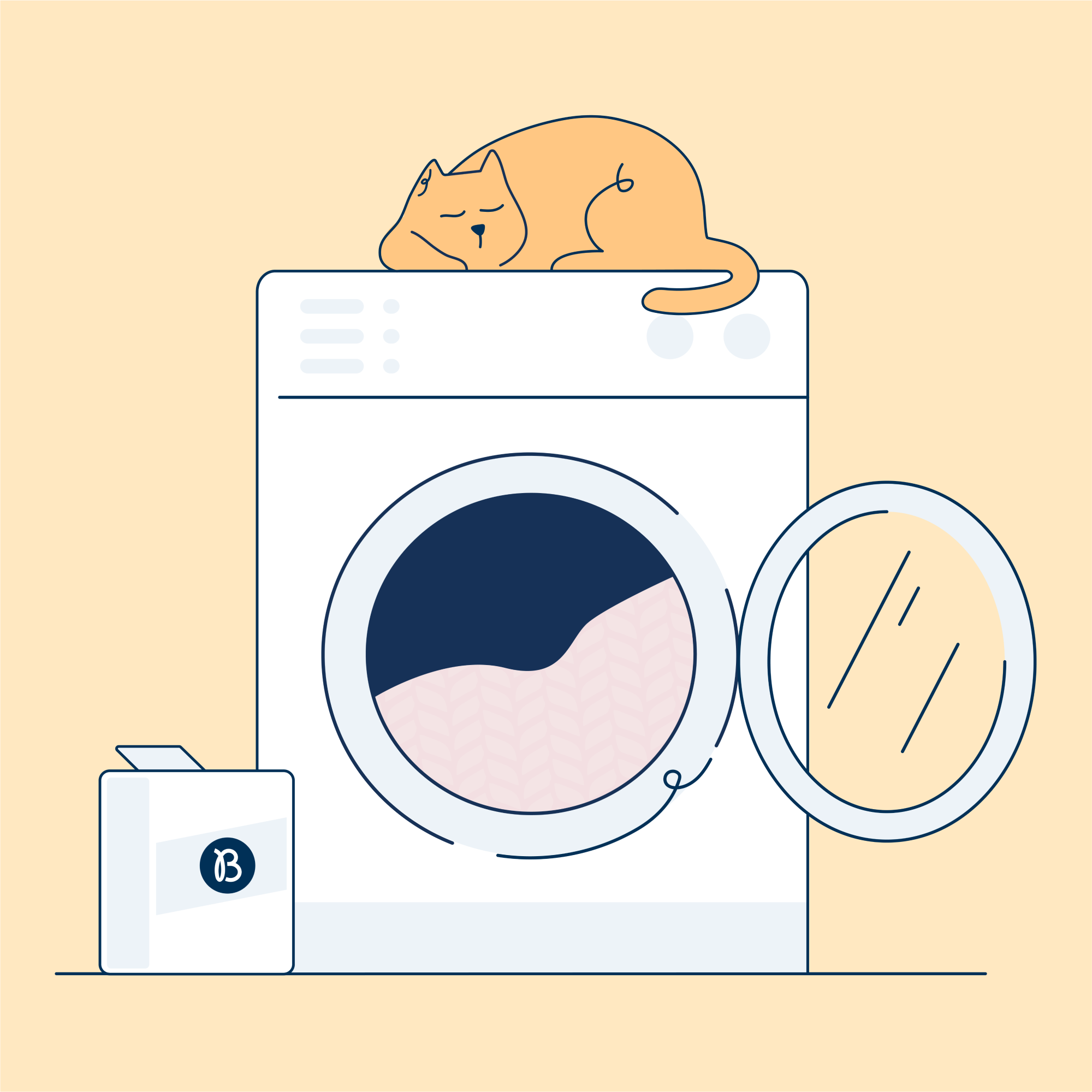 Bearassentials
Need to wash your Napper? Start by taking a look at the label on your blanket to see if machine wash or dry cleaning is recommended.
If you're machine-washing, it's best to check the specs of your appliance to ensure it can bear the full weight of your blanket – while our delightfully heavy Nappers are great for deep, natural sleep they do become pretty hefty when wet.
If you're looking for laundromat or dry cleaner recommendations, read on for our list of Bearaby-approved locations.
Did you know?
The Royal Flush: Laundry accounts for 21% of indoor water use in households, while flushing the toilet accounts for a whopping 41%!
Yay! You're now the proud owner of a weighted blanket! We're so glad you joined the Napperhood! Now that you've got a good few weeks of coziness and deep sleep under your belt, it's a good time to think about washing your Napper.
This post takes a deep dive into the details about how to wash a weighted blanket so that it stays in good shape for many more peaceful nights.
Can I put my Napper in the washing machine?
Our Cotton Napper, Travel Napper, Tree Napper, and Nappling are machine washable.
If you have a Velvet Napper we recommend dry cleaning to ensure the delicate eco-velvet fabric stays wonderfully soft and in tip-top shape for many naps to come. Our Hugger weighs in at 35 lbs and we also recommend dry cleaning for this queen-size weighted blanket.
Steps For Washing A Weighted Blanket
Washing a weighted blanket is a four-step process, starting with always checking the care label for specific care instructions. Below we've outlined each of these steps in more detail.
Step 1: Check the care instructions and your machine's capacity
An important first step is to check the care label of your weighted blanket for instructions. Not all weighted blankets are the same and each type will require different care.
After checking your blanket's label, you'll also want to take a look at your washer and dryer's weight capacity. While delightfully heavy blankets are great for deep sleep, they can be a bit weighty for washers and dryers!
It's essential to check beforehand if the washing machine and tumble dryer model you have can bear the full weight of your blanket — and remember, your blanket will get a bit heavier when it's wet.
Top-loading washers and dryers usually contain agitators that can tear at the fabric of your blanket, so it's best to avoid using these machines altogether.
Step 2: Treat stains
Before you load your weighted blanket into your washing machine, it's useful to check and spot treat. Reminder: never use bleach!
Step 3: Wash your weighted blanket
Now that you've gotten rid of the stains on your weighted blanket, it's time to give it a wash.
So, how do you wash a weighted blanket at home? Here are some tips for washing your weighted blanket:
Wash separately in cold water.
Select either the delicate or permanent-press cycle.
Use only gentle or mild detergent.
Wash only your Napper (your socks can wait!).
Avoid using fabric softener.
No need for bleach anywhere near your Napper.
Step 4: Dry your weighted blankets
We recommend you tumble dry your Napper on low heat. You might need to do this twice to completely dry your weighted blanket.
Never hang your Napper up to dry – it'll stretch! We don't recommend laying our Napper flat to dry either: the chunky-knit fabric can take a while to air dry, which is why a dryer is the best choice to keep it clean and cozy. Tumble drying on low heat should keep your Napper fresh and feeling great.
How To Wash A 25 lb Or 20 lb Weighted Blanket
Bearaby weighted blankets are available in a variety of weight options. While all our Cotton and Tree Nappers are machine washable, we recommend checking your washing machine and tumble dryer's weight capacity before washing and drying one of our heavier blankets.
Our delightfully heavy blankets are great for deep sleep, but best to know beforehand if the washing machine and dryer model you have can bear the full weight of your blanket. If you have 25 lb weighted blanket or an older model or top-loading washing machine or dryer with an agitator, it might be best to wash and dry your Napper at a laundromat in a heavy-duty machine. Remember to use mild detergent!
If you're looking for a trustworthy laundromat, we've listed our six partner laundromats familiar with washing a Bearaby weighted blanket below:
The Soap Box
Areas served: Brooklyn, Queens, and parts of Manhattan
Accepts: Cotton Nappers and Tree Nappers
Todd Layne Cleaners
Areas served: Upper East Side, pickup/delivery anywhere in Manhattan
Accepts: Cotton Nappers and Tree Nappers
Orange Bag
Areas served: Los Angeles County (excluding the San Fernando Valley), Huntington Beach, Pasadena, Glendale
Accepts: Cotton Nappers and Tree Nappers
Rinse
Areas served: SF Bay Area, L.A., San Jose, Oakland, Chicago, D.C., New Jersey, Boston, Austin, Dallas, Seattle
Accepts: Cotton Nappers, Tree Nappers, Velvet Nappers and Huggers.
Celsious
Areas served: NYC (all boroughs)
Accepts: Cotton Nappers and Tree Nappers
How Do You Wash A Weighted Blanket For Kids?
When it comes to bedding for little ones, simple and easy cleaning is a necessity. The good news is that our children's weighted blanket, the Nappling, can be washed and cared for at home without any hassle.
We recommend washing your Nappling separately in cool or warm water (max (90 °F), selecting either the delicate, gentle, or permanent-press cycle. Make sure your Nappling is washed separately from other items. After washing, tumble dry on low heat so your child's blanket stays fresh and snuggly for many naps to come!
Cotton Napper
2249 Reviews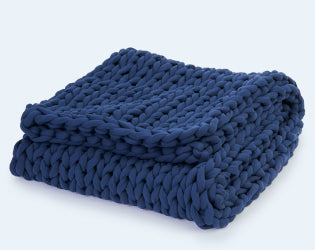 Dreamy, buttery softness
Calms body & mind for deeper sleep
Hand-knitted huggable comfort
It's Napper Time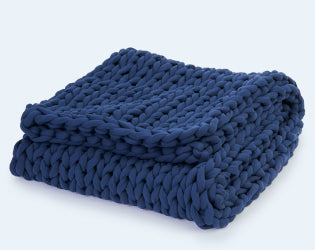 Cocoonable, couchworthy perfection
Unveil the secrets to restful sleep and join the Napperhood for a chance to win our perfect weighted blanket, the Cotton Napper. Get expert tips and insights delivered to your inbox.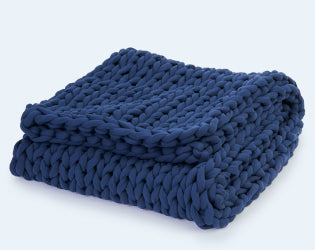 How to Wash a Weighted Sweater
Just like a weighted blanket, a weighted sweater requires a little extra love and attention when it's time for washing. How you keep your weighted sweater clean will depend on the kind you're wearing!
Our Napigan is an easy-to-clean, hand-knitted weighted sweater that can be laundered in just the same way as our Cotton Nappers.
We recommend washing your Napigan separately in cold water on a delicate or permanent-press cycle, using mild or eco-friendly detergent. After washing, you can tumble dry your Napigan on low.
You should never hang your Napigan to dry — it'll stretch out those lovely loops! And just like you would with your weighted blanket, make sure to check whether your washer and dryer can handle the weight of your Napigan.
How Often Should I Wash My Weighted Blanket?
If you use your blanket daily with a sheet underneath, you may want to wash it once per month. If you only use it occasionally, try airing it out frequently and washing 4-5 times per year.
If you have one of our Velvet Weighted Blanket, we recommend handling it with a little extra care by not washing it too frequently.
Help! I Spilled Something On My Blanket!
Whether it's a splash of red wine, a dribble of coffee, or a muddy paw print from your pup, stains happen. Check out The Cleaning Institute for recommendations of what to do for any and all potential stains. Most common spills will involve soaking the blanket or comforter's affected area in some cold water before gently spot-treating with mild or eco-friendly laundry detergent. Then, wash as usual per the instructions above! If it's dirt or mud, try first to brush off as much as possible once it's dried.
What About The Detergent?
You can use a mild or gentle detergent in the washing machine – definitely no need for bleach here! We're fans of eco-friendly soaps; try Mrs. Meyer's or Method green laundry detergents. Also, no need for fabric softener or dryer sheets. Feel free to throw a towel in when tumble drying to add a little bit of fluff to your weighted blanket.
How To Wash The Sleeper
We've got similar instructions for the Sleeper weighted comforter. Wash the Sleeper separately in cold or warm water on a delicate or gentle cycle. The Sleepers can be unzipped and washed separately. If you bought the 25-pound Sleeper, consider taking it to the professionals so you don't cause wear and tear on your washing machine. The Sleeper can also be tumble-dried on a low setting.
How To Wash Sleeper Sheets
If you're one of the lucky ones who has a matching set of sheets to go with your Sleeper, these instructions are for you. The Sleeper Sheets are specially designed with extra-strong corner ties to keep your weighted comforter in place and not slip-sliding around off the sides of the bed while you sleep. We've even got 350-degree zipper ties, making these the easiest sheets you've ever had to change.
When it's time to wash your Sleeper sheets, you've got a little more leeway compared to when washing the weighted comforter. You can wash the sheets at home in warm water, on a regular cycle. The sheets can be tumble dried as well. If you really want to, feel free to iron them (although you probably don't have ironed sheets unless you live in a hotel or are Monica Geller).
Help! My Furry Friend Sheds Like Crazy!
If your dog or cat has added an extra layer to your blanket with its hair, wash the weighted blanket or comforter in cold water, like usual. Use a lint roller once it's completely dry. This should remove the maximum amount of pet hair without damaging the blanket.
Why does my Bearaby Blanket Smell?
As part of our commitment to sustainability, we never package our products in plastic. Each of our Nappers is packed in a cloth bag within an FSC-certified cardboard box. Sometimes, in the journey from warehouse to home, these natural materials absorb unwanted scents. This is a normal side-effect of zero-waste packaging – luckily, most smells will disappear once the blanket has been unpacked and aired out!.
And if your blanket needs a refresh, you can always wash and dry it according to the care instructions to keep it cozy and clean.