Our Super Cooling Summer Weighted Blanket Has Arrived
Say hello (again) to the best weighted blanket for summer, our Tree Napper! For our summer weighted blanket collection we look to nature for inspiration, releasing limited-run, garden-fresh hues to transform your indoor space into a lush, tranquil paradise.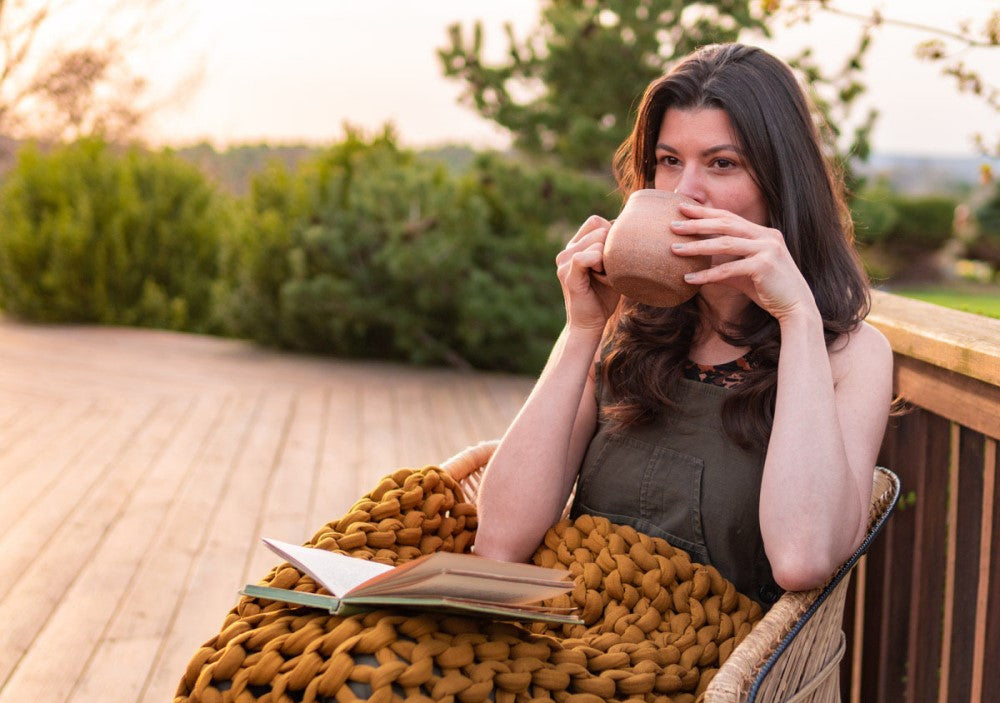 Bearassentials
Hot weather is here, and we've got the best weighted blanket for summer. Meet our cooling, garden-fresh Tree Nappers! Inspired by the soothing shades of nature, each new Tree Napper color is launched as a seasonal surprise in limited edition runs — when they're gone, they're gone for good!
Made with the same moisture-wicking, cooling, and totally biodegradable Tencel fabric, the Tree Napper is a weighted blanket for hot weather and won't make you sweat this season.
Sustainability is at the core of our business. Through our design innovations and giving initiatives, we strive to keep the planet beautiful now and into the future.
Did you know?
Pomegranate trees can live for over 200 years! The word pomegranate means 'apple with many seeds'.
Thought you couldn't use a weighted blanket for hot weather? Think again! Inspired by a lush garden, our sustainable summer collection is full of vibrant, couchworthy colors, hand-knitted from cooling Tencel and perfect for the heat of the summer.
For each limited edition Tree Napper, we reimagine our classic color palette, looking to nature for inspiration to transform your couch or bed into an indoor sanctuary. Even on the hottest days, these lovely loops can keep you cool while lulling you into a deep, natural sleep.
Can You Use a Weighted Blanket in the Summer?
Yes, you heard it right — you can use a weighted blanket in the summer without overheating! The trick is to choose a weighted blanket with a cooling design that allows air to flow. Our Nappers are made with a chunky-knit, open weave design and get their weight only from layers of heavy fabric, so they're a great option for hot sleepers.
What weighted blanket is best for summers?
We recommend choosing a weighted blanket that's around 10% of your overall body weight, during the summer and all year round. Individual snuggle preferences may vary, but what matters most for keeping cool with a weighted blanket is the design and materials of the blanket, not the amount of weight.
What is the difference between a weighted blanket and a cooling weighted blanket?
Unlike traditional weighted blankets, cooling weighted blankets are made with breathable and moisture-wicking materials. The best cooling weighted blankets are constructed in a way that allows air to flow through the night.
With a combination of cooling materials and breathable design, you'll be on your way to calming naps in no time!
What are the benefits of a cooling weighted blanket?
Cooling weighted blankets can help you feel secure and snug through the night without overheating. Deep Touch Pressure is scientifically proven to lower cortisol levels while boosting melatonin and serotonin production, so if you tend to sleep hot, a cooling weighted blanket can help you enjoy these benefits while staying comfortable-as-can-be.
Do weighted blankets help with hot flashes?
Cooling weighted blankets can be helpful for people experiencing hot flashes because they can help you stay asleep through the night. Hot flashes are known for disrupting the sleep schedules of menopausal people, so sleeping with a weighted blanket that doesn't add any extra heat can be a useful solution for both better sleep and cooler nights.
Our Tree Napper is our best weighted blanket for hot flashes because it's made with Tencel, a naturally moisture-wicking material made from eucalyptus fibers.
And like all our Nappers, the Tree Napper gets its calming weight only from layers of heavy fabric — no sweaty fillers in sight!
The Tree Napper Is A Cool Weighted Blanket For Summer
Designed for blissful summer snoozing, the Tree Napper comes in a variety of colors inspired by the soothing shades of the natural world.
So that we can keep knitting up new hues for everyone, each Tree Napper colorway is produced in limited edition runs of surprise seasonal editions. Here are a few of our favorite Tree Nappers from present and past!
Sweet Lavender
Drift into floral dreamscapes with our Sweet Lavender Tree Napper, inspired by the soothing properties of the lavender plant. This subtle, serene colorway infuses our silky-soft weighted yarn with sweet memories of vibrant fields.
Clay
Like the smooth sandstone of canyon walls, our Clay colorway immerses you in a grounded, calming getaway. Recharge your senses with this soft and lively earth tone.
Pebble Grey
Let your worries float downstream! With smooth and cooling loops, the Pebble Grey Tree Napper is designed to surround you in spa-like comfort. A true neutral color for truly peaceful naps.
Magnolia
Rest under the petal-soft loops of our gentle Magnolia Tree Napper and feel your tension melt away.
Willow
Transport yourself to a sun-dappled glade with our lush, serene Willow Tree Napper.
Rosewood
Bask in the comfort of our rich, grounding Rosewood Tree Napper, and transport yourself to a shaded spot beneath the trees.
Terracotta
Our earthy Terracotta Tree Napper evokes the feeling of cool terracotta tiles on a warm summer's day.
Rosemary
Transport yourself into calm, lush surrounds with the Tree Napper in Rosemary. Grounded in those comforting memories of the aromatic woody herb, this chic summer weighted blanket will inspire will inspire you to open the window and be transported to a walk in the wild, where Rosemary grows in abundance.
Pomegranate
Cocoon yourself in the vibrant Pomegranate Tree Napper. With its understatedly bold hue, this exciting new Napper adds a pop of colour to any room, all while bringing calm and tranquility for moment's of wonderful self-care.
Almond
A summer weighted blanket inspired by muted earthy tones and the tranquil landscape of rolling dunes, this low-key nutty Napper dreamily transports you to a peaceful walk along a sandy beach, with a soothing almond latte in hand.
Avocado
A fabulous fruit that goes with your bedding just as well as it does with a piece of sourdough toast! Vibrant and versatile, the Avocado Tree Napper is the exhilarating pop of colour that works in just about every home. Wrap up in the very essence of nature - green, alive and incredibly comforting.
Papaya
Exquisite Papaya. A rich, stimulating hue that pairs perfectly with those precious moments of calm and collectedness. The tropical fruity tone of the Papaya Tree Napper lifts your couch to a new level of chic comfort.
The Benefits of A Weighted Blanket For Hot Weather
Breathable design for maximum cooling weight
Our Tree Nappers are our coolest, most breathable Nappers yet, perfect for hot sleepers due to their hand-knit design and all-natural materials. Hands down it's the best weighted blanket for summer months.
The knit design allows air to flow in and around the loops while you stay cozy and comfortable. Plus, our Tencel fabric comes from eucalyptus trees, making it extra cooling, moisture-wicking, and perfectly designed for warmer climates.
The bonus of our hand-knit design? Evenly-distributed weight across your whole body, maximizing the benefits of snoozing (or just chilling) underweight better sleep, less stress, happy feels.
Tree Napper
1025 Reviews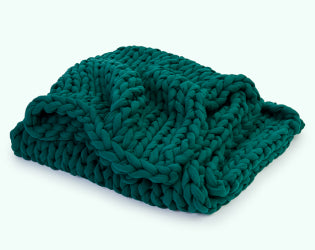 Silky-soft, airy comfort
Made from natural eucalyptus
Ultra breathable
Get Cozy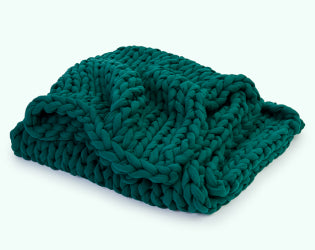 Cocoonable, couchworthy perfection
Unveil the secrets to restful sleep and join the Napperhood for a chance to win our perfect weighted blanket, the Cotton Napper. Get expert tips and insights delivered to your inbox.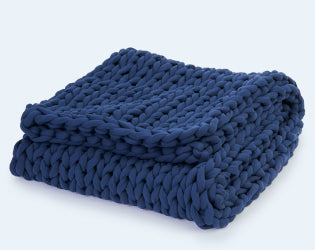 Plastic free is the way to be
All of our Tree Nappers are vegan, hypoallergenic, and completely plastic-free, so they'll leave zero trace when their lifespans have run out. The only thing that gives our weighted blankets their weight, is fabric. Layers and layers of it. That means no plastic pellets inside, only soft, cooling, natural fibers.
Plus, not only is the Tencel fabric highly breathable, it's biodegradable on land and in water. Made from wood pulp derived from Eucalyptus trees, our Tencel uses 10x less water to produce than most fabrics, and is made in a responsible, closed loop process.
Sustainable, Responsible, and Good-natured
Sustainability is at the core of our business. Through our design innovations, like our patented weighted yarn, our goal is to exemplify a new mindset for consumer products - that creating a sustainable product is not only good for the earth but also beneficial for consumers, who will be granted access to better products in both design, function, and sustainability.
Conclusion
We believe mental health shouldn't be hidden out of sight, so to help more people find real relief, every weighted blanket we make is designed to look as good as it feels! And if you're looking for a weighted blanket for the summer, we've got you covered with cooling, breathable designs in dreamy, garden-inspired colors.