Why Weighted Blankets For Adults Might Be Just The Answer To All Your Problems!
Hectic schedules, endless to-do lists, demanding bosses...these are just some of the stressors adulthood brings to our lives. And when the list keeps growing, so do your anxiety, insomnia, and stress levels until you're wishing you could simply be a kid again. But we have good news for you! Your weighted blanket is just the ticket to help you cope with those challenging days when adulting feels impossible.
Bearassentials
40 million American adults suffer from anxiety caused by work stress and social pressure.
Weighted blankets for adults can help support better sleep and alleviate stress and anxiety.
A weighted blanket can complement your other stress-management tactics such as yoga!
Did you know?
There are two types of stress: Eustress and Distress. Eustress is short-term and motivating, while Distress is long-term and causes long-lasting damage to the mind and body.
As kids, we all learned that when life gives you lemons, you make lemonade… But what do you do when adulting hits you hard? As adults, we are faced with constant challenges that lead to increased stress, insomnia, and anxiety. But don't worry— we're here to tell you that weighted blankets for adults can be just what you're looking for. If you hate adulting, read on to learn about how a heavy blanket can help you tackle even the most challenging days.
When Adulting Keeps You Up at Night
Roughly 10% of today's adults spend time tossing and turning at night, also known as insomnia. Insomnia is the difficulty of falling asleep or staying asleep to the extent that it causes significant impairment in daytime activities. What's more, chronic insomnia can have long-term effects that damage our overall health.
So how do weighted blankets come into play when it comes to tackling sleep? One suggested technique is to use a cooling weighted blanket for adults. This helps to control your body temperature at night and also "talks" to the body by applying deep touch pressure, which supports the body's production of serotonin and decreases the production of cortisol. It's like falling asleep in a hug!
Cotton Weighted Blanket
2249 Reviews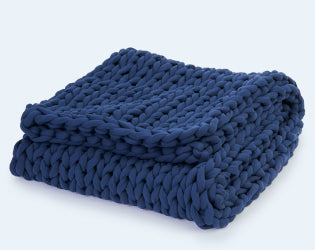 Dreamy, buttery softness
Calms body & mind for deeper sleep
Hand-knitted huggable comfort
It's Napper Time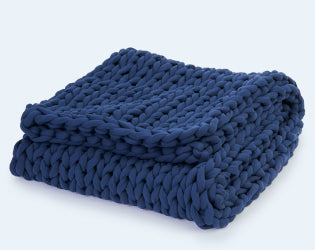 Cocoonable, couchworthy perfection
Unveil the secrets to restful sleep and join the Napperhood for a chance to win our perfect weighted blanket, the Cotton Napper. Get expert tips and insights delivered to your inbox.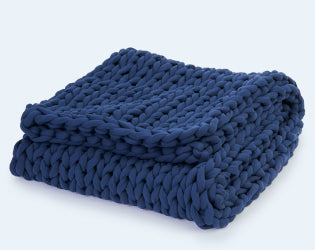 Tackle Anxiety With Weighted Blankets
A recent study revealed that over 40 million adult Americans suffer from some form of anxiety disorder. If you struggle with anxiety during your day, certain tactics can help get you started down the road toward better health. Weighted blankets for adults with anxiety are specifically designed to help the mind and body cope with stress. Here are additional techniques you can follow to manage stress.
More Sleep & More Sunlight
Our bodies are made to know instinctively when it is time to wake up or go to sleep by responding to the amount of sunlight it gets. During the day, add walk breaks and outdoor time to give your body plenty of Vitamin D. At night, turn out the lights and grab your weighted blanket.
One of the many weighted blanket benefits for adults is that the deep touch pressure helps teach your body when it is time to wind down and produce melatonin. Since sleep is one of the best methods of managing stress, using your weighted blanket can lead to improved health and better mental wellness during the day.
Weighted Blankets and Yoga: The Perfect Pair
Did you know that a travel weighted blanket is the perfect accessory for a yoga session? Yoga is a great health practice that not only improves flexibility but also supports healthy respiration, energy, and circulatory health.
During your next yoga session, roll up your weighted blanket for support or use it for extra warmth in Savasana. It can also be comforting to lay your blanket across your lap during meditative poses or while you practice slow breathing.
Choosing Your Weighted Blanket
Finding ways to manage the stress of daily life doesn't have to feel impossible. By incorporating just one or two of these tactics, you can soon find yourself feeling more confident during the day and more relaxed at night.
If you're considering a weighted blanket that looks as good as it feels and uses sustainable and earth-friendly materials, our cotton weighted blanket might be your best bet. Made of buttery soft and breathable organic cotton, our signature Cotton Napper equally distributes weight across your body and is the perfect recipe for blissful slumber!
If you need help finding the right weighted blanket for adults to add to your daily routine, take our weighted blanket quiz here.