How Bearaby Supports the UN Sustainable Development Goals — From Plant to Pillow
Our mission to create a calmer, more comforted world starts with sustainable, planet-kind practices. Learn how we're supporting the UN's 17 Sustainable Development Goals through each stage of the production process.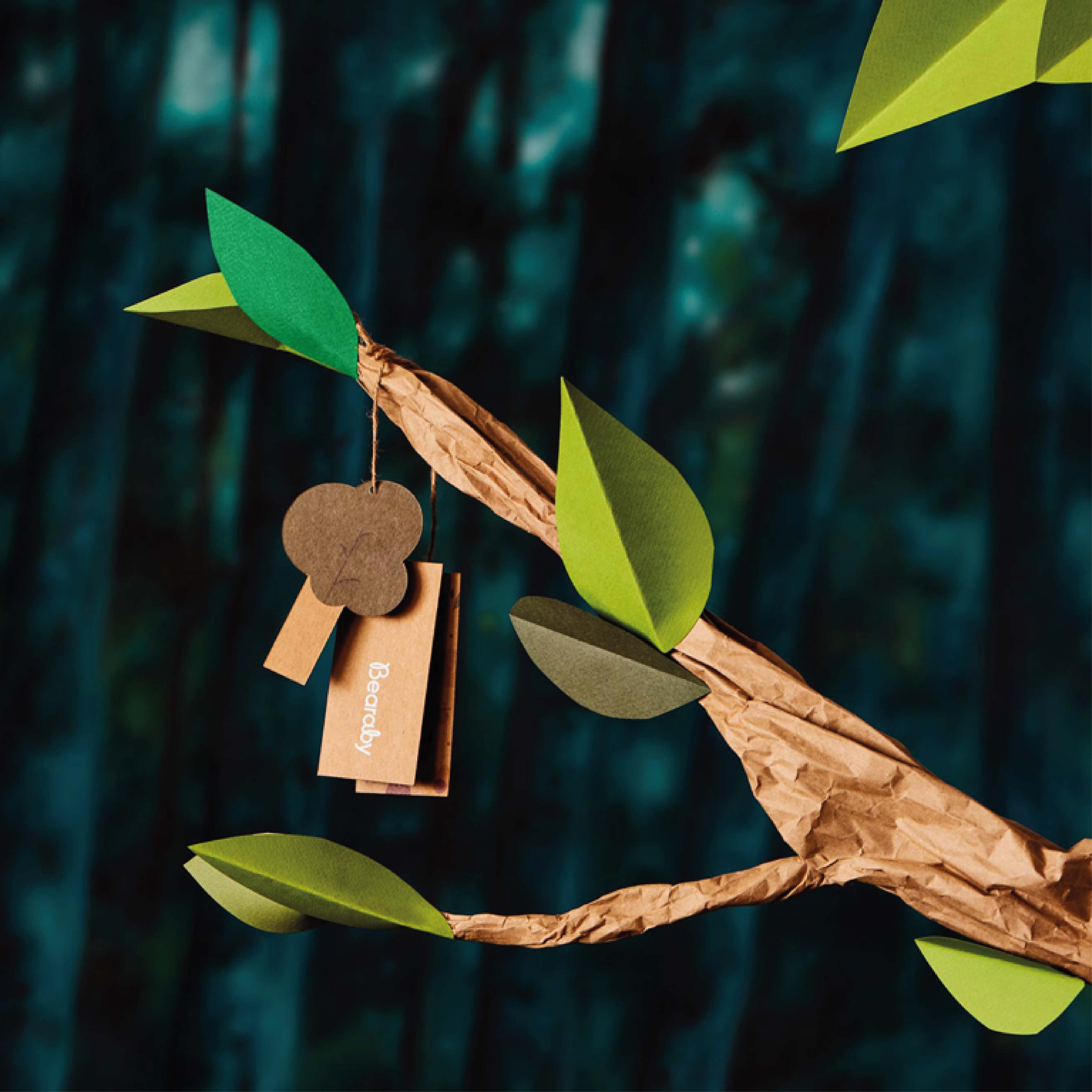 Bearassentials
In 2015, all United Nations Member States adopted the 2030 Agenda for Sustainable Development.
The Sustainable Development Goals tackle a wide range of social and environmental issues, from poverty to land degradation.
Through each product we create and partner we support, Bearaby is working to make the UN's Sustainable Development Goals a reality.
Did you know?
Sustainable choices promote long-term health for people and the planet, so social, economic, and environmental goals are all part of the UN's 2030 agenda.
Here at Bearaby, sustainability is at the center of every home wellness product we create.
Our signature Napper is where it all began, providing a sustainable alternative to sweaty, bead-filled weighted blankets. Each Napper gets its weight from layers of heavy organic cotton yarn, rather than plastic fillers that will end up polluting residential areas and landfills.
Since launching the Napper, we've continued to create thoughtfully-designed plant-based products (including our Hugget knot pillows and Cuddler body pillow) and upcycled products like our Velvet Napper.
We're big believers in the power of revolutionary rest, and with each new creation, we aim to help people and the planet rest easy.
We're proud to say that we're doing all we can to support each of the UN's 17 Sustainable Development Goals throughout our production process and beyond.
What Are Sustainable Development Goals?
The UN's Sustainable Development Goals (SDGs) are a call for all countries to take steps towards a healthy, equitable, and prosperous future. The 17 sustainable development goals, adopted in 2015, outline objectives to end poverty and promote peace while preserving and protecting our planet.
The SDGs are a framework that guides UN Member States to make actionable sustainability commitments. They're also a helpful guide for anyone looking to make environmentally friendly choices — including sustainable small businesses like us.
2030 Agenda
Each SDG casts a vision for what the world could look like in 2030.
The first thing that comes to mind when you think of sustainability might be pristine forests or perfect recycling habits, but the 2030 agenda also focuses on community wellbeing, with goals to eradicate poverty and improve access to education.
Since 2016, the UN has released a report every year that looks at where we are now compared to the 2030 agenda. This helps everyone to get a better sense of what progress is still needed to meet these goals.
Understanding the Sustainable Development Goals
A quick glance at the UN's SDG webpage will show all 17 goals, from 1: No Poverty to 17: Partnership for the Goals.
Looking a little closer, you'll see that each goal has several "targets", or smaller, more specific sub-goals. Each target is paired with an indicator that explains how we'll be able to tell if the target is met.
For example, target 15.7 focuses on ending poaching of animals and plants. How can we tell if this is actually happening? We look at the indicator for this target: the "proportion of traded wildlife that was poached or illicitly trafficked."
Bearaby's Sustainable Goals
Sustainable practices have always been the foundation of our mission to create a calmer, more comforted world. We're supporting the UN's 2030 agenda through taking care of our planet and our people with each choice we make.
Every aspect of sustainability is connected to the rest, so most sustainable choices support several SDGs at once. Here, we've highlighted a few of our sustainable practices and some of the SDGs they most directly connect to.
These actions are working together with sustainable choices from all around the world to help bring the 2030 Agenda for Sustainable Development to life.
Planet-Kind Materials
Our sustainability commitment starts with our materials. From the organic cotton in our classic Cotton Nappers to the plant-based Melofoam™ in our Hugget knot pillows, every napping companion we dream up has its roots in an eco-friendly material.
Melofoam™, for example, is the material we use to make our Hugget knot pillows and Cuddler body pillows. It's a fully biodegradable, breathable, responsive rubber made of sap tapped from rubber trees.
To create Melofoam™, we collect rubber tree sap in coconuts and steam it into a zero-waste, all-natural foam. After harvest, the rubber trees continue to grow and absorb CO2, and can be tapped again in the future, reducing the total amount of land used.
Melofoam™ is one of the many materials that we choose in order to help support SDGs 13 (Climate Action), 14 (Life Below Water), and 15 (Life On Land).
People-Friendly Practices
Choosing materials that are less resource-intensive to produce helps us align with the UN's goals for climate action and biodiversity, and we don't stop there.
After choosing the best materials, we continue to make sure each product is as sustainable as it gets by selecting responsible partners, from farmers to knitters.
Regardless of gender, status, or location, everyone who helps make our products is paid fairly and has a safe working environment.
Because we deeply value the time, energy, and resources that go into crafting each of our products, we don't promote them using sales or discounts. We don't rush our Nappers and we don't rush you.
By partnering with Fairtrade International Certified manufacturers and creating equitable employment opportunities, we align with SDGs 1 (no poverty), 8 (decent work and economic growth), and 10 (reduced inequalities).
Waste-Free Designs
Materials and production are only the beginning of a product's life cycle, so we consider sustainability from creation through to disposal.
From product to packaging, we design everything with the health of people and the planet in mind. We don't use any plastic packaging to deliver our products to your doorstep, opting instead for FSC-certified boxes and reusable bags crafted from natural cotton scraps.
Unlike many home goods available on the market today, our products are built to last and deliver better rest for many naps to come. We also take care to complete the loop and plan for end-of-use disposal.
All of our plant-based products (like knitted weighted blanket, cooling weighted blanket, and Huggets) can fully decompose when discarded after use.
Our upcycled products, like our Velvet Nappers, turn ocean-bound plastic into snuggly napping companions. We recommended gifting or donating these when they've done their bit for your home.
Our closed-loop manufacturing process is a big part of how we support SDGs 9 (industry, innovation and infrastructure) and 12 (responsible consumption and production).
Revolutionary Rest
With every new product we create, we consider how we can help people slow down and find restorative rest in their daily lives.
According to the Sleep Foundation, 35.2% of American adults get less than seven hours of sleep per night. At the same time, the UN's 2022 Sustainable Development Report describes an increase in anxiety and depression across the world triggered by the COVID-19 pandemic.
Quality sleep and reliable stress relief are out of reach for many people today, making sustainable rest solutions even more important.
Weighted blankets are scientifically proven to lower cortisol levels (the stress hormone) and raise melatonin levels (the sleep hormone), helping people to de-stress and sleep better. They can be especially helpful for people looking for a natural way to sleep well without becoming dependent on sleep medications.
Cotton Napper
2249 Reviews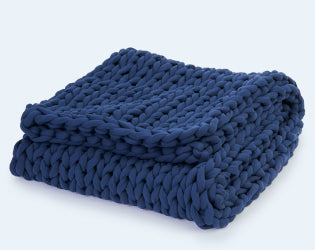 Dreamy, buttery softness
Calms body & mind for deeper sleep
Hand-knitted huggable comfort
It's Napper Time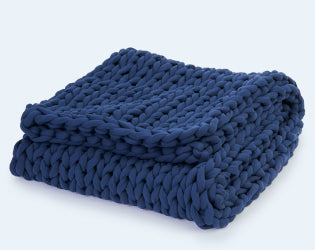 Cocoonable, couchworthy perfection
Unveil the secrets to restful sleep and join the Napperhood for a chance to win our perfect weighted blanket, the Cotton Napper. Get expert tips and insights delivered to your inbox.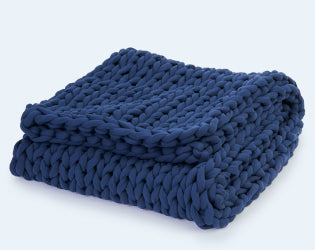 Our sensory pillows also come with health benefits, from our stress-relieving Hugget knot pillows to our soothing, supportive Cuddler body pillow. And to prioritize rest even further, we opt out of Black Friday and avoid time sensitive sales to encourage mindful shopping.
Hearing about how our products help people rest and recover brightens each day here in the Napperhood, and we're proud to say that we're helping support SDG 3 (good health and wellbeing) and more.
Conclusion
With every choice we make, from materials to manufacturing to marketing, we make sustainability our top priority.
We use organic cotton, eucalyptus-based TENCEL™, and upcycled eco-velvet to make our Nappers, Huggers, and Napplings. To create our Huggets, Cuddlers, and Pupper Pods, we use satisfyingly squashy, plant-based Melofoam™.
We make sure that everyone involved with making our products has safe, equitable working conditions, and we create in small, carefully crafted batches, prioritizing long-lasting quality over quantity.
As 2030 gets closer, the UN's SDGs may still seem far away, but they remind us of just how critical it is to make sustainable choices, today. And with everyone doing their part, we just might make a sustainable future our reality.