Meet the Ocean Napper: A World Oceans Day Limited Edition
Created in honor of World Oceans Day 2023, the Ocean Napper is a soft, breathable weighted blanket inspired by clear blue waters. Proceeds help support rePurpose Global to create cleaner, calmer coastlines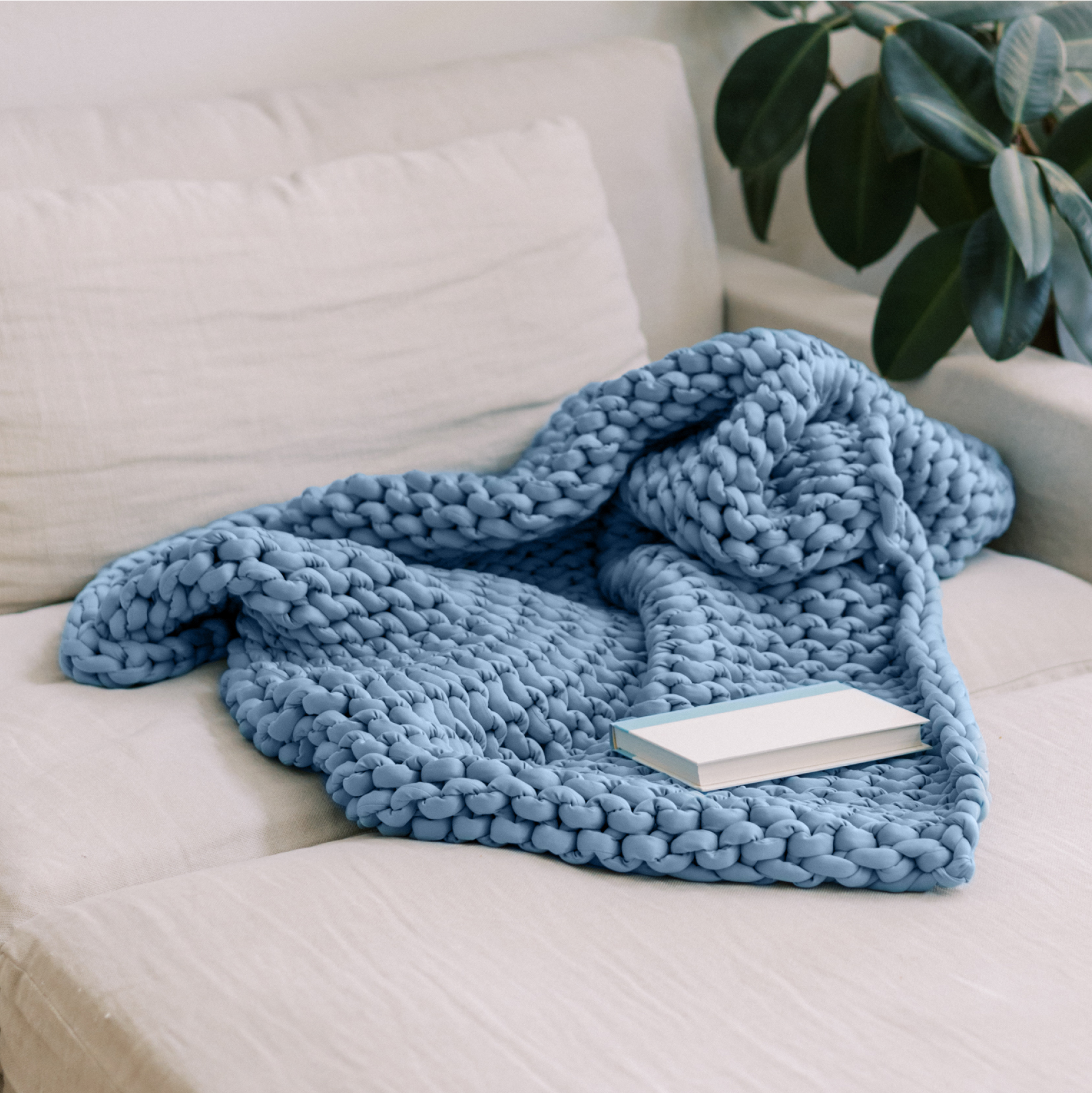 Bearassentials
Named after the region where it is upcycled, the Ceylon Blue Ocean Napper removes 300 plastic bottles from the oceans surrounding Sri Lanka.
The 10 lb Ocean Napper brings seaside calm to any space, helping you sleep more deeply and wake feeling rested.
In partnership with rePurpose Global, every product we make (including the Ocean Napper) is Plastic Negative Certified. 
Did you know?
Across the world, 91% of plastic waste is not recycled, leaving litter that ends up polluting the Earth and the oceans. We're working to change that.
With summer lounging just around the corner, many of us have our sights set on relaxing days full of sea, salt, and sun. So in honor of World Oceans Day, we launched the Ocean Napper to help keep marine waters clean and accessible for many summers to come.
An Ocean of Calm
The materials we use to make our Ocean Napper start in the sea itself. The plastic debris in our oceans isn't just waste — we can clean it and break it down, recycling it into something new. That's how we create the soft, napworthy knit that sets the Ocean Napper apart.
Each Ocean Napper gets its weight only from layers of delightfully heavy, GRS-certified fabric, removing the equivalent of 300 plastic bottles from the ocean. And thanks to its breathable, chunky-knit design, the Ocean Napper lets air flow all through the night.
Drifting Into Dreamland
Resting under the gentle weight of a Napper is a lot like listening to ocean waves: grounded and uplifted, you can freely float into relaxation. Whether you prefer to use your Ocean Napper while lounging on the beach, snuggling up in bed, or reclining on the couch, its delightfully heavy loops mold to your body shape, cocooning you in calm.
What is World Oceans Day?
Celebrated on June 8th each year, World Oceans Day is all about spreading awareness: how are humans impacting the oceans, and what can we do to keep our oceans healthy?
In 2008, the UN officially designated June 8th as World Oceans Day to help spark a global conversation about the importance of our marine resources. The day has only grown in popularity since then, with ocean-focused social media campaigns and conservation efforts ramping up during the month of June.
Our Ocean Napper launched in celebration of World Oceans Day 2023, supporting our ocean conservation efforts throughout the month of June and all year long. Proceeds from this Napper go towards our ongoing partnership with rePurpose Global, funding coastline plastic removal projects in Goa, India.
Nap With the Flow
Soft to the touch and delightfully breathable, the Ocean Napper is currently available only in our 10 lb weight option. This means it fits just right as a throw blanket on the couch or a full-body hug for a better night's sleep!
Weted blankets are best known for being downright comfy and cozy, but they also come with science-backed health benefits. The hug-like feeling of resting under weight activates deep touch pressure (DTP), which is scientifically proven toigh
This is why many people find weighted blankets helpful for relieving anxiety, recovering after a workout, or simply sleeping better at night.
Our Plastic Negative Certification
At Bearaby, our commitment to sustainability is central to everything we do. With every product we create, every partner we work with, and every decision we make, we put the planet first. By leading change, it's our goal to make the world a little cleaner, greener, and better for everyone.
We're proud to announce that the Ocean Napper, alongside all of our products, is Plastic Negative Certified! In partnership with rePurpose Global — the world's leading Plastic Action Platform — we're enabling the removal of over 4,400 lbs of plastic waste each year that would otherwise end up polluting the natural environment. 
To keep our oceans clean and our planet healthy, everything we make is long-lasting and sustainable. We don't use any plastic in our packaging: every Napper is shipped in a natural cotton bag inside an FSC-certified, recyclable cardboard box
The Plastic Negative Certification confirms that we're removing more plastic from the planet than we create, and that's only the first step. With every product we create, every partner we work with, and every decision we make, we put the planet first in hopes of creating a calmer, more comforted world together.