What Is a Muslin Blanket? Materials, Uses, and More
A muslin blanket is a blanket of any size made with muslin cotton material. Traditionally this is a very fine cotton with a characteristic weaving pattern that's looser than some other types, giving it a light, airy feel. The texture of these blankets is also very smooth, making it a prized fabric.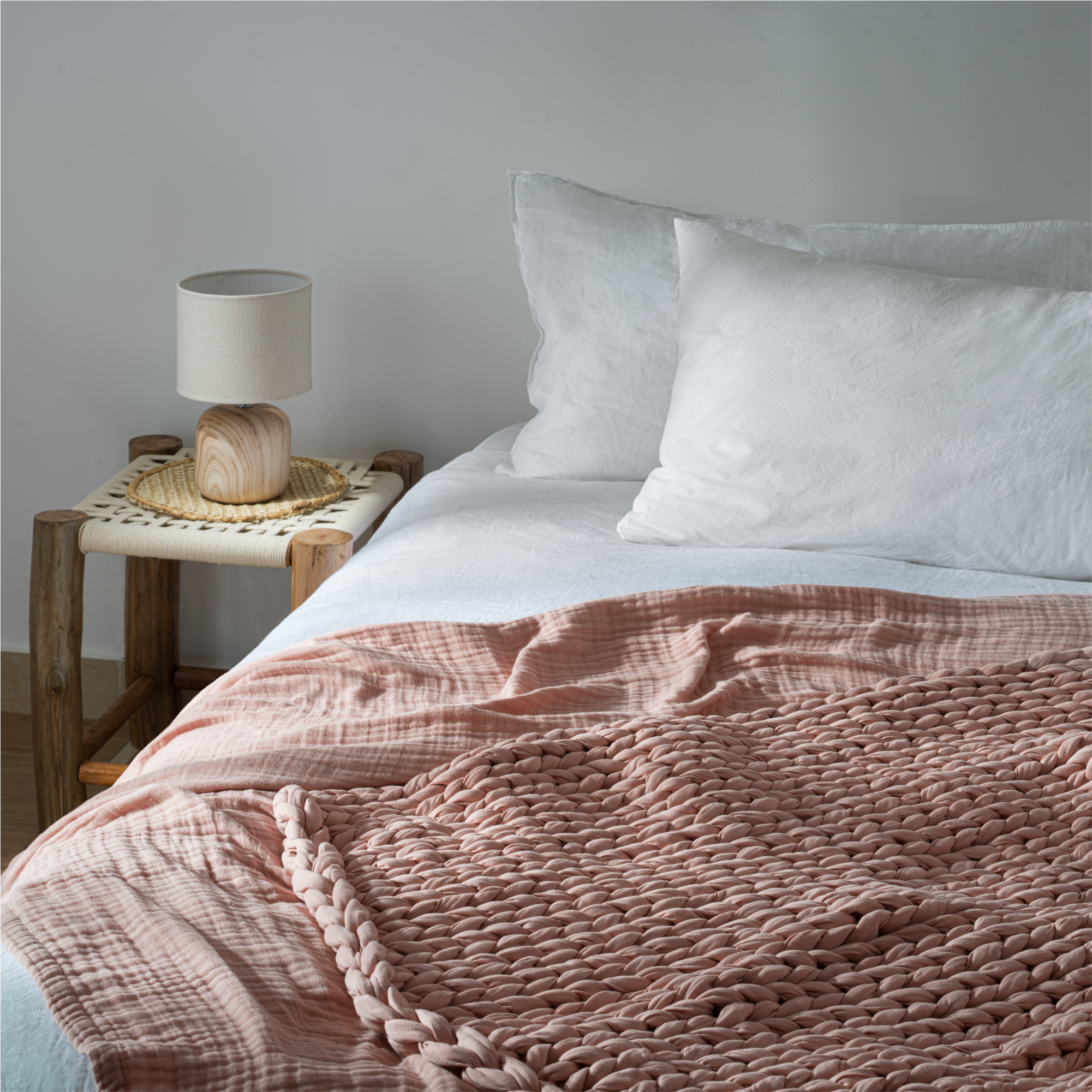 Bearassentials
Muslin is a traditional style of weaving that originated in present-day Bangladesh using a special type of cotton.
The blankets are soft and light-weight, often with a coarse appearance similar to linen.
Muslin blankets can be used for many things from napping to home décor. Many parents also use them for baby swaddles 
Did you know?
Muslin originally came from Dhaka, Bangladesh. It was a highly sought-after material using a rare type of cotton that only grew in the area. This material was once a luxury item around the world.
Looking for the softest, most soothing fabric you can? Did you come across some exotic names and are now wondering what the heck a muslin blanket is?
Muslin has been around for a long time, but this unique fabric has been a bit of a well-kept secret. The weaving technique makes for ultra-soft material perfect for blankies, some of which are starting to flood the shelves of bedding producers.
What Is Muslin Made From?
True Dhaka muslin is made from a special type of cotton that only grows in the city it's named after – Dhaka. This cotton nearly went extinct, but some growers are working toward reviving it.
However, modern muslin is usually made of more typical cotton or sometimes other materials like silk. Our Muslin Cocoon is made from 100% organic cotton. The reason it gets the name 'muslin' is because of the pain-staking weaving technique.
Muslin Weaving Style
Brush your hand over a muslin blanket and you'll notice right away that it's as soft and light as a feather. To get it that way, producers use a special technique that makes for looser weaves, and traditionally it also led to many broken weaves during manufacturing. That delicate process is what makes the material so buttery-soft, yet durable.
Benefits of Muslin Blankets
Having a lightweight, smooth fabric made of cotton means that it's comfy and cozy. But that demanding manufacturing process also means that it's a material that's perfect for blankets.
Here are some of the benefits of muslin fabric when used in blankets:
The stylish aesthetic makes it an attractive throw blanket.
Silky texture makes it soothing to the touch.
Because it's made of cotton, muslin is a great option in the summer.
Lightweight, making it easily packable. 
Despite its lengthy history, there are no magical properties that make it medicinal. However, the fabric is comforting for some.
Uses for Muslin Throws
Because of the smooth feel, muslin sees a lot of action with babies. Many of the products out there are smaller as a result, but more recently adults are starting to wonder why toddlers should hog all of the fun.
With that need in mind, Bearaby designed the muslin blanket for adults. It's 54 x 72 inch size also means that there are more potential uses.
Muslin Cocoon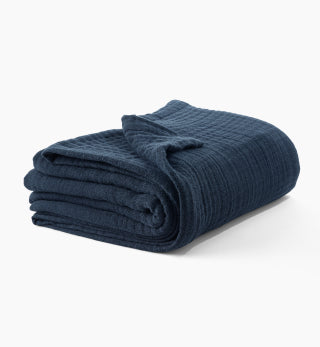 Soft on the senses
Four body-contouring layers
100% organic cotton muslin
Cocoon up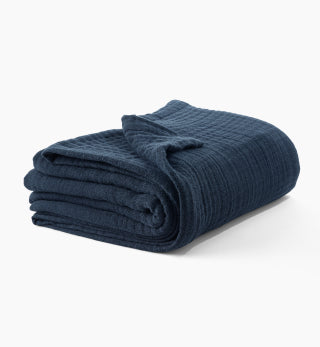 Cocoonable, couchworthy perfection
Unveil the secrets to restful sleep and join the Napperhood for a chance to win our perfect weighted blanket, the Cotton Napper. Get expert tips and insights delivered to your inbox.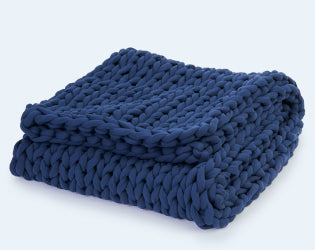 Light Blanket or Cover
The most obvious way to use a blanket is to dive under and snuggle up, and muslin blankets are perfect for that. Depending on the type they may be better as a cover underneath a heavier blanket. But some, like our Cocoon, can do well on their own as a light blanket, especially in the summer.
Swaddle for Babies
Got a fussy baby that likes to be pampered? Consider turning them into a pillow burrito using a muslin blanket as the shell. The soft material is a hit with babies and can be a great way to keep the kiddo warm.
Tummy Time Surface
When your child is awake you can put your blanket to work, too. Just lay it flat out on the ground, scatter a few favorite toys and plushies around, and let your child explore their senses while lying on a cloud.
Aesthetic Throw
When your muslin blanket isn't in use it can also be a great addition to your home décor. The characteristic crinkly appearance looks great when draped over the back of a chair or the arms of a sofa. And any time you feel like you need a little extra comfort, just pull it down and wrap yourself up in a silky cocoon.
Muslin Blanket Care
When it's time to wash your muslin blanket the first thing to do is confirm the care instructions it came with as not all products have the same specifications. Many are also made with materials other than cotton and may need special care.
In the case of our Muslin Cocoon blanket, it can be machine washed in a gentle, cold cycle, preferably with similar colors and mild detergent. It can also be tumble dried on low.
As with many delicate products, you may want to avoid washing it together with items that have jagged edges like zippers. Taking care not to store your muslin blanket with similarly sharp items might also be a good idea as the looser weave may potentially get caught and tear open.
FAQs
Got more questions about what a muslin blanket is? Here are some of the common ones and their answers.
Why Are Muslin Blankets So Popular?
Muslin blankets are so popular because they have an appealing texture that's simultaneously soft and durable. Wrapping yourself up in one can be a bit like a sensory experience that leaves you feeling calm and relaxed.
The wavy, linen-like appearance is also aesthetically pleasing to many people. Combine all of that with functionality that allows you to use it in different situations and it makes a blanket that many people are starting to desire.
Do Muslin Blankets Keep You Warm?
Some muslin blankets can keep you warm in certain climates. However, because of the light material used, muslin blankets may not be the best option in the colder winter months. In that situation, they can be combined with heavier duvets or comforters so that you get the softness of the muslin with the insulation of the heavier blanket.
In warmer weather, muslin might be a great option depending on your personal needs.
Conclusion
Muslin is among the softest materials around, and after a lengthy history in clothing, it's finally showing up in blankets. The loose cotton weaves make a great summer cover and the wrinkled visual can tie a room together visually.
Blankets like our Muslin Cocoon can be used for everything from sleeping in your bed to wrapping up your baby, keeping them warm and safe. It's a smooth, sensory experience, and it could leave you feeling calmer and more relaxed than you knew you could.