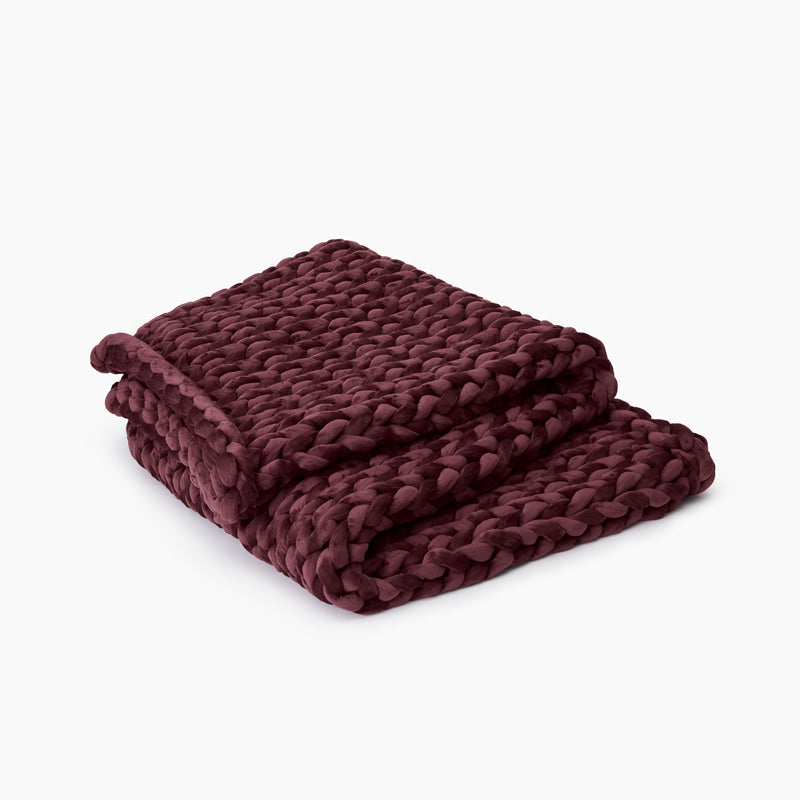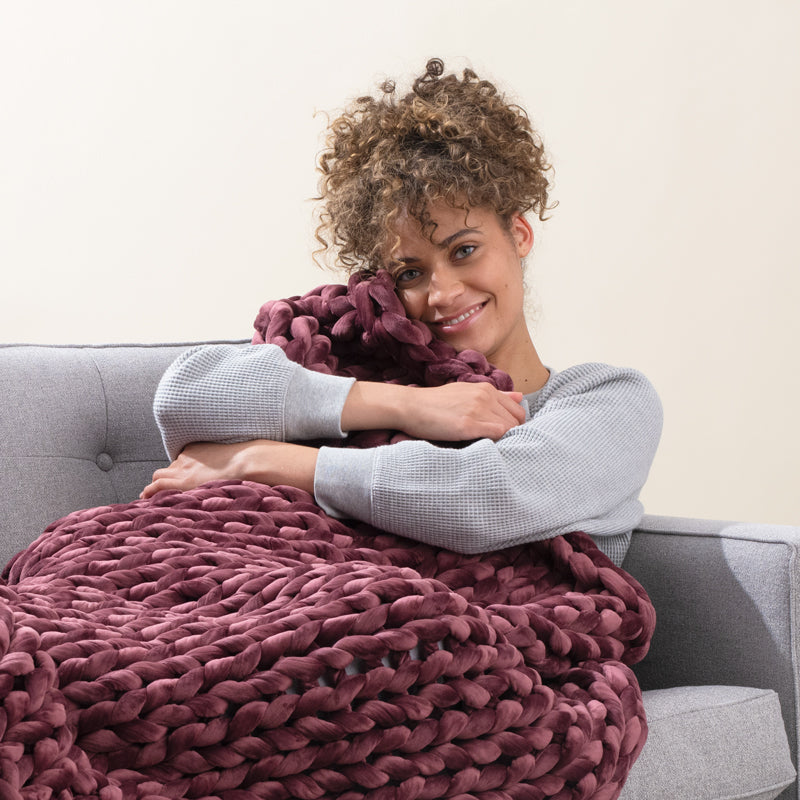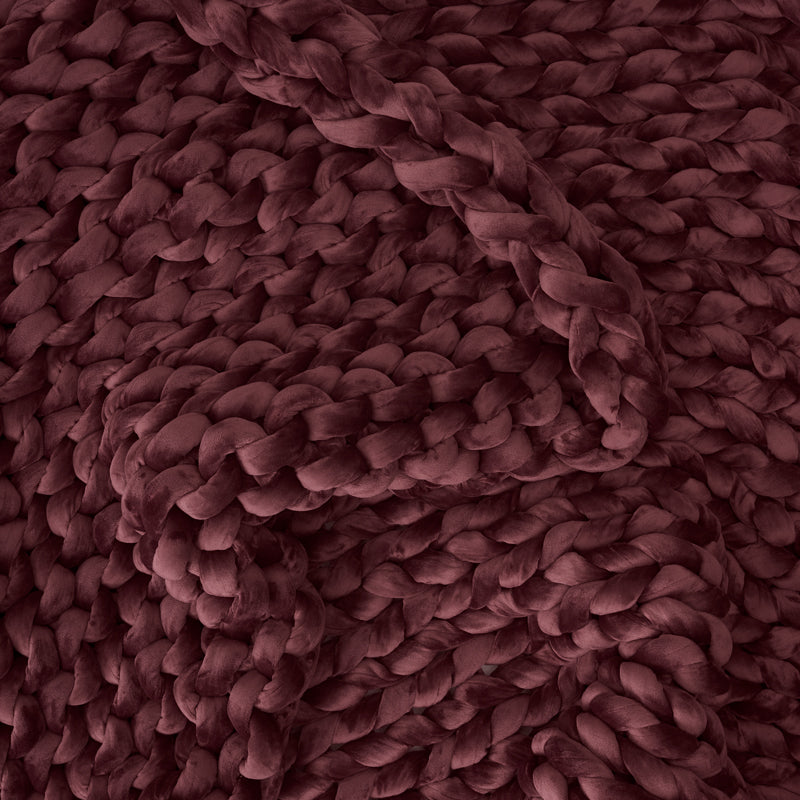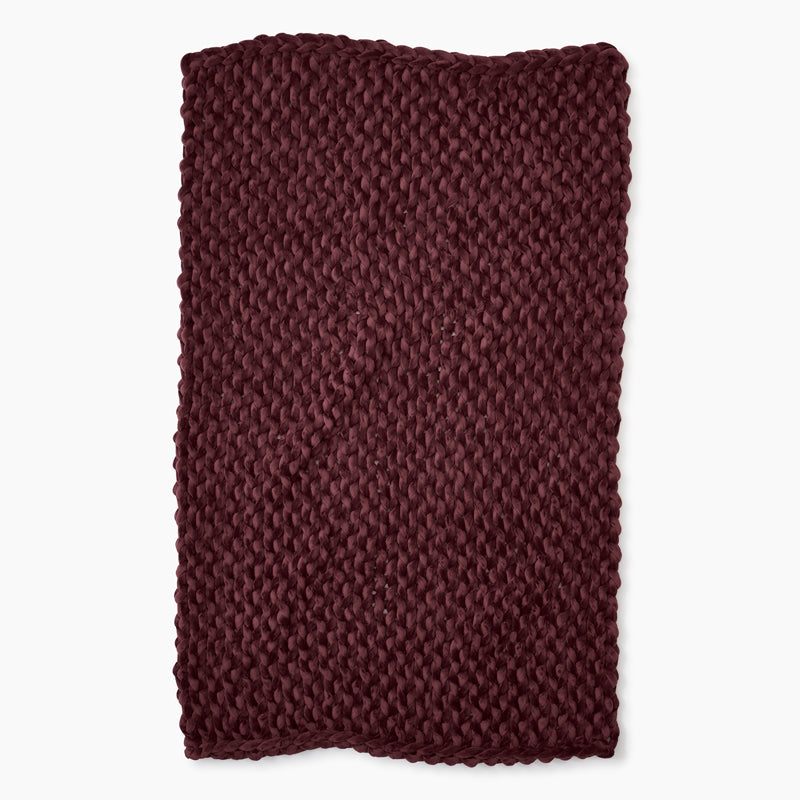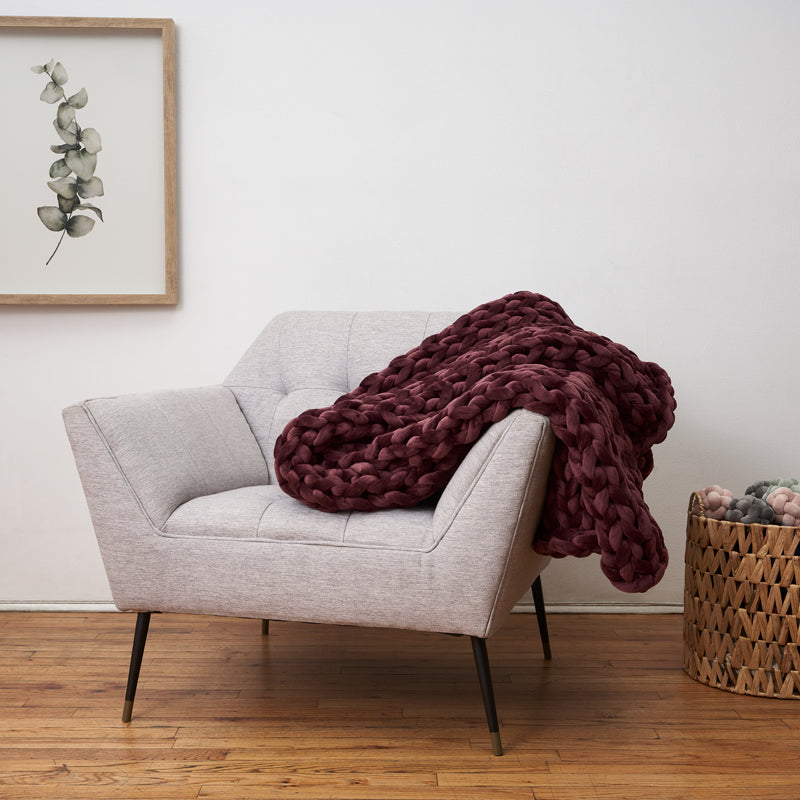 Home / Collection /
Purple Weighted Blanket
Our purple weighted blankets are designed to naturally improve sleep quality.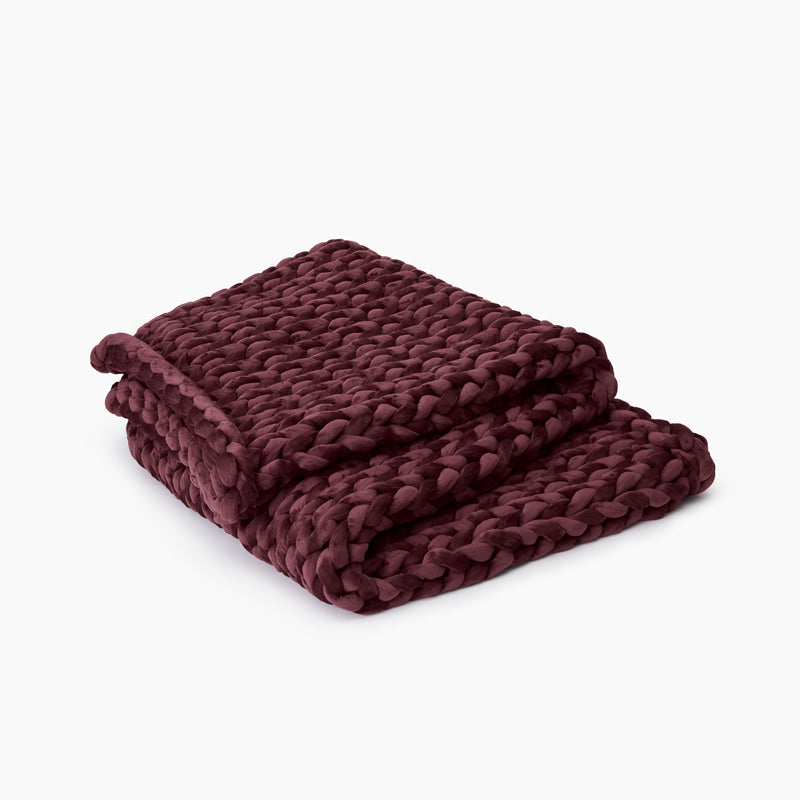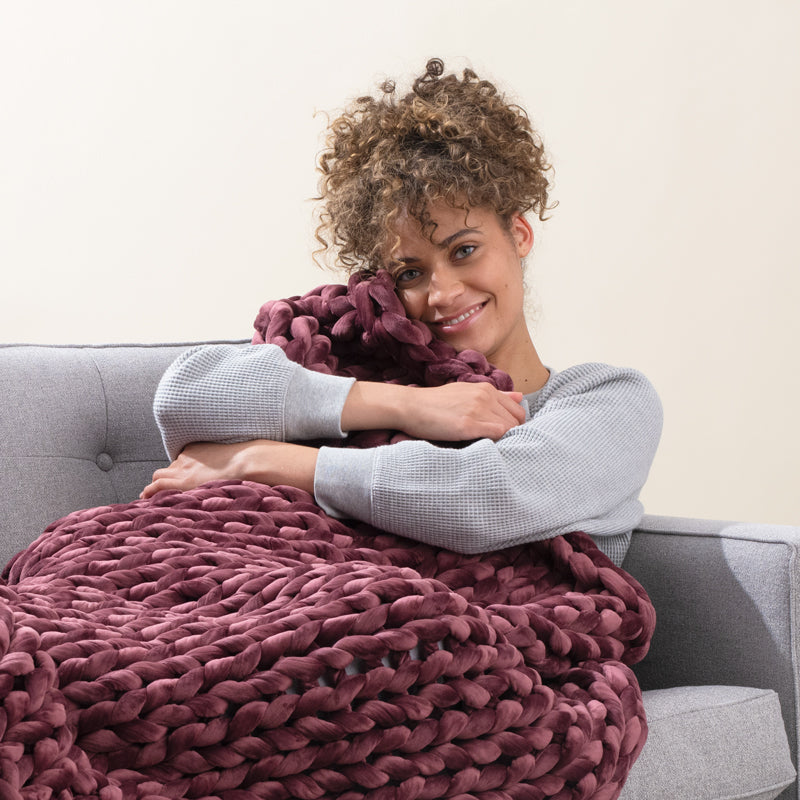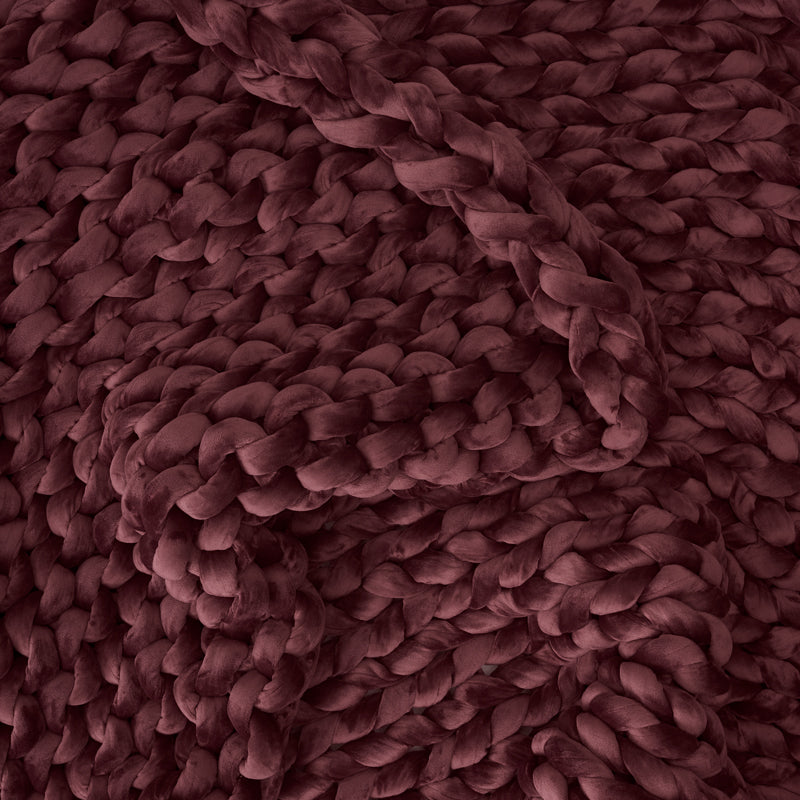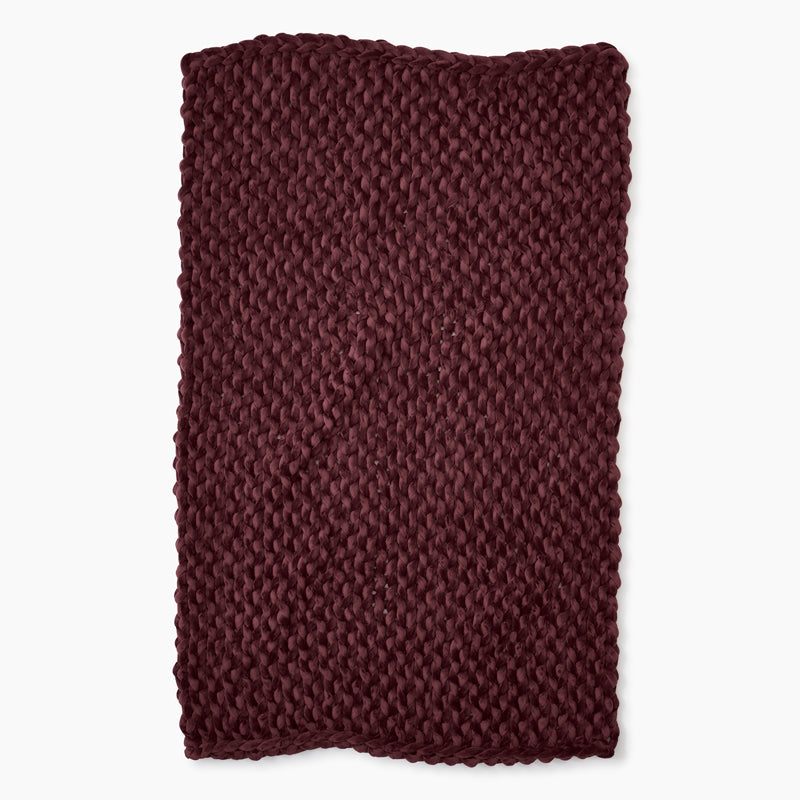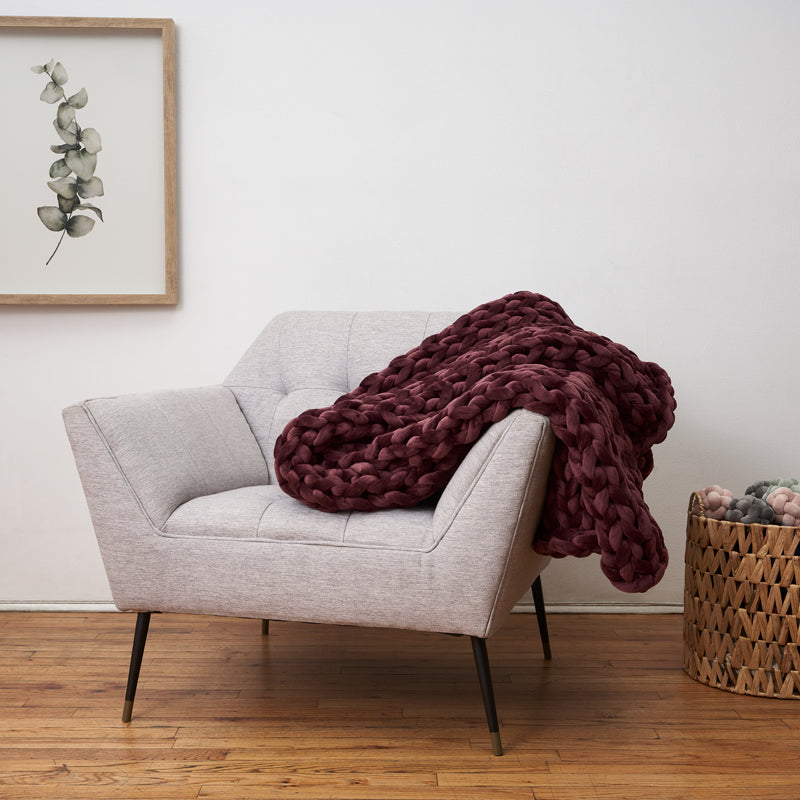 Product Information
The use of weighted blankets has been scientifically proven to result in deeper sleep cycles. Beyond the sleep benefit, the gentle weight on your body can also help lower stress hormone levels in your body.
This happens because the evenly distributed weight on your body stimulates the production of serotonin (the happy hormone), reduces cortisol (the stress hormone) and increases melatonin levels that can help you fall (and stay) asleep better.
Our purple weighted blanket provides the comfort you need to sleep more deeply and wake feeling refreshed.
Available purple weighted blankets:
The Cotton Napper:
This buttery soft and breathable organic cotton weighted blanket is our best-seller and can be used all-year round.
The Velvet Napper:
This soft, luxurious eco-velvet weighted blanket is our coziest option and is perfect for snuggling up in style.
Materials
All of our purple weighted blankets are Fairtrade International certified, naturally breathable, pre-washed and ready to help you sleep better and feel calmer.
OEKO-TEX® STANDARD 100 ensures this product is safe for your family, the people who manufactured it and the environment.
About the Velvet Napper:
Our quality upcycled eco-velvet is spun and brushed into a smooth signature fabric with a luminous finish.
GRS-certified 100% recycled polyester
Each Velvet Napper prevents 900 plastic bottles from polluting our oceans
Care Instructions
We recommend dry cleaning your Velvet Napper to ensure it stays wonderfully soft and in tip-top shape for many naps to come!
As for your Cotton Napper, wash it separately in cold water, on a delicate or permanent-press cycle, using mild or eco-friendly detergent. Tumble dry on low.
Avoid fabric softeners or bleach.
Note: your Cotton Napper may take more than one cycle to be fully dried. Avoid hanging your Napper to dry – it'll stretch out its lovely loops. Avoid top-loading washing and drying machines.
Your Cotton Napper comes with a natural cotton dust bag that makes it easy to store, wash, or take along.
Learn more: How to wash your Bearaby knitted weighted blanket.
Specs
Our purple weighted blankets are designed for single-person use and come in four different weight and size variations:
10 lbs - 40" x 64"
15 lbs - 40" x 72"
20 lbs - 45" x 72"
25 lbs - 48" x 72"
Choose a blanket that will be roughly 10% of your body weight (i.e 150lb body weight = 15lb Napper).
If you're between weights, we recommend you go with the higher weight category (i.e 170lb body weight is best-suited to a 20lb Napper).
Weight Guide
We recommend 10% of your body weight.

If you're in between weights, we recommend rounding down to the lower weight option (e.g. 170lb body weight is best suited to a 15lb Napper).
Choose weighted blanket:
See how it looks on your bed:
How it helps
Benefits of our purple weighted blankets
Our chunky-knit purple weighted blanket is full of incredible, scientifically proven benefits for both you and the environment. Perfectly weighted with layer upon layer of soft, sustainable material to provide calming comfort.

Soft, breathable
fabric

Evenly weighted
for natural, deep
sleep

Perfect for all
seasons

No fillers

Perfect for
cozying up

Vegan

Super soft
fabric

Hand-knitted
with love
REVIEWS
What our customers say
Reviewing

Cotton Napper

Asteroid Grey / 10

Love it!

Love this blanket! I believe my sleep has improved- it feels like wrapping myself in a cocoon!

Reviewing

Cotton Napper

Moonstone Grey / 15

So comforting!

This is my first weighted blanket -- a friend specifically recommended the Bearaby and I can see why! so comforting yet not hot. Love love love!

Reviewing

Cotton Napper

Asteroid Grey / 15

Comfy

Happy with my purchase first heavy blanket

Reviewing

Cotton Napper

Evening Rose / 25

Worth the price. Love it.

I finally decided to get a weighted blanket and I'm so glad I did. This blanket feels 100x more comfy than a non-weighted one and I love the loosely woven design. I get hot very easily but I can point a fan at myself and still feel cool under this blanket.

Reviewing

Cotton Napper

Evening Rose / 15

Amazing relaxing, all the things!

I have 3, these are amazing!!
Reviews Loaded
Reviews Added
LEARN MORE
Frequently Asked Questions
How do weighted blankets work?
Science shows that sleeping under weight improves sleep quality, lowers stress, and eases anxiety – and when those things are better, everything's better!
Here's a breakdown of the science that lies underneath our cozy and calming Nappers:
Activates the effects of Deep Touch Pressure (DTP)

Increases serotonin to make you feel happier and more content
Increases melatonin to lull you into blissful slumber
Decreases cortisol to help reduce anxiety and stress

Mimics the effects of 'grounding' or 'earthing'
Mimics the sensation of a warm hug
If you're looking for more information, read our deep-dive into how weighted blankets work.
What's the difference between a Cotton Napper, Velvet Napper and a Tree Napper?
The Cotton Napper is made of organic cotton material. The Velvet Napper is hand-knitted from upcycled eco-velvet fabric. The Tree Napper is made from natural eucalyptus fibers that's cooling to the touch.
Our Cotton Napper is naturally breathable and can be used all year round. Our Velvet Napper is a snugglier option and ideal for those who easily feel cold at night. Our Tree Napper is our cooling option that's perfect for the summer and ideal for those who run hot at night.
What shipping options do you offer for Canada?
If you're based in Canada, or you are shipping to Canada, you can enjoy free shipping and easy returns on all of our weighted blankets when you order at www.bearaby.ca.
Do you ship internationally?
We only sell and ship our weighted blankets within the US at the moment. If you would like to ship to Canada, we offer our free shipping and hassle-free returns for all our weighted blankets when ordered through www.bearaby.ca.
Our trusted retail partners, Nordstrom, ships our Cotton Napper internationally.