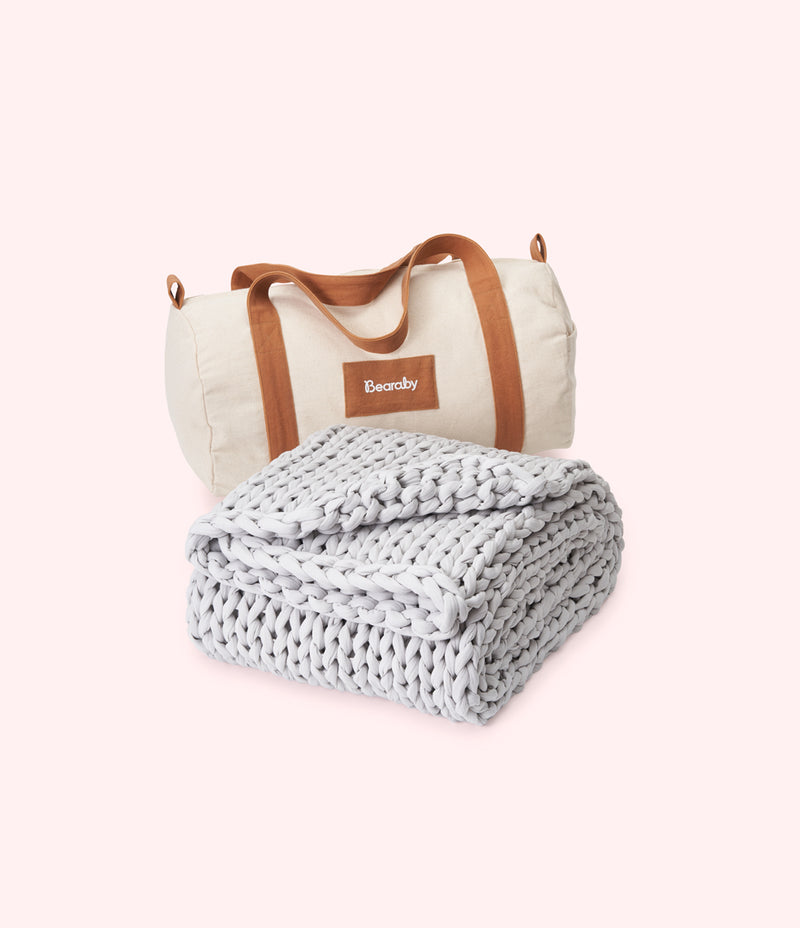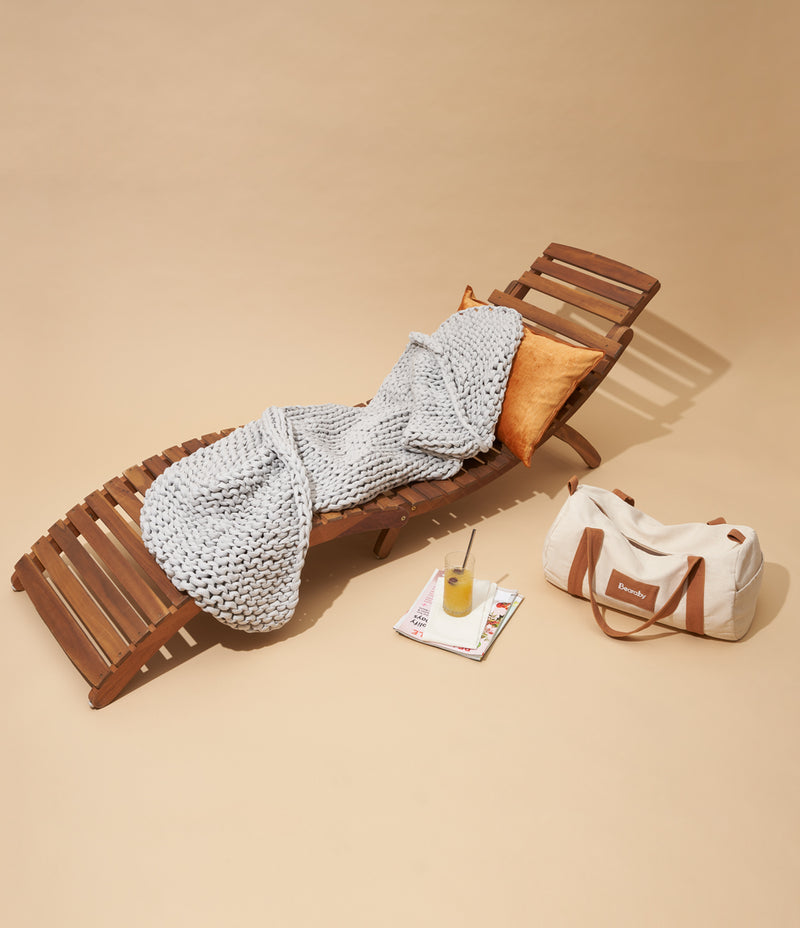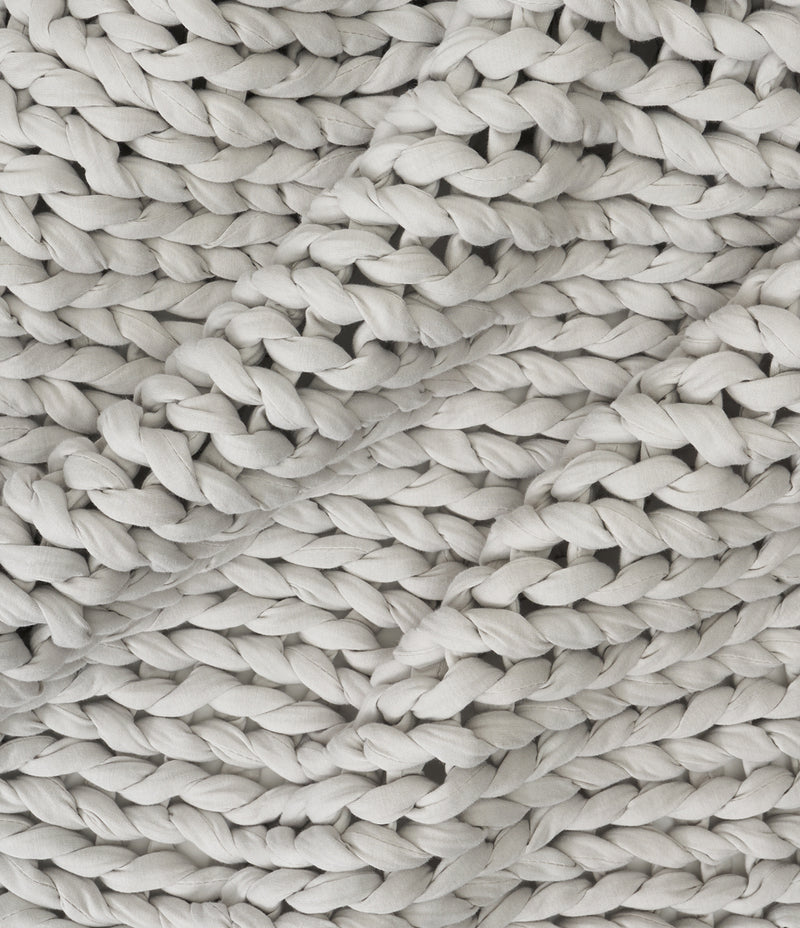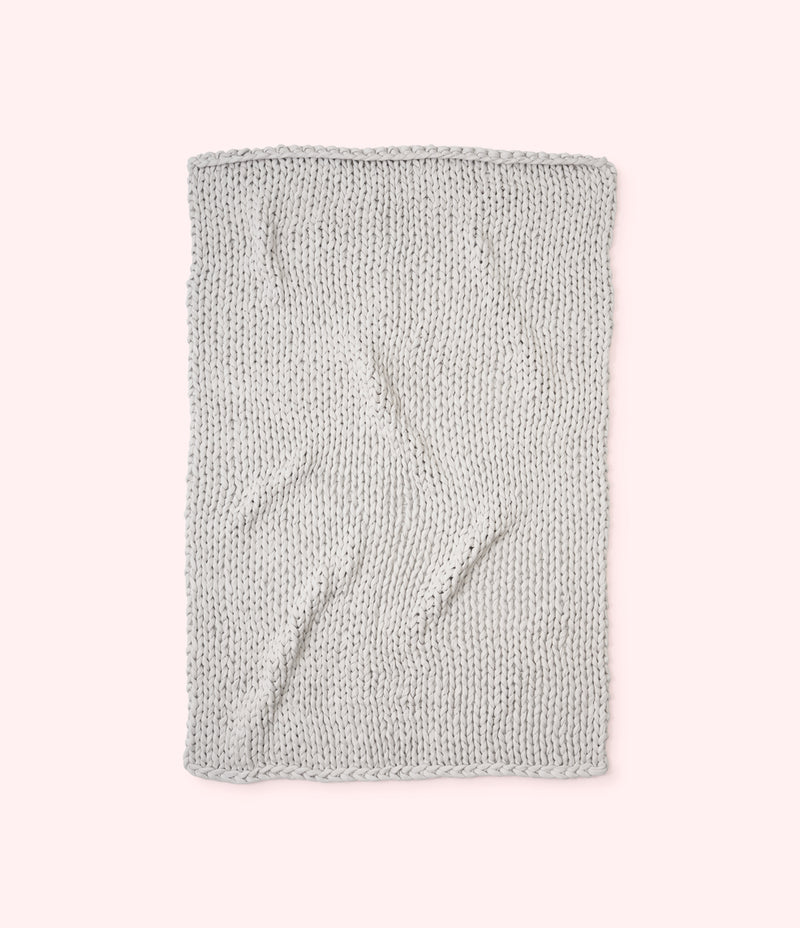 Home / Collection /
Travel Napper
A travel weighted blanket for taking calm along wherever you go. Comes in a convenient duffel bag.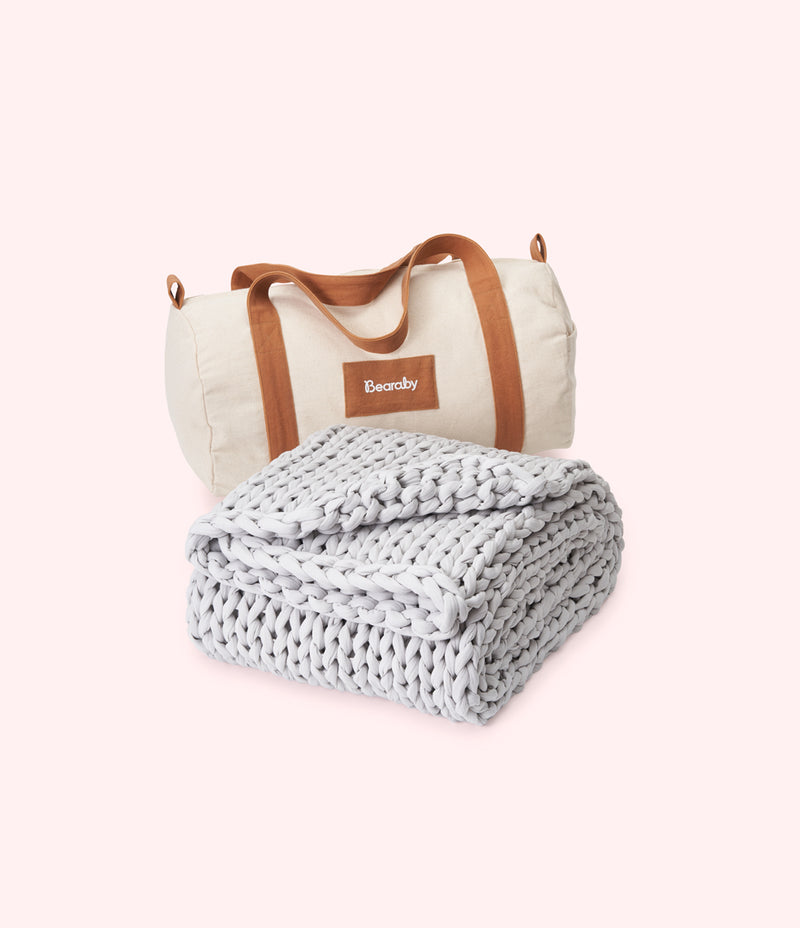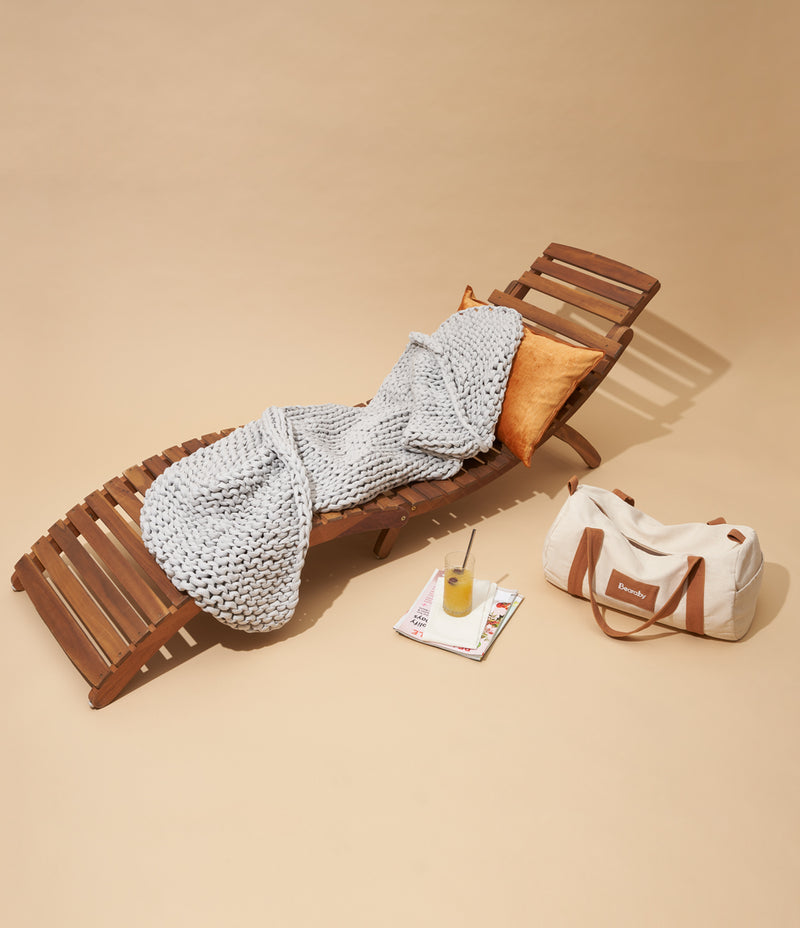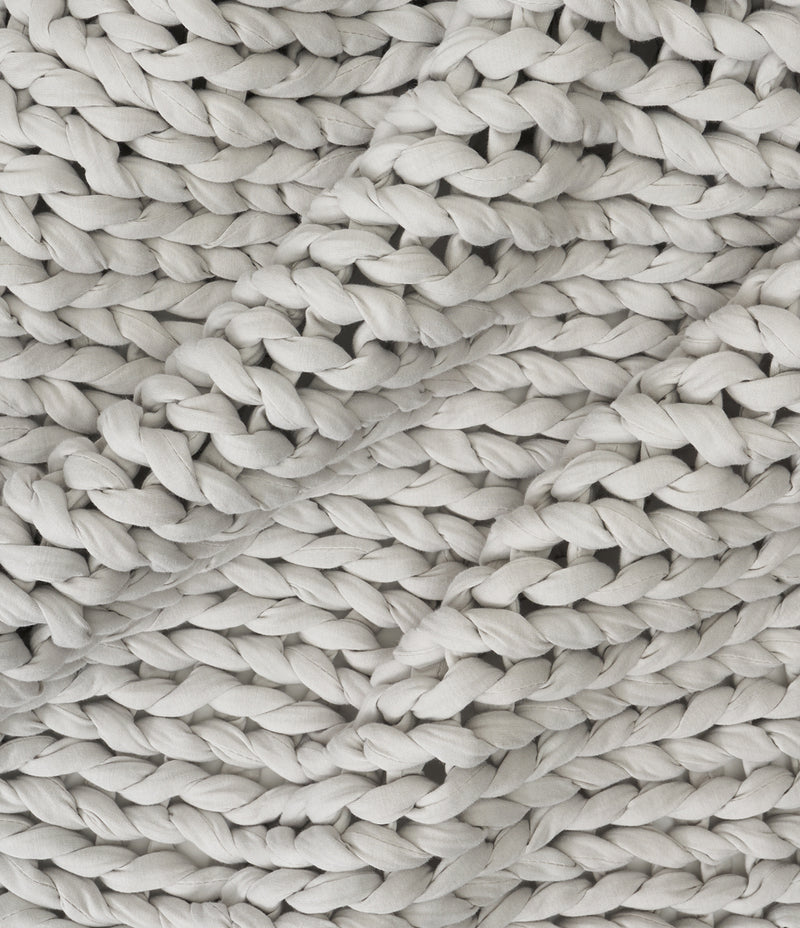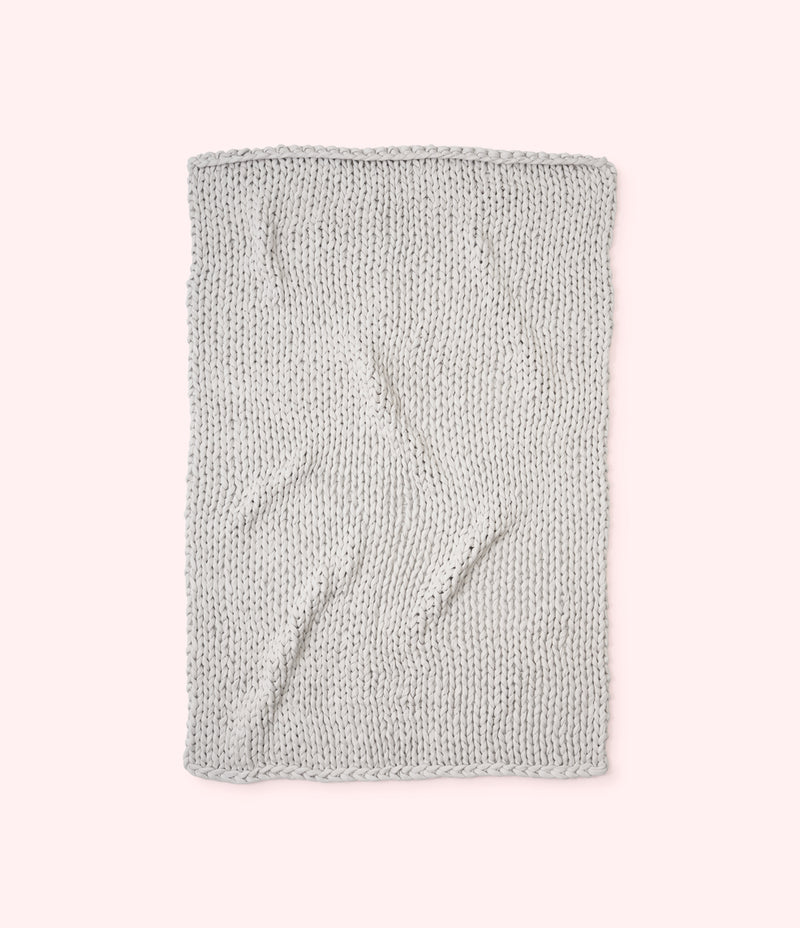 Product Information
Our Travel Napper is an organic cotton weighted blanket available in 6, 8, or 10 lbs that packs all the comforting benefits of our signature Napper into a travel-friendly form. It comes in a handy duffel, making it the perfect partner on a trip, at work, or after yoga class.
Use our weighted travel blanket in the car or on flights for a more restful journey, lay it across your lap at the office to keep stress at bay, or go even deeper into the comfort of Shavasana by taking it along to yoga class.
Our Travel Napper is a weighted blanket designed to help you feel calmer and rest deeper, wherever you go.
Free shipping and easy returns.
Materials
Soft, sustainable fabric is the only thing inside our blanket to give it weight.
Our organic long-staple cotton is pre-washed for buttery softness – just like your favorite T-shirt.
Organic Content Standard (OCS), OEKO-TEX® 100 and Fairtrade International certified.
A healthier choice for your home and the planet: organic cotton uses up to 90% less water than conventional farming methods and is free from harmful chemicals, pesticides, synthetics, or artificial softeners.
OEKO-TEX® STANDARD 100 ensures this product is safe for your family, the people who manufactured it and the environment.
Care Instructions
Wash separately in cold water, on a delicate or permanent-press cycle, using mild or eco-friendly detergent. Tumble dry on low.
Avoid fabric softeners or bleach.
Note: your Travel Napper may take more than one cycle to be fully dried. Avoid hanging your Napper to dry – it'll stretch out its lovely loops. Avoid top-loading washing and drying machines.
Learn more: How to wash your Bearaby knitted weighted blanket
Specs
Our Travel Napper is designed for a single person and comes in 3 different weights:
6 lbs : 36" x 48"
8 lbs : 40" x 60"
10 lbs : 40" x 64"
Choose weighted blanket:
See how it looks on your bed:
Weighted blanket calculator
We recommend 10% of your body weight.
If you're in between weights, we recommend rounding down to the lower weight option — or use our calculator to make it easy.
We recommend a
lbs Travel Napper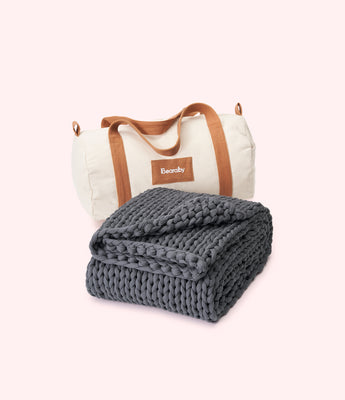 DESIGN
Enjoy soft, calming weight wherever you go
The magic of our comforting, breathable Nappers, packed into a convenient duffel for relaxation on the road.
HOW IT WORKS
A lighter load when you're on the road
When an evenly dispersed weight is placed on the body, natural hormones are released that calm you down, help you feel relaxed and let you drift into dreamland.
A peaceful path
Reduced cortisol lowers your
stress and anxiety.
Joyful journeys
Increased serotonin makes you
feel happy and content.
On-the-go relaxation
Increased melatonin tells
your body it's time to rest.
BENEFITS
Travel Napper benefits
Naturally weighted with layer upon layer of organic cotton yarn, our Travel Napper comes packed with practical and proven benefits.

Portable 10 lbs
weight

Soft, breathable
fabric

Packs into a
convenient duffle

Folds easily for
twice the weight

Relaxing road
trip partner

Machine
washable

Comfort on
every flight

Calm away
from home
REVIEWS
What our customers say
Christine N.

Verified Buyer

10/26/23

Reviewing

Travel Napper

Midnight Blue / 6

Excellent

I need weighted blankets when I sleep. this is perfect.

B

Bearaby

10/26/23

Hi Christine!👋 I'm glad that the Travel Napper has been a good companion for when you sleep. We hope that your weighted blanket keeps you cuddly and cozy this fall and beyond!💙✨

Reviewing

Travel Napper

Asteroid Grey / 10

Loved Her Birthday Gift!

Was a birthday gift for my daughter who already owns the larger one. She was so excited because she loves hers and now has one to travel with.

Having a travel bag for the blanket is a great addition. Makes it so much easier to travel with.

B

Bearaby

10/16/23

Hi Linda!👋 We're so glad to learn that your daughter loves her new Travel Napper. Truly, the bag that comes with our travel weighted blanket has been a beloved item in the Napperhood! 💙🤗

Reviewing

Travel Napper

Evening Rose / 8

B

Bearaby

10/30/23

Hi Mark! 👋 It's lovely to hear that your traveling weighted blanket has been a big hit! We hope it is the perfect traveling companion. 💙🤗

Christy B.

Verified Buyer

9/24/23

Reviewing

Travel Napper

Evening Rose / 6

Super comfortable

I'm using it right now! I like it because I feel so comfortable with it.

B

Bearaby

11/24/23

Hi Christy!👋 It's great to hear that you're finding your Travel weighted blanket super comfortable! We wish you lots of more cozy moments with your Napper!🤗💙

Reviewing

Travel Napper

Cloud White / 10

Investment piece worth every penny!

It may be expensive but it's worth it! It's premium quality and ethically made ! I am so glad I purchased it!

B

Bearaby

9/20/23

Hi Cheryl 👋 Thank you for your kind words! Here at Bearaby, sustainability is central to everything we do. I'm so glad to hear that our ethically made weighted blankets stood out to you and fit in with your eco-friendly lifestyle. Wishing you many happy naps ahead! ✨
Reviews Loaded
Reviews Added
LEARN MORE
Frequently Asked Questions
How do I use a travel weighted blanket?
Our travel-size weighted blanket is the perfect road trip or air travel partner. Cocoon yourself into the calming comfort of resting under weight and reach your destination feeling revitalized. Our Travel Napper is also easy to take along to the office for finding restful moments at work, or going deeper into relaxation at the end of your yoga practice.
Can I travel with a weighted blanket?
Yes! Our Travel Napper is a 10 lb weighted blanket that is light enough to take along on a trip easily but just heavy enough to deliver the calming, deep-sleep benefits of resting under weight on the way. It comes in a handy duffel, making it the perfect soothing partner on any trip, at the office, or after yoga class.
How do I fly with a weighted blanket?
Our 10 lb Travel Napper is the best travel weighted blanket for an airplane journey. It's a knitted travel weighted blanket that, unlike many other weighted blankets, doesn't contain plastic pellets or beads that could cause delays as you make your way through airport security checks.
How do I pack a travel weighted blanket?
Our Travel Napper comes in a convenient cotton duffel bag so that you can easily take it along as carry-on luggage on a flight or simply swing it over your shoulder on the way to the office or a yoga class. Our travel weighted blanket bag is made of cotton and designed to fit a rolled-up Travel Napper perfectly so that packing is painless.