Remote Schooling? 5 Tips For Calm & Focused Kids
At the start of this new and unusual school year, we spoke with educator and child development expert Alexandra Vergis. Here we share her top five hints to help kids (and parents) thrive throughout the fall term.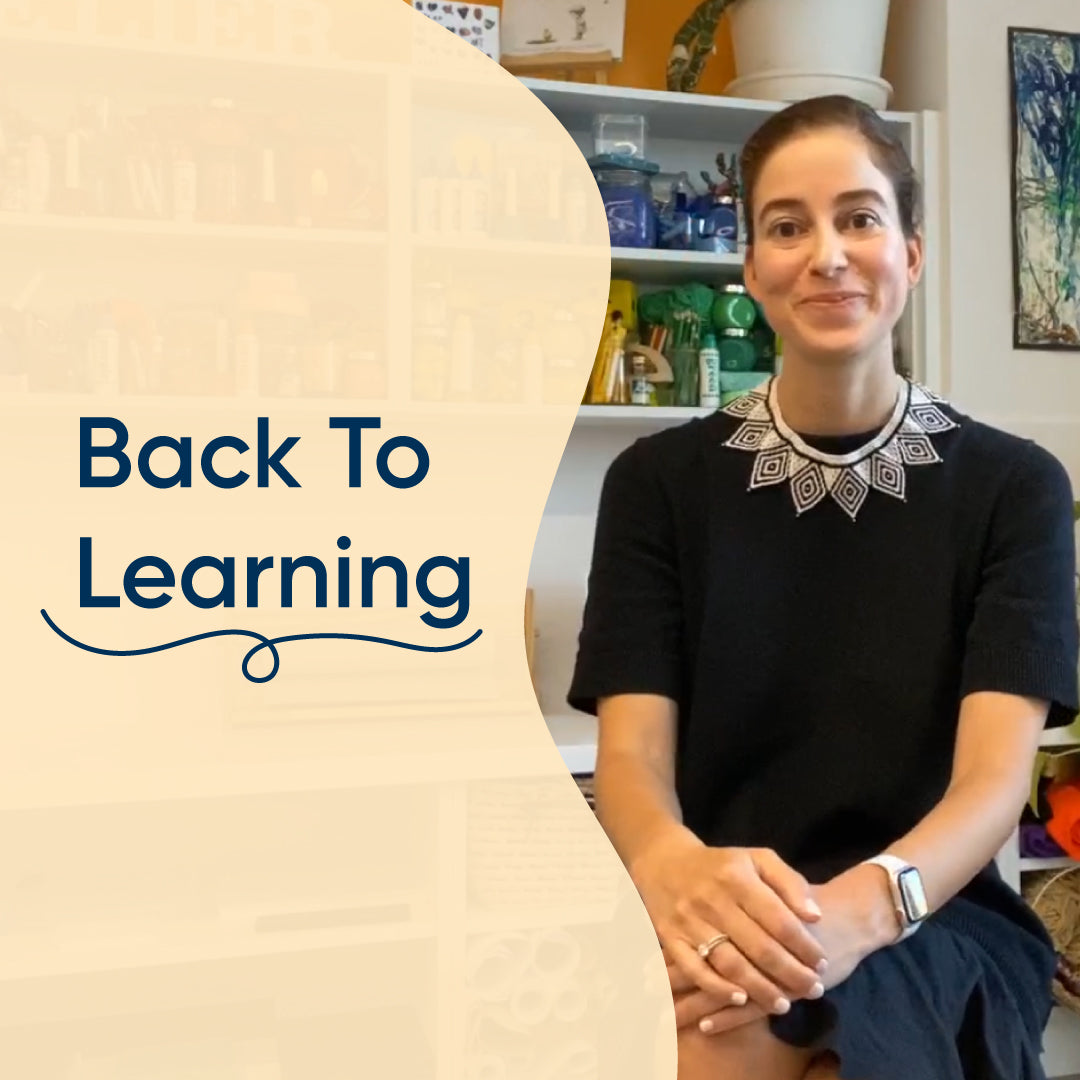 Bearassentials
Alexandra Vergis is a Canadian certified educator with more than a decade's experience working with children of different ages.
Her top five tips for setting your kid up for remote schooling success? Patience, communication, routine, independence, and opting for resources that teach real-life responsibility.
Consider adding a weighted blanket to your child's learning space. Not only useful for naps or night-time, the Nappling can help your kid ease into (and stay focused on) learning.
Did you know?
Lemonade Stand, an educational computer game released by Apple in 1979, is argued to be our generation's first introduction to learning in a virtual environment. (Let's not mention that a computer game is why online learning actually exists to the kids, shall we?)
We're at the start of a new school year, and for many families, it's another season of online learning. In this post, we share a teacher's take on navigating education when home-, school- and work-life are fused into a single space.
Alexandra Vergis is an experienced early years educator, and no stranger to the ups and downs of online learning. Here's a little background to what fuels Alex's education philosophies, followed by five tips for keeping kids (and us parents!) calm and focused throughout the fall term.
A Passion For The Architecture Of Education
Alexandra Vergis is a Canadian certified educator who's been teaching since 2009. Coupling her international teaching expertise with a passionate advocacy of the Reggio Emilia approach to education, she champions classroom setups that underscore healthy childhood development.
Alexandra's passion for education doesn't end with implementing teaching methods that nurture innovation. She's also fascinated by the architecture of educational environments. Especially how the initial design of a space can ultimately enhance – or hinder – the learning that's to take place there.
Tips For Settling Back Into Remote Schooling
Heading into round two of remote schooling here in the US, we asked Alexandra if she had any advice to share. Here are her top five tips for settling back into online learning.
1. Choose patience over panic
Being patient seems a simple enough task but as any parent will attest, it's no small feat following this crucial piece of advice. Life's been trickier than usual, and concerns over our families' wellbeing, combined with the rollercoaster ride of remote schooling, can get the better of us.
Alexandra offers-up a meaningful reminder that kids mimic the energy we as parents emit. They also look to us for ways to deal with life's pressures. So, whether it's taking deep breaths, counting to ten (or a thousand), or snuggling under a cozy weighted blanket for a calming power nap, do what you can to keep your patience from wearing thin.
2. Continuous kid-friendly communication
Make time to speak with your child. Ask if there's anything they're concerned or excited about, and listen intently to their responses. Alexandra shared that a useful way of communicating with younger kids is to ask them what's on their minds and write down their answers, word for word.
Then, rephrase it back to them to confirm you really get what they're saying. In this way, you help them work through their anxieties or disappointments, and reassure them they've been heard. This rephrasing of their response is a helpful communication hack parents can use to stay attuned to a young child's emotional wellbeing.
One of the benefits of online learning is families have more time together. Cash in on this quality time to nurture communication.
3. Let go of the traditional school day and create new routines
Consistency is crucial for kids to thrive, but rather than trying to recreate the flow of a typical school day, adopt new routines and rituals to lend a predictable rhythm to your child's day.
Structure academic, break, and meal times in a way that works best for your family. Also, set screen time and bedtime boundaries – and then stick to the structure you've set out.
Ideally, online learning for younger kids shouldn't take up more than two hours of their day, but don't aim to complete all the assigned work in one session, Alexandra cautions. If the online program you're following allows it, she suggests breaking up your child's academic activities into short lessons spread out through the day.
It's a tall order for WFH parents to stay engaged in their kid's online learning while keeping up with workday demands. Alexandra advises parents to prioritize being present for one or two key learning activities, like math or literacy, and then step back for the remainder of the academic day.
4. Let your kid take ownership of their learning – and their space
Encourage kids to take ownership of their learning: let them complete some tasks with and others without your presence or assistance. This approach strikes a healthy balance between keeping your kid on track, instilling independent learning, and, well, getting a bunch of other essential things done too.
Another way to raise self-sufficient kiddos is to help them set up and take responsibility for their own learning space. Whether it's a section of the dining room table you all have to share, a corner of a bedroom, or a makeshift desk on the porch, kit out your kid's space so that their learning materials and resources are mindfully placed and within reach.
Consider adding items to your kid's learning zone that'll contribute to more than their academic wellbeing. Many youngsters, especially those battling high anxiety levels or attention difficulties, benefit from studying with a weighted blanket for kids, draped over their little laps.
Studies have shown that the deep touch pressure of a weighted blanket helps increase attention span and bring about a greater sense of calm. In the same way, a warm, comfy cuddle soothes an overwhelmed child, a weighted blanket cues calmness.
Alexandra highlighted the importance of a warm and comfortable learning space – it's hard for young children to engage in learning if their environment is stale and uninspiring because it's devoid of natural textures.
5. Keep it natural
An easy and effective way Alexandra uses to add warmth to a learning space is natural materials. (She's used tree trunks as chairs in some of her classrooms!) A simple and natural way to kit out your kiddo's space, is to add a plant to their place. House plants bring much more than just decorative benefits.
A learning environment where natural resources trump synthetic stuff isn't only great for healthy child development, it fosters an eco-conscious lifestyle. And when it comes to keeping kids' materials all-natural, we couldn't agree more. Our weighted blanket for kids, the Nappling, is made of 97 percent organic cotton and a tiny shred of spandex.
With no artificial fillers or fabrics anywhere in sight, the Nappling naturally cuddles your kid to more calm, fending off freakouts without straining our planet. (It also comes in a nifty, reusable cotton bag – no place for plastic packaging here!)
The addition of a child-size weighted blanket to your kid's remote schooling resources can help them focus on academics while teaching the importance of real-life responsibilities like caring for the planet.
Here's to making this fall term (AKA round two of remote schooling) a roaring success.