Meet the Pupper Pod: A Pawfectly Soothing Dog Bed
We're bringing Bearaby benefits to the whole family – including your four-legged friends! Our Pupper Pod is designed to mold to your dog's body, providing the benefits of Deep Touch Pressure to relieve stress.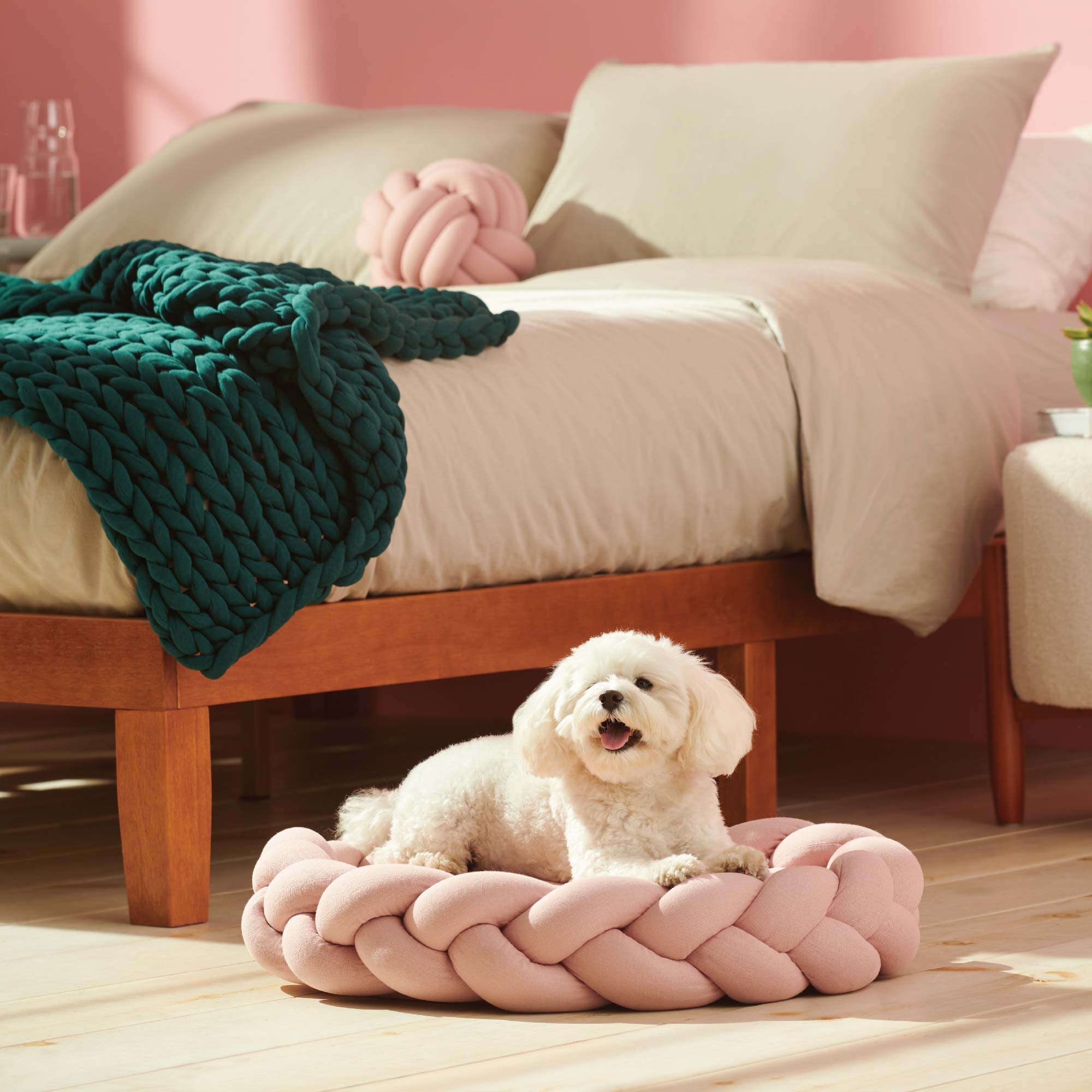 Bearassentials
Our new Bearaby dog bed is made of satisfyingly squashy, biodegradable Melofoam™
The Pupper Pod comes in small and medium sizes, and can also make a comfy spot for cat
Every Pupper Pod comes with a carrying case, so you can take it on the road for every doggy adventure! 
Did you know?
Almost half of US dog owners let their dogs sleep in their own beds!
Humans aren't the only ones who get anxious sometimes. Our pets often suffer from anxiety, too, and it's important for them to have their own soothing space to rest. The Pupper Pod is here to help!
At Bearaby, we're all about creating sustainable, long-lasting comfort. That's why our stress-relieving dog bed is all-natural and cuddly as can be. It's even available in three of our core Cotton Napper colors, so your best friend's bed can match your own calming cocoon.
Plant-Powered Puppy Calm
If you're a pet owner, you'll know how important it is for your four-legged friends to have comfortable beds. But most dog beds are made of cheap polyester. These beds tend to wear out quickly and wind up in the landfill. We wanted to create a more sustainable option so that your pups and the planet can rest easy.
Our Pupper Pod is the sustainable dog bed we've been dreaming of. It's functional and stylish, but doesn't compromise on materials.
The inner cushion of the Pupper Pod is made of natural GOLS-certified Melofoam™: a satisfyingly squashy foam created from rubber tree sap.
To make our responsive Melofoam™, we tap sap directly from the tree, collect it in coconuts, and gently steam it to form a responsive, airy foam. In the Pupper Pod, this breathable foam is shaped into an aerated cushion, creating a temperature-regulating haven for four-legged friends.
Once the plant-based Melofoam™ is ready, we encase it in all-natural, STANDARD 100 by OEKO-TEX® certified cotton for added softness and comfort. That means that this dog bed is completely made of plants! And it has the PETA-approved vegan stamp to prove it.
What's Special About the Pupper Pod?
In addition to being all-natural, the Pupper Pod comes with a bundle of unique features.
Canine-Cradling Comfort
The responsive Melofoam™ cushion at the center of the bed forms to your dog's shape to relieve anxiety, while the chunky knit bed border gives your pup a safe and secure headrest. It's a comforting bed for dogs who suffer from separation anxiety or get easily overwhelmed by the big wide world.
Durably Designed
With a waterproof inner cover and a removable, washable outer cover, the Pupper Pod is built to last through all the daily ups and downs of your dog's life. It also comes with a handy bag so you can take it along on any adventure.
Blissfully Breathable
When the weather gets hot, dogs sometimes ditch their beds and lie on the floor to stay cool. But this can be hard on their joints. The Pupper Pod's breathable design makes it a cooling dog bed that's comfy on even the warmest summer days.
Thoughtfully Sized
Smaller dog breeds sometimes get the short end of the stick when it comes to comfort, stuck with flat cushions or thin mats. Some people assume that a smaller dog doesn't need a proper bed, which simply isn't true. Our Pupper Pod is currently available in small and medium sizes to provide the support our littlest pets need.
Bearaby Benefits For Your Pup
The idea for the Pupper Pod came from our favorite source of inspiration: you! Our Bearabuddies across the country shared photos of their four-legged friends snuggling up to our award-winning Nappers. That's when we first started thinking about making a product just for them.
It was when we created our innovative plant-based Melofoam™ that the idea for the Pupper Pod fully took shape. First used to create our Hugget knot pillows, Melofoam™ quickly became a source of calming joy out in the world. We realized that this soothing, sturdy material was the perfect choice to create a special space for pets.
In addition to creating a soothing dog bed to support a pup's weary joints, we wanted to mimic that calming feeling of resting under a knitted weighted blanket. So we created a chunky-knit border for the bed, matching the aesthetic of our signature Cotton Nappers. It provides a sturdy spot for your pup to rest their head.
Pupper Pod
9 Reviews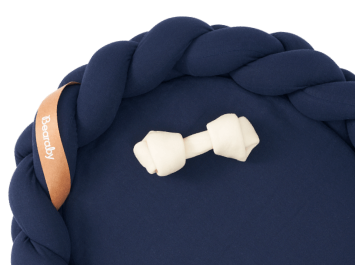 A cradling, calming cocoon
Made from natural rubber foam
Added airflow to stay cool
Fetch a Pod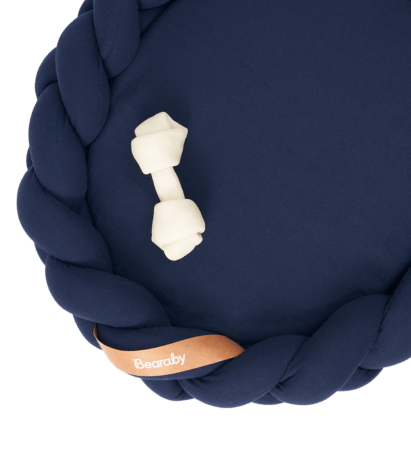 Cocoonable, couchworthy perfection
Unveil the secrets to restful sleep and join the Napperhood for a chance to win our perfect weighted blanket, the Cotton Napper. Get expert tips and insights delivered to your inbox.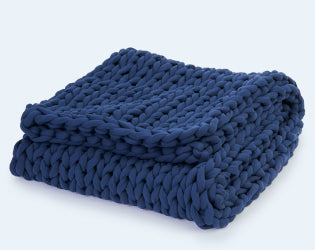 To help your pet's bed fit in with the rest of your space, the Pupper Pod is available in three classic Cotton Napper colors: Moonstone Grey, Evening Rose, and Midnight Blue
What About the Cats?
While the Pupper Pod is specially designed for dogs, your feline companions might find it makes a comfy place to sleep, too. The small and medium Pupper Pods can both make great cat beds.
How to Wash Your Pupper Pod
Our four-legged friends tend to bring a bit of mess everywhere they go, and that's okay! We've designed our Pupper Pod to be an easy-to-clean dog bed in case any accidents happen.
To care for your Pupper Pod, wash the removable cover in warm water with light colors and tumble dry low. Steer clear of bleach and stick with a gentle detergent. And don't wash the foam filling itself — the waterproof cover will protect it.
Conclusion
We know that our dogs sleep more than we do (up to 18 hours per day!), but we also know that not every dog gets the support they need to rest well. Even if dogs are allowed to share the bed or couch of their owners, they deserve a separate safe spot to call their own – one that meets their mental and physical needs.
Our Pupper Pod is designed to do just that, bringing Bearaby calm to your best friend. Whether you have a Yorkie or a Ragdoll, a mixed breed dog or a pedigreed Pug, you can help them rest easier with a sturdy, soothing bed.