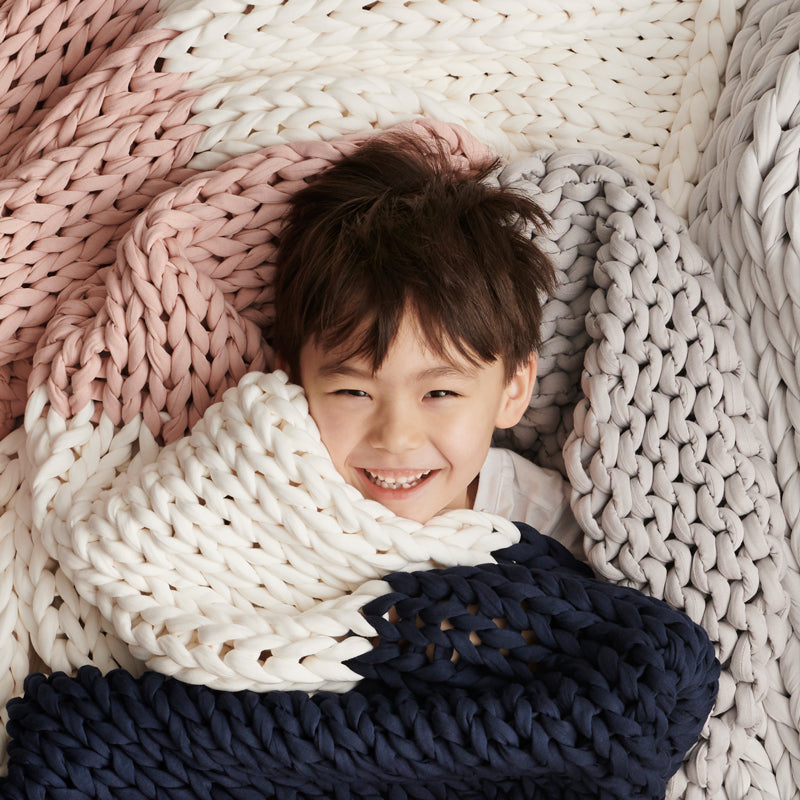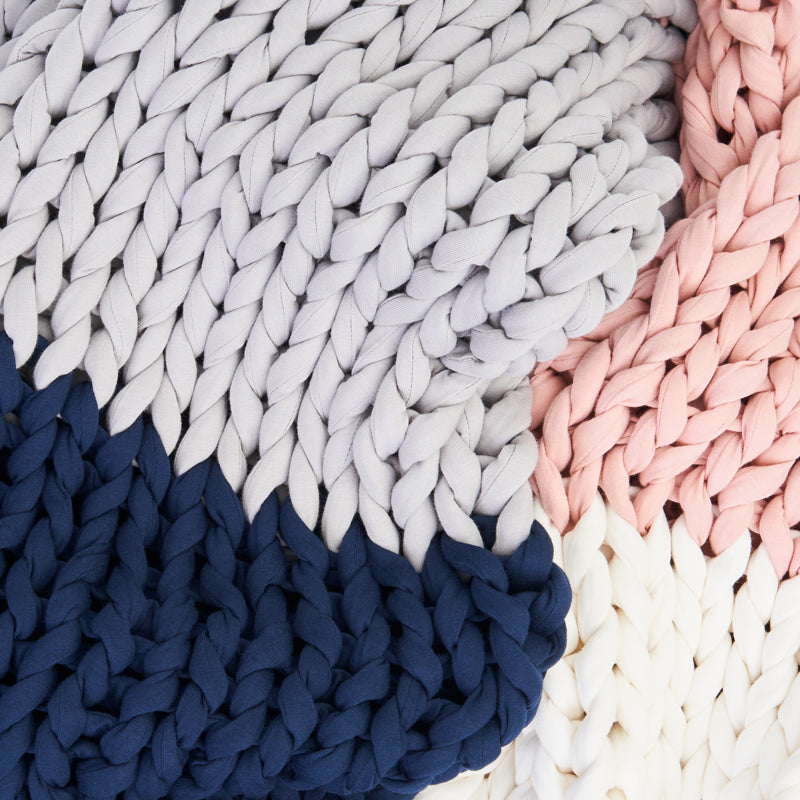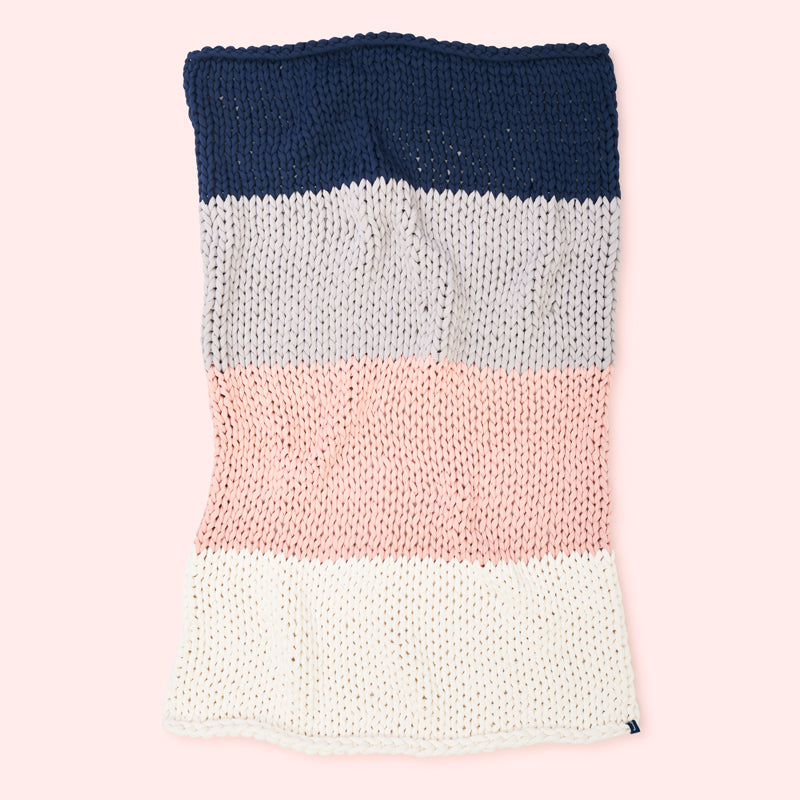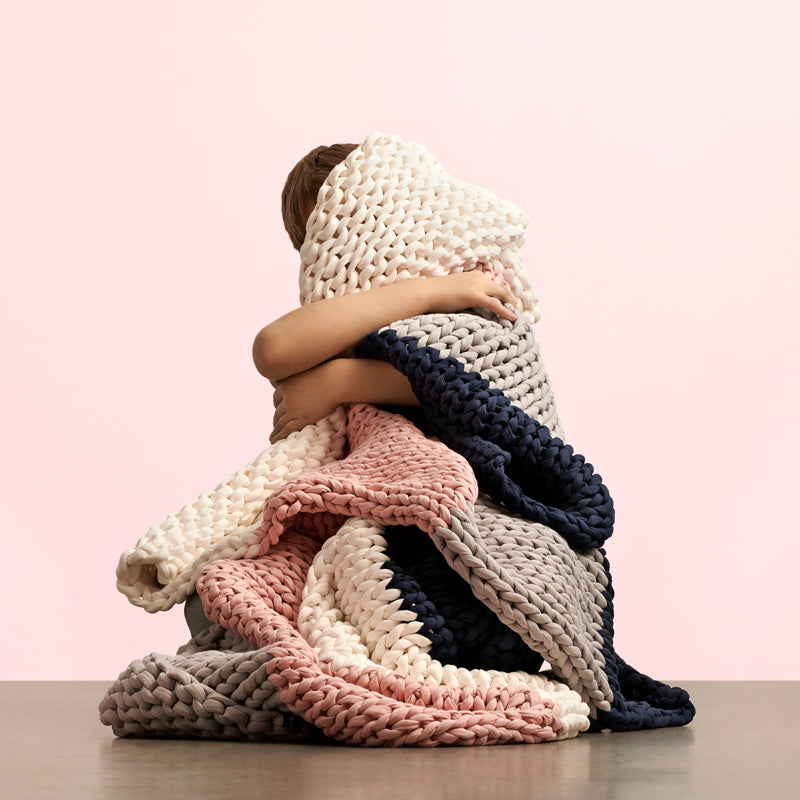 Home / Collection /
Nappling
A weighted blanket for kids to help them sleep better and feel calmer, naturally. Made of 100% organic cotton. Your Nappling should be about 10% of your body weight.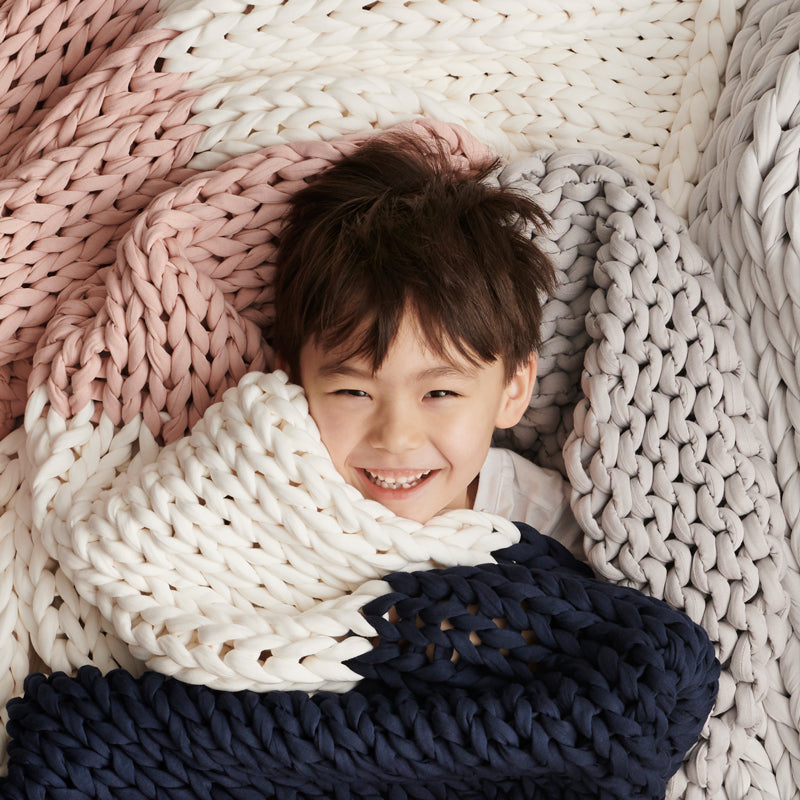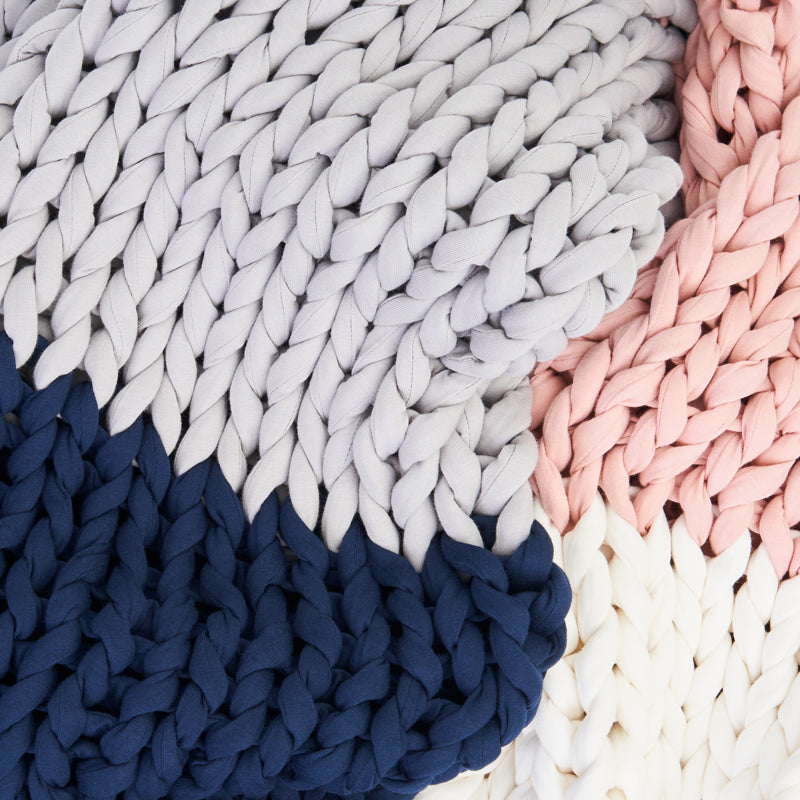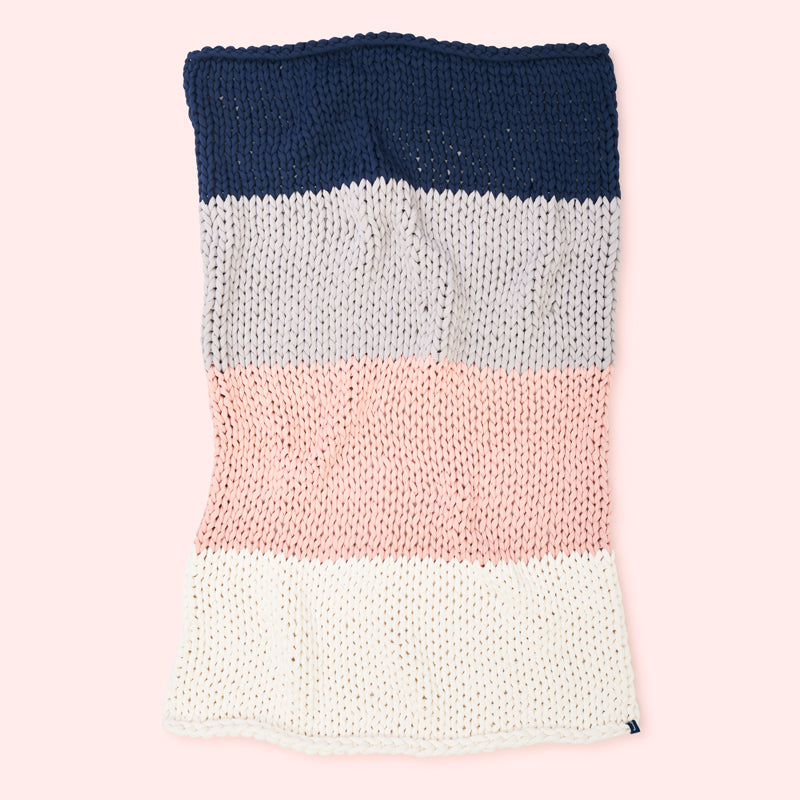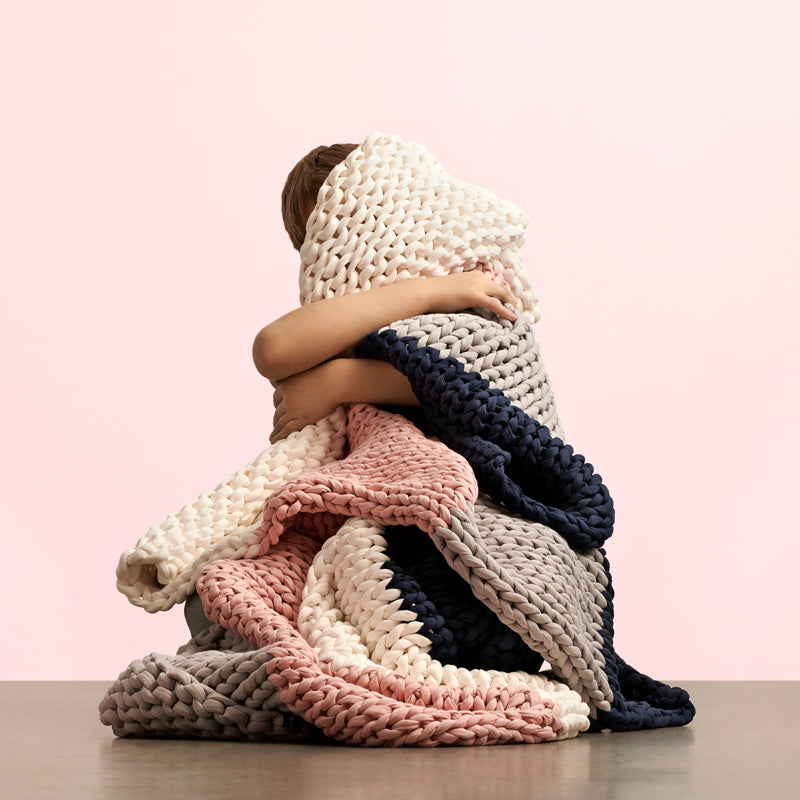 Product Information
Our Nappling is designed especially for kids, to help them switch off after a long day of learning and play. Sleeping under weight is proven to help people do exactly that, by relaxing the body into a naturally deep, longer sleep.
In the Nappling, our signature chunky knit loops are smaller and closer together, so the weighted blanket hugs little ones close. That way, they enjoy the full benefit of a weighted blanket that's tailored to their small size and shape. Their Nappling should be roughly 10% of their body weight.
The Nappling is knitted from layers of natural organic cotton, which is highly breathable and delightfully soft, for a magical cuddle and just-right coziness whenever it's time to snuggle up for a snooze.
Free shipping and easy returns.
Materials
Soft, sustainable fabric is the only thing inside our blanket to give it weight.
Our Fairtade International certified Napplings are pre-washed for buttery softness – just like your favorite T-shirt. Each Nappling is certified to the Organic Content Standard (OCS) and contains organically grown cotton that has been independently verified at each stage of the supply chain, from source to final product.

Sustainable cotton is naturally breathable and 100% biodegradable.

A healthier choice for your home and the planet: sustainable cotton uses up to 90% less water than conventional farming methods and is free from harmful chemicals, pesticides, synthetics, or artificial softeners.

OEKO-TEX® STANDARD 100 ensures this product is safe for your family, the people who manufactured it and the environment.
Care Instructions
All our blankets arrive pre-washed, so there's no need to wash it before you cuddle up! The Nappling is designed to be snuggled and loved, so that means that when the time comes, it's easy to wash, too.
When your Nappling is in need of a refresh, wash it separately in cold water on a delicate or permanent-press cycle. Use a mild detergent, and avoid bleach and fabric softeners.
Tumble dry on low.
Note: your Nappling may take more than one cycle to be fully dried. Avoid hanging your Nappling to dry – it'll stretch out its lovely loops.
Learn more: How to wash your Bearaby knitted weighted blanket
Specs
Our Nappling is available in two weight options. We recommend a weighted blanket that is around 10 % of your child's body weight.
6 lbs - 36" x 48"
8 lbs - 40" x 60"
How long does it take your little one to drift off?
How much does your little one weigh?
We know, they get bigger every day! We recommend a blanket that weighs 15% of your child's body weight.
My child needs extra support to...
Choose all that apply
It seems our Nappling might be a little light for your child. Based on your answers we recommend a 10 lb Cotton Napper for your child.

Explore Cotton Napper
DESIGN
The coolest cuddles around
Snuggly softness designed for small sleepers – the best weighted blanket for kids has arrived. The Nappling captures the magic of a blissful cuddle in layers of soft and breathable organic cotton, in a color-palette that's as couchworthy as it is calming.
HOW IT WORKS
Snug as a bug in a Bearaby
The simple science of sleeping under weight goes back to Deep Touch Pressure Therapy. Just like a cuddle, when an evenly distributed weight is placed across the body, a wonderful feeling of calm, relaxation and comfort takes over. It's truly magical.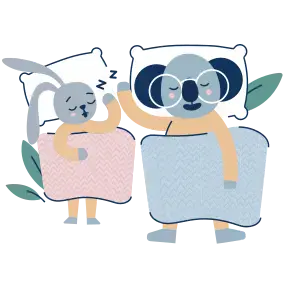 Calm and cozy
A cuddle from a Nappling is
calming and comforting.
It's magical.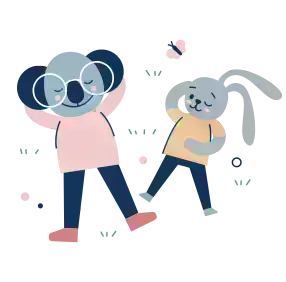 Sleep tight all night
A gentle even pressure on
the body leads to deep,
natural sleep.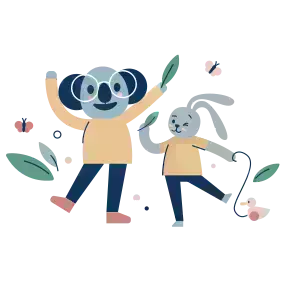 Wake up happy
Days spent feeling rested
and happy are the best
days, in our book.
BENEFITS
Bundles of reasons for joy!
We've bundled up all of these benefits into a gorgeously cozy and cuddlesome children's weighted blanket that's totally natural, and practical too!

Perfect for all
seasons

Evenly weighted
for deeper sleep

No fillers, just
organic cotton

Vegan

OEKO-TEX®
Standard 100

Machine
washable

Hand-knitted
with love

Organic
REVIEWS
What our customers say
Reviewing

Nappling

Moonstone Grey / 6

Helped with sleep

We were recommended this from a friend and we love it. Had really helped out son sleep through the night. It has a tendency to fall off the bed so which tuck it in which solves the problem.

B

Bearaby

10/25/23

Hi James!👋 It's nice to learn that your son is sleeping much better because of the Nappling. We hope that the Nappling is your son's napping companion for many nights to come!😴💙

Reviewing

Nappling

Midnight Blue / 6

Perfect for the whole family!

We will continue to purchase these blankets for family and friends. Extremely helpful for my not so good sleeper too!

B

Bearaby

10/16/23

Hi Cara! ✨ We're so glad to hear that the Nappling is working like a dream! Each of our weighted blankets is hand-knitted with the hopes of helping make restorative rest a reality. Thank you for sharing your story, and we're looking forward to welcoming your family and friends into the Napperhood!💙💤

Emily Kate S.

Verified Buyer

10/13/23

Reviewing

Nappling

Moonstone Grey / 6

Must-have

It's awesome. My 5-year-old son is so happy to have it every night and it has increased the bedtime cozy factor by like 1,000. Highly recommend!

B

Bearaby

10/16/23

Hi Emily👋 Thank you very much for your kind words. We're over the moon to hear that your son's bedtime has gotten cozier because of his new Nappling! We hope him and his Nappling make many restful memories together.😊🤗

Reviewing

Nappling

Moonstone Grey / 8

Love my Nappling.

I love it! It's the perfect weight, size and color. I chose the 8 lb. Nappling because of my age (70's) and size. I wanted to be able to easily carry it back and forth from the bedroom to the living room and this size makes that possible. Just what I needed and it helps me sleep better at night, too.

B

Bearaby

10/10/23

Hi Susan!👋 We're so glad that you love your Nappling. Being able to carry it with you is a plus, so we hope your Nappling is a great lounging companion. It's always a joy to hear that our Bearabuddies are sleeping much better, so we're sending extra warm cuddles your way!🤗

Michelle D.

Verified Buyer

10/3/23

Reviewing

Nappling

Evening Rose / 8

My toddler loves it

It's heavy but doesn't get to hot with the holes woven in. Good quality

B

Bearaby

10/25/23

Hi Michelle!👋 It's nice to hear that the chunky-knit design of our Nappling is helping with the breathability and cooling of the kids' weighted blanket that you got. Wishing your toddler many happy naps to come! 🤗💙
Reviews Loaded
Reviews Added
LEARN MORE
Frequently Asked Questions
How do weighted blankets work?
The magical calming effect of a weighted blanket comes from something called Deep Touch Pressure (DTP) Therapy, which is the act of placing an even weight all over the body.
For little ones, it can help them to feel safer, and more secure – it's like getting a comforting hug from your blanket! It can help make bedtimes less stressful, and lull your littles into a deep, blissful sleep.
Here's what the science says about DTP:
It increases serotonin, which makes you feel happier and more content
It increases melatonin, which helps you to fall asleep
It decreases cortisol, helping to reduce anxiety and stress
Can a 4-year-old use a weighted blanket?
Nappling are safe for children aged four years and older.
Using a weighted blanket for a toddler or a baby poses safety risks and we do not recommend using our weighted blanket for very young children.
What are the benefits of weighted blankets for kids?
The benefits of a weighted blanket for kids are rooted in the science of Deep Touch Pressure (DTP) Therapy. Like the soothing feeling of a warm hug or how a baby is soothed when swaddled, the DTP children experience when resting under a weighted blanket naturally helps comfort and calm them.
DTP is proven to increase serotonin levels. Serotonin naturally converts into melatonin, also known as our body's sleep hormone. During naptime or bedtime, this natural conversion can do wonders in helping your child fall asleep faster and stay asleep longer.
If your child tends to be a sensory-seeker and has difficulty sleeping, a weighted blanket can be the perfect tool to help them calm down and naturally find better sleep over time.
How do you use a kids weighted blanket?
Kids can use weighted blankets in a variety of ways:
During nap time
During night time
Draped over little laps when doing homework
If your child feels anxious, the "hugging" feeling of resting under a weighted blanket can bring about a greater sense of calm. Pull out a Nappling when your little one needs some downtime – Napplings pair great with a book on the couch!
Read our helpful article on how to use a weighted blanket for kids for more detailed information.