Where To Buy A Weighted Blanket: An Easy Shopping Guide
Ready to buy a weighted blanket but not sure where to start? There are various places to buy the perfect blanket for you and your family. Whether you decide to shop online or in person, we've got some tips and tricks to help you make the right purchase!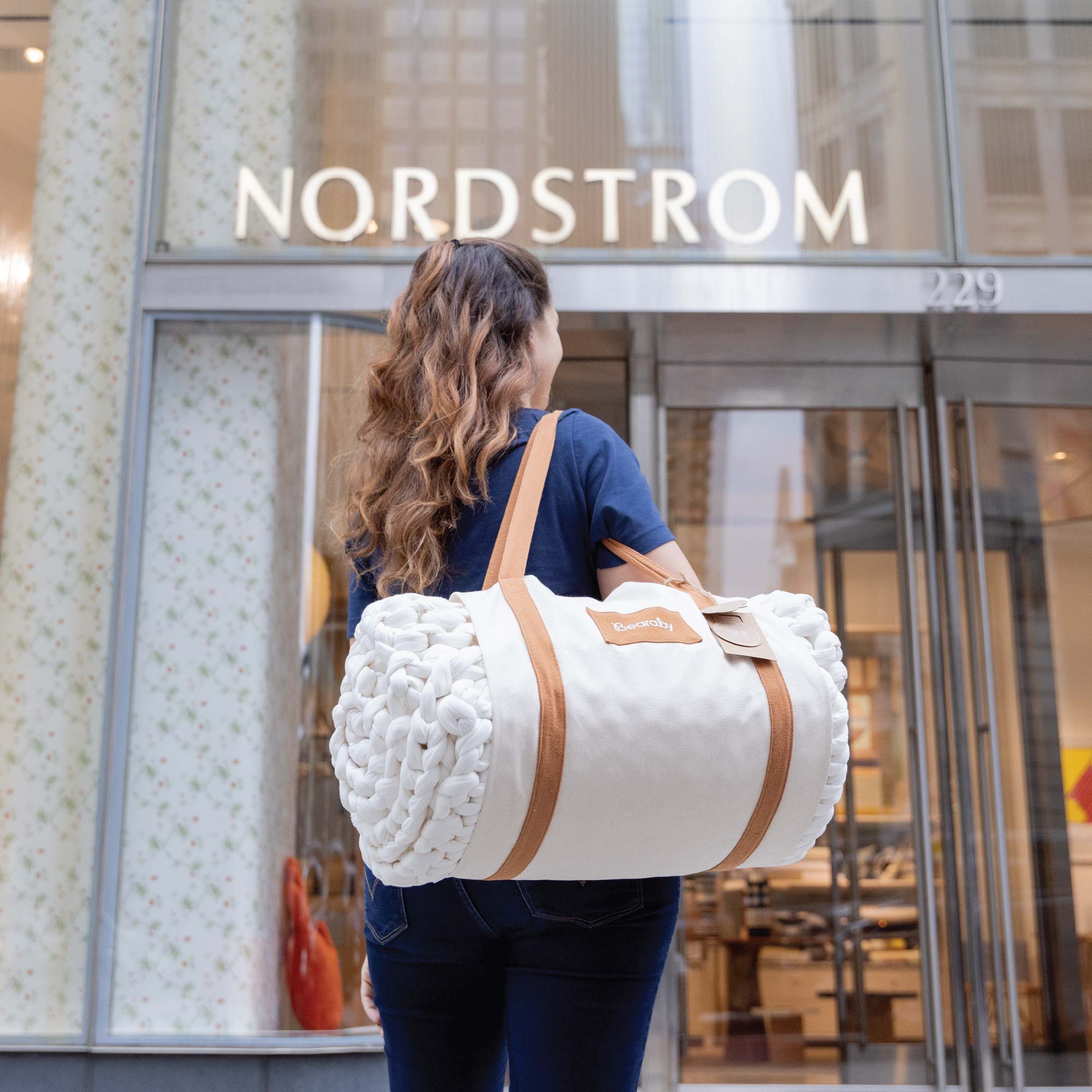 Bearassentials
Prep before shopping by researching which type of weighted blanket is best for you and your unique needs.
You can shop weighted blankets both online and in-person – the choice is yours!
Bearaby's knitted weighted blankets can be found online and at a boutique near you. 
Did you know?
You may be able to get insurance coverage on your new weighted blanket! You can speak directly with your medical provider to learn more about your options.
Weighted blankets can help you sleep with less anxiety, but shopping for new bedding is sometimes a source of stress in and of itself. Shouldn't shopping for weighted blankets come with less anxiety too? We think so! As you prepare to invest in a snuggly weighted blanket, we're here to help with some simple tips and tricks to make your shopping experience easy and stress-free.
Before You Shop, Consider Your Options
There are various weights, styles, and textures of weighted blankets available, and these are all elements to consider before shopping. When selecting a weighted blanket, it's important to consider where the blanket's weight actually comes from. Many weighted blankets are loaded with fillers (think glass beads, polyester pellets, or even metal spheres). As you can imagine, these fillers aren't good for the environment, and they aren't super comfortable, either – this type of weighted blanket tends to get overly hot and sweaty at night.
If you're a hot sleeper, you might want to consider a cooling weighted blanket. Our signature knitted Napper design uses heavy fabric to create a calming weight, allowing air to flow through the blanket and keep you at a comfy temp. Since the weight in these blankets comes from layers of fabric, rather than synthetic beads, they're also a more environmentally-friendly choice.
Cotton Weighted Blanket
2249 Reviews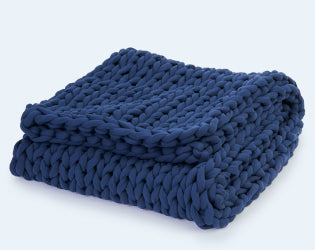 Dreamy, buttery softness
Calms body & mind for deeper sleep
Hand-knitted huggable comfort
It's Napper Time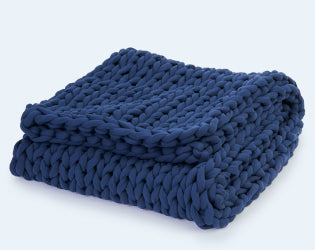 Cocoonable, couchworthy perfection
Unveil the secrets to restful sleep and join the Napperhood for a chance to win our perfect weighted blanket, the Cotton Napper. Get expert tips and insights delivered to your inbox.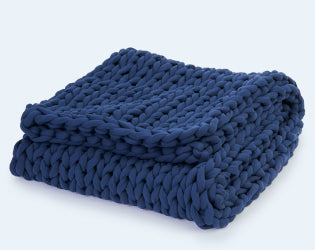 Whatever style you prefer, we recommend selecting a blanket that weighs about 10% of your body weight. If you're shopping for your little one, then our Nappling might be a helpful choice, since it comes in 8lb and 6lb options.
The Best Places to Buy a Weighted Blanket
Whether you like online shopping or in-person shopping, you'll find many options out there to choose from. We're here to help you figure out what weighted blanket to buy and where to shop so you can be on your way toward better self-care.
Top benefits of shopping online for a weighted blanket
If you've found your way to our blog, then you're likely a pro at navigating the online world. If this rings true, then shopping online may be the quickest and easiest method for you. You don't have to drive through traffic or wait in line; instead, you can browse millions of products right from the comfort of your sofa. And if you're indecisive, that's okay! We offer free shipping and easy returns on our online purchases, and many other online stores have similar policies to help make the shopping process smoother.
Shopping online also makes it easier to compare products. Most companies list a full description of each item, like the weight of the blanket, the type of material, how it's made, and how to care for it.
Not sure where this information can be found? Not to worry. Simply click on a product you're interested in like our Cotton Napper and scroll down to read the product information, materials, care instructions, and specs—it's that easy! The same info is available for all of our weighted blankets.
Top benefits of shopping in stores for a weighted blanket
There are many reasons why you might want to buy a weighted blanket in-peron: maybe you want to know how the blanket actually feels, or maybe you're looking for the perfect weighted blanket gift and you don't have time to wait for it to ship. For in-person shoppers, you may be wondering where you can buy unique products like weighted blankets. Most chain stores don't sell weighted blankets, so you'll want to locate boutiques that sell specialty home goods.
The biggest benefit to shopping in stores is the opportunity to touch and feel each blanket, which might be especially helpful if you have sensitive skin or you're looking for a specific texture. If you change your mind, it's simple to go back and exchange your blanket for a different style.
In-store shopping can also be a great option if you're shopping in a hurry. When you purchase in person, you don't have to wait for shipping and instead can start enjoying the various weighted blanket benefits right away. And if you're buying a weighted blanket as a gift, in-person shopping will ensure that it arrives on time for the big day.
Wondering where to buy one of our weighted blankets in person? We've got you covered! Bearaby blankets are available through our retail partners, Nordstrom, at locations across the US and Canada, so you can experience our hand-knit designs in-person. Here are a few of the most popular Nordstrom locations where our blankets can be found:
Nordstorm
Store
Address
Nordstrom NYC Flagship
225 W 57TH ST, New York, NY 10019
Nordstrom South Coast Plaza (San Francisco)
3333 Bristol Street Suite 7000, Costa Mesa, CA 92626
Nordstrom Michigan Avenue (Chicago)
55 East Grand Avenue, Chicago, IL 60611
Nordstrom NorthPark Center (Dallas)
8687 N Central Expy Ste 2000, Dallas, TX 75225
Nordstrom Downtown Seattle
500 Pine Street, Seattle, WA 98101
You can also purchase one of our blankets directly from the Nordstrom website (they offer international shipping!) or find a location near you.
Additionally, our blankets are available for purchase online via West Elm, Pottery Barn, and Pottery Barn Kids.
Feel at Ease About Your Purchase
It's not uncommon to feel anxiety when making an important purchase like a weighted blanket. Understanding more about how (and where) to shop for a weighted blanket can help lift some of that mental load. Shopping in person means you know exactly what you're buying, while online shopping can be faster and easier. Whichever route you choose, it can be helpful to remind yourself that by investing in your sleep, you're taking a step toward a happier, healthier you.